A caseworker determined children should be removed from a residence south of Dallas on Friday, just before three of them were found dead and two injured, officials said Saturday.
Shamaiya Deyonshana Hall, 25, has been charged with three counts of capital murder, the Ellis County Sheriff's Office said in a statement.
She was being held at the Wayne McCollum Detention Center in lieu of $6 million bond, according to the sheriff's office and jail records. Those records give her address in nearby Forney, Texas.
It wasn't clear if she has been appointed counsel in the case. The sheriff's office did not make clear what relationship, if any, she may have had to the victims.
The sheriff's office not publicly identify the children, but said the three killed were a 6-year-old boy and 5-year-old twins, a girl and a boy.
A 13-month-old girl and a 4-year-old boy were hospitalized with serious injuries, the office said.
Sheriff's officials said a Child Protective Services caseworker on a "home visit" Friday made a determination to remove the children. The caseworker called 911 about 4 p.m. Friday, the office said.
An Italy city police officer responding to the call then discovered the children harmed, the sheriff's office said.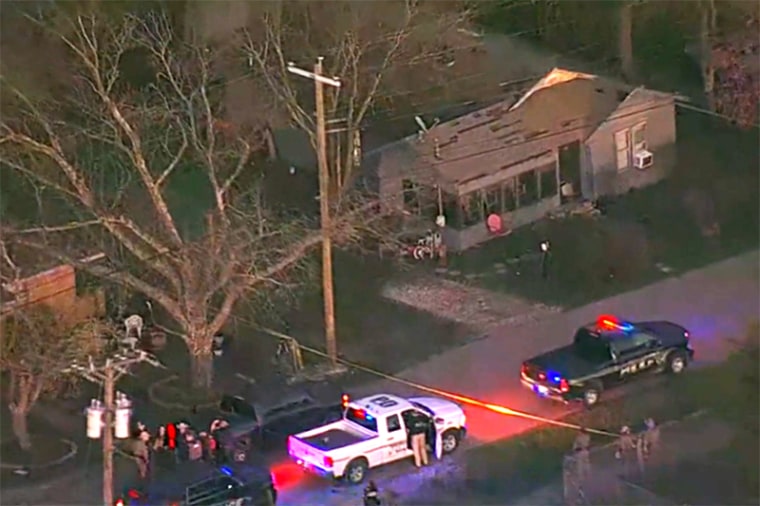 Sheriff's Deputy Jerry Cozby said at a Friday evening news conference that there was no threat to the community.
In an earlier statement, the sheriff's office characterized the situation as an "isolated incident."
Sheriff's investigators were called to the home in a residential area that also includes an elementary school and a Catholic church, after 4 p.m., Cozby said.
Italy, Texas, police had asked the sheriff's office for help for a death investigation, it said in that earlier statement. In Saturday's statement, the sheriff's office said it fielded the initial 911 call, but it was dispatched to city police, apparently as a matter of routine.
"When we arrived we found multiple victims on scene," Cozby said Friday. "Three deceased victims were found inside the home. All victims were children. Two children were taken to local hospitals."
"We are shocked by this incomprehensible tragedy, and already working with law enforcement to investigate how this happened, and why," a Texas Department of Family and Protective Services spokesperson said in a statement.
Italy has a population of about 2,300 and is about 44 miles south of Dallas.