Three more deaths related to Hurricane Zeta or its aftermath were confirmed Thursday, bringing the total number of lives lost to the storm to at least six.
Zeta was a Category 2 hurricane with maximum sustained winds of 110 mph — one mile-an-hour shy of a Category 3 on the Saffir-Simpson Hurricane Wind Scale — when it made landfall near Cocodrie, southwest of New Orleans, Wednesday afternoon.
It spent much of Thursday traveling across Mississippi, Alabama, Georgia and other states. By Thursday evening, the fast-moving storm was a post-tropical cyclone centered on the Atlantic coast southwest of Cape May, New Jersey, on its way over the ocean, the National Hurricane Center said.
Zeta was blamed for deaths in Louisiana, Mississippi and Alabama, which each saw one death. Three people were killed in Georgia.
It knocked out power to more than 2 million people across several states, and more than 1.7 million customers across Louisiana, Mississippi, Alabama, Georgia and the Carolinas remained in the dark Thursday night, according to the tracking website poweroutage.us.
A 55-year-old man in Louisiana's Orleans Parish died after being electrocuted by a downed power line, the state health department said.
Gov. John Bel Edwards urged people to be cautious. After Hurricane Laura hit the southwestern part of the state in August, nine people died of carbon monoxide poisoning, nearly all of which were linked to generators, and there were other deaths linked to heat or injury during cleanup, state health officials have said.
"It's not the storm, principally, that causes folks to be hurt or killed. It's the immediate aftermath, when the cleanup starts and when people run generators and so forth," Edwards said at a news conference.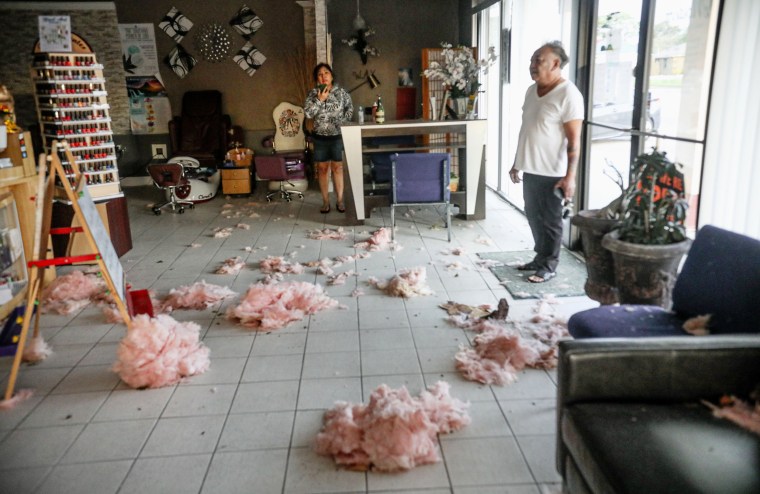 Edwards said his state was fortunate because of the fast speed of the hurricane, but "there's significant damage to homes, to businesses, to infrastructure across southeast Louisiana." Damage assessments were ongoing.
In Mississippi, a man died of an apparent drowning at a marina in Biloxi on Wednesday, the police chief said.
A man in Georgia's Cherokee County, north of Atlanta, died when a tree fell on a mobile home early Thursday, and in Gwinnet County, two people in their 20s were killed in their bed when a hardwood tree fell on their home, officials said.
In Clarke County, Alabama, a person was killed after a tree fell on a mobile home, the county emergency management agency director said.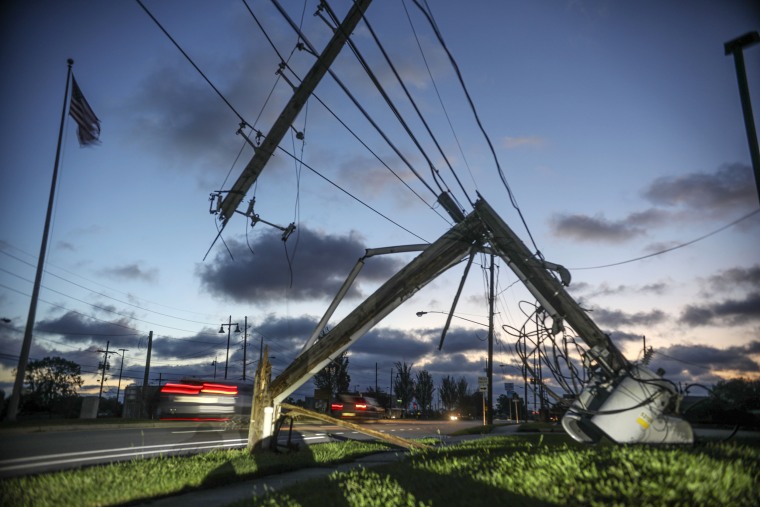 After the storm moved through, residents In Lakeshore, Mississippi, west of Gulfport, began assessing the damage. Ray Garcia returned home to find a shrimp boat washed up and resting against its pilings.
"I don't even know if insurance is going to pay for this," Garcia told The Associated Press. "I don't know what this boat has done."
Mississippi Gov. Tate Reeves toured parts of the Gulf Coast on Thursday, including at a home where storm damage resulted in two injuries. Both people were expected to be OK, he said. Reeves hailed search and rescue teams and first responders.
"There is no doubt in my mind that their efforts truly saved lives," Reeves said.
Mississippi's emergency management agency said that Zeta downed power lines and damaged homes in multiple counties.
The agency said there was "extensive damage" in Bay St. Louis, and photos elsewhere showed boats tossed inland. Storm surge flooded the parking garage of the Hard Rock Casino in Biloxi, video from the scene posted on social media showed.
The storm hit the South less than a week before the Nov. 3 election, and as early voting is underway.
All early voting locations in Douglas County, Georgia, closed Thursday with plans to reopen Friday. Secretary of State Brad Raffensperger said that some counties would be delaying early voting Thursday morning "but we don't see that there will be an overall impact on voting."
Hurricane Zeta was the latest in an extremely active hurricane season, which produced so many named storms that forecasters had to use the Greek alphabet after running out of traditional names.