Four teenagers have been arrested in connection with an after-prom party shooting that injured 11 people over the weekend, the Jasper County Sheriff's Office announced Friday.
The sheriff's office initially said that four people were arrested Thursday evening.
Jasper County Sheriff Mitchel Newman identified those four as as three 19-year-olds and one 18-year-old, all from Newton, during a news conference Friday.
All four were charged with aggravated assault with a deadly weapon, a first-degree felony, and engaging in organized criminal activity, a second-degree felony, Newman said.
The suspects were also hit with warrants from the Jasper Police Department for aggravated assault and deadly conduct, Jasper Police Lt. Garrett Foster said at the news conference. 
Two of the suspects, Tracy Hickman, 19, and Cheston Hartsfield, 18, were located in DeRidder, Louisiana — about 40 miles east of Newton. They are in the custody of Beauregard Parish Jail awaiting extradition to Texas, Newman said.
A third suspect, Cameron Hartsfield, 19, was located in Tyler County by the Woodville Police Department and is currently in the Jasper County Jail. A fourth suspect, Tyler Porter, 19, was located by Newton County Sheriff's Office and transported to Jasper County Jail.
On Thursday, the sheriff's office executed a search warrant at a private residence on Highway 190 East in Newton and said investigators found evidence "relating to the prom shooting" on April 23. Arrest warrants were subsequently issued for the four suspects in connection with the shooting.
Newman also shed light on a potential motive in the shooting, saying that the men charged had been involved in an ongoing feud.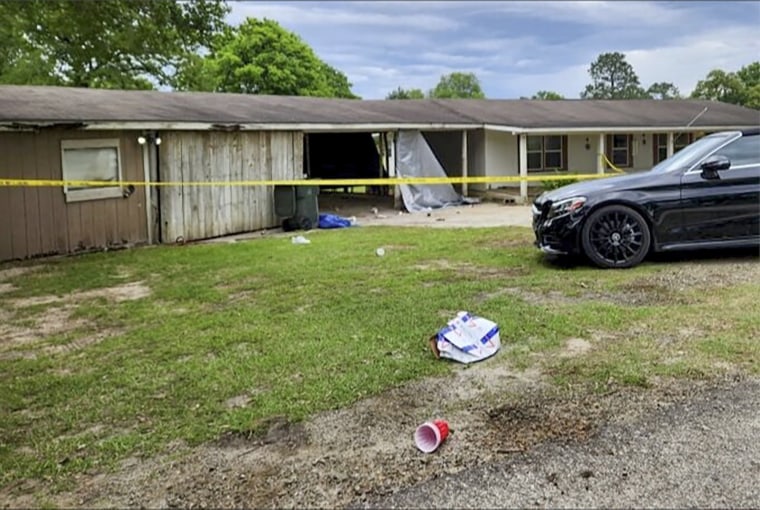 "It would be safe to say that it was not accidental," Newman said. "There's been a lot going on for months between these two groups of young men and not only in our county but in Newton County too, and it finally came to a head over here."
The Sunday shooting unfolded shortly after midnight at an after-prom party at a home in north Jasper County where about 250 people were in attendance.
Officials said that the four suspects were also involved in a second shooting that occurred around 12:45 a.m. Sunday in the city of Jasper.  
"The same individuals left that prom party obviously and came down to inside the city and committed another aggravated assault with weapons and shot at some individuals. For someone to say it was an accident, I would have to beg to differ," Foster with Jasper Police said.
The charges from Jasper police stem from that city shooting.
The sheriff said the investigation is still active and they are still interviewing witnesses. Anyone with information is encouraged to contact authorities.
No one was killed in the gunfire.