One person was killed and two others were wounded Thursday when a gunman opened fire in the lobby of a senior living apartment building in Vancouver, Washington.
Officers responded to reports of an active shooter at the Smith Tower apartments at around 2:10 p.m. local time, Vancouver police spokeswoman Kim Kapp told reporters. The suspect, who lived in the building, retreated to his apartment where he barricaded himself inside for at least two hours.
Police later Thursday identified the suspect as Robert E. Breck, 80. Police said that officers found three people who were shot in the lobby, and a male victim was deceased. The other two female victims were wounded and taken to hospitals.
Authorities spoke to the suspected shooter through a crisis negotiator as he barricaded himself in his apartment. The man eventually turned himself over to police, Kapp said. Police said he was taken into custody around 4:45 p.m.
One of the two victims has been released from the hospital and the other was transported to another medical center, NBC affiliate KGW or Portland, Oregon, reported.
Austin Studebaker told KGW that he was at a convenience store across the street with his cousin when he saw "the most cop cars I've ever seen in my life swarm in."
"I saw them carry some kind of body, I'm not sure if they were alive or dead," he said. "I saw what seemed pretty clearly to be a red spot on their chest."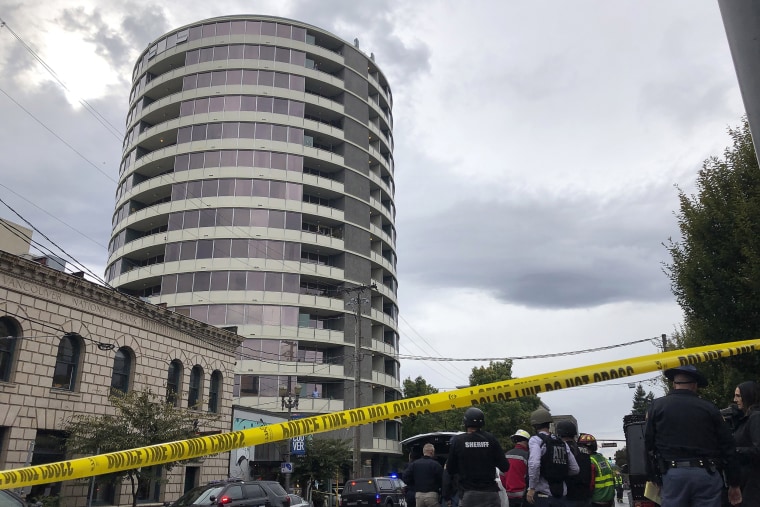 Smith Towers resident Johnny Moffett told KGW that the suspect brought in a suspicious looking case about five days earlier.
"We were sitting there and he brought in a case," Moffett said. "He said it was a pool ... a pool stick carrying case or something. And then he started talking about this guy who was harassing him, so I kind of figured he had a gun."
Moffett said the suspected shooter never explained to him how he was being harassed.
"He's a nice guy, he just doesn't like to be harassed and he was being harassed," Moffett said. "I guess he just decided he didn't want to be harassed anymore."
Some residents of the apartment building were evacuated while others were told to shelter in place. A family reunification center was set up at Vancouver's city hall building. Police said that everyone has been given clearance to return to their apartments.
Breck was booked into the Clark County Jail on one count of murder and two counts of attempted murder, police said. He is being held without bail. It was not clear if he had an attorney who could speak on his behalf.
Vancouver is a city on the north side of the Columbia River, just a few miles outside Portland, Oregon.
"While we are still learning about what happened surrounding the shooting incident this afternoon in downtown Vancouver, our hearts go out to the victims and their families as they deal with this tragedy," Mayor Anne McEnerny-Ogle said in a statement Thursday.
She also thanked first responders and said they responded quickly to the scene. Police said the investigation is continuing.