Three women in North Carolina are accused of running a fight club among elderly people with dementia at an assisted living facility, police and state health officials say.
Marilyn McKey, Tonacia Tyson and Taneshia Jordan are facing charges of assaulting an individual with a disability in connection with them allegedly encouraging residents of the Danby House in Winston-Salem, North Carolina,to fight each other, police told NBC News in a statement.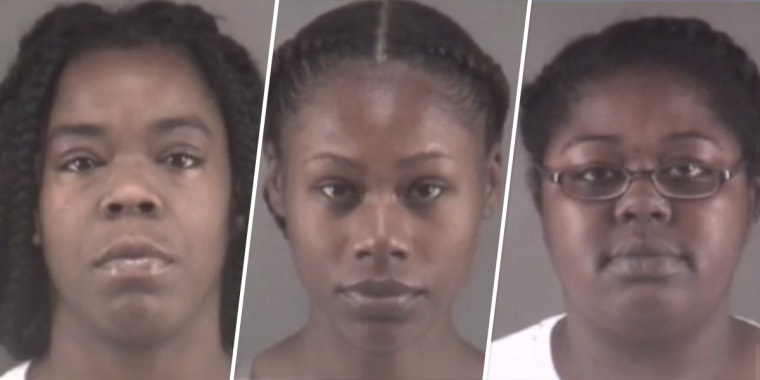 Investigators from Winston-Salem police and the North Carolina Department of Health and Human Services began looking into the center, where the three women worked, after receiving a tip, as first reported by the Winston-Salem Journal.
McKey's, Tyson's and Jordan's alleged encouragement of the fights among residents happened in June and resulted "in one resident being strangled with her face turning red ... while staff recorded and shared the video through social media," a state Division of Health Service Regulation report found.
One of the three women was heard telling an elderly resident with dementia who was fighting another resident to "punch her in the face," the state report said, citing video of the incident.
Another staff member could be heard saying, "Are you recording?" and "You gonna send it to me?" the report said.
The women sometimes themselves became physically aggressive with the residents, the report said, with video showing one of them assaulting a resident while another filmed the incident.
No injuries were reported or discovered as a result of the fighting, police said.
A spokesperson for Danby House, which is owned by Affinity Living Group, told NBC News on Tuesday that the three women were fired in June after the management learned of the allegations.
"Danby House has a zero-tolerance policy for the mistreatment of those in our care," the facility said in a statement. "Administrators have been working closely with the Winston-Salem Police Department throughout its investigation to ensure justice is served. Additional staff training and a more rigorous vetting process for all new and existing employees at Danby House has been implemented."
McKey, Tyson and Jordan are scheduled to appear in court Nov. 14. It was not immediately clear if they have lawyers.