A mother suspected of fatally stabbing four of her children in suburban Memphis, Tennessee, was arrested and charged Saturday, and would likely face more charges, officials said.
Police wouldn't specify what Shanynthia Gardner, 29, had been charged with, but said she allegedly killed her 6-month-old, 2-year-old, 3-year-old and 4-year old on Friday afternoon. A 7-year-old child was home at the time of the violence and survived, said Shelby County Sheriff Bill Oldham.
The Shelby County Sheriff's Office got a call about a stabbing shortly before 1 p.m. local time (2 p.m. ET), the sheriff's office said. Officials didn't say who made the call.
Gardner was questioned by authorities shortly after the children were discovered, but police wouldn't say on Saturday whether she was cooperating with the probe. Oldham said as the investigation unfolds, Gardner could face additional charges.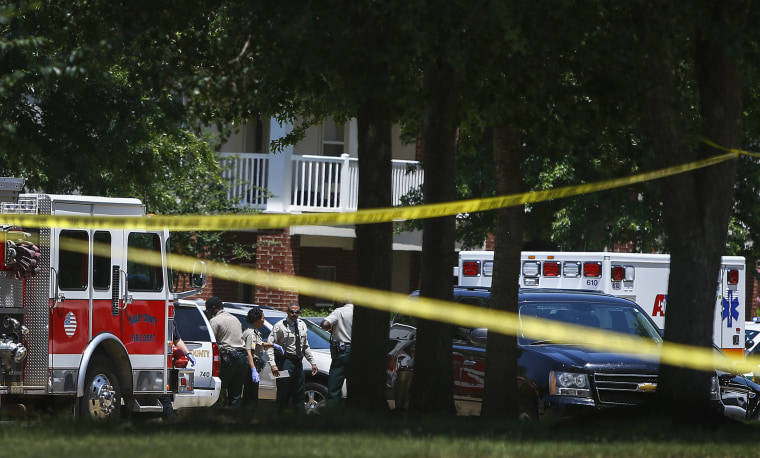 "This is an egregious act of evil that has shocked us to our core," Oldham told reporters Friday. "I will never understand how anyone could do that."
He added that a staff member of the Shelby County Police Department is the slain children's aunt.
Oldham said he wasn't aware if any mental health issues had played a role in the stabbings, but said the possibility would be explored during the investigation into the motive.
One of the victims had a different father than the other three, police said. Neither father was at home at the time of the killings, officials told NBC affiliateWMC. The Department of Children's Services said it has no previous history with the family, the station reported. The killings occurred in a gated community.
Oldham said the special victims unit and other advocates will be available for family members, and that Shelby County Mayor Mark Luttrell Jr. has pledged any assistance required.
County Commissioner Mark Billingsley said the county would work to help relatives recover.
"It's just a very sad day," Billingsley said. "It's really beyond words, quite frankly."