Four people were killed and eight were injured after a fire broke out at a motel on the Jersey Shore where some residents still displaced by Sandy have been staying, authorities and witnesses tell NBC 4 New York.
The flames erupted at the Mariner's Cove Motor Inn on Broadway in Point Pleasant Beach shortly before 6 a.m. Friday. The critically injured victims were taken to a hospital.
Authorities said the four people killed were all adult males found on the second floor; they have not been positively identified. Several people believed to have been missing have all been accounted for.
Some of the injured were critically hurt, according to Ocean County Prosecutor Joseph Coronato.
The hotel has a capacity of about 100 people, and was believed to have been occupied by about 40 guests at the time. Firefighters rescued one woman who became trapped in her shower on the second floor, helping her out the window and down a ladder.
"We had to break the window, there was fire overhead," said Fire Chief A.J. Fox.
The motel, which is about two blocks from the beach, was destroyed and the roof collapsed. The cause of the fire is not known.
Residents gave conflicting accounts of whether they heard smoke detectors or fire alarms sounding. Some said they heard nothing, while others said a fire alarm was blaring as the flames were sweeping eastward across the top of the building.
Coronato described the injuries as burns, smoke inhalation and broken bones, including a deputy sheriff who was hurt.
Survivors described a chaotic scene of flames, smoke and screaming.
Peter Kuch said he smelled smoke and opened his door to find a lounge area engulfed in flames. He dialed 911 to seek help, and by the time the call was completed, the flames were at his door and licking at the windows of his second-floor unit.
He decided to jump.
"I had to, there was no other way out," he said. "My window was only open an inch and flames were already starting to come through it. There just was no other choice."
He suffered a sprained ankle but said he was otherwise OK.
Joe Frystock was one of the Sandy victims who was staying at the motel, which like many others in this resort, relies on people seeking low-cost rentals during the slow winter season. His home in nearby Brick Township took on 6 feet of water during the October 2012 storm, and the motel was the latest in a series of temporary homes for him.
Frystock, who is diabetic, said he frequently has to use the bathroom at night. He woke up to popping sounds, which he initially thought were gunshots.
"It was the sound of timbers burning upstairs," he said. "I looked out and saw that orange glow, and there was no mistaking what it was. People were yelling: 'Help me! Help me!' There was lots of screaming. A woman in the unit next to me, they pulled her from a bathtub, but I don't know how anyone could have survived those flames. The entire second floor was engulfed, from one end to another."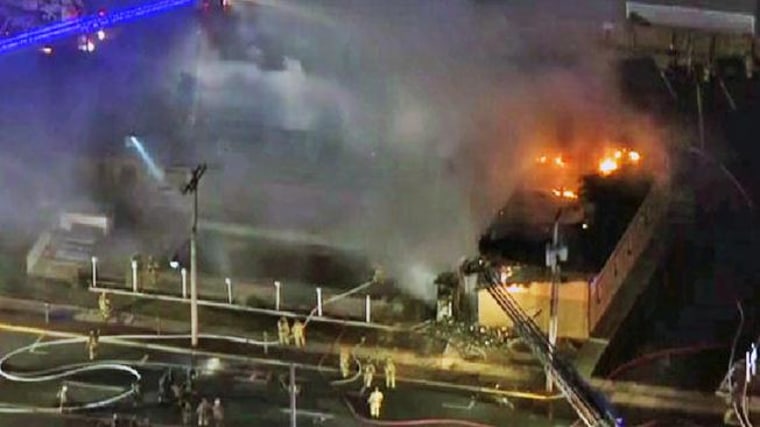 More From NBC New York