Updated at 6:15 p.m. ET: At least four pedestrians are dead after a speeding driver crashed into a Las Vegas bus stop on Thursday.
Police suspect the driver was drunk when the speeding vehicle crashed into a bus stop at about 6:25 a.m. PT, the Las Vegas Sun reported. In addition to the four fatalities, at least eight people were reported injured.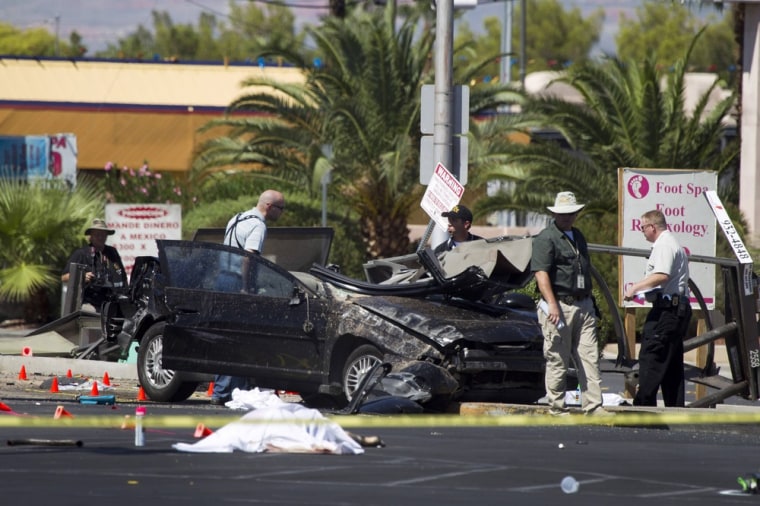 "It's a pretty horrific scene out here," Las Vegas police officer Laura Meltzer told The Associated Press, explaining that at least some of the four people in the vehicle had to be removed from the car after the crash.
Meltzer also told the AP all the victims appear to be adults and were apparently pedestrians who were waiting at the bus stop, which is located on Spring Mountain Road east of Decatur Boulevard in Las Vegas.
Unsubstantiated reports said the Chevorlet Monte Carlo could have been going 100 mph when it went airborne and hit the bus stop, the Sun reported.
"We actually had a police officer who was fueling up at the 7-11 at the corner," Las Vegas police Sgt. Richard Strader told the newspaper. "He saw the vehicle go through the intersection, basically bottomed out and then caught air it was going so fast."
The surviving driver has injuries, and police say the driver has been charged with four felony counts of driving under the influence causing death, the Sun reported.
"First responders said they smelled alcohol and he even said something to the effect that he had been drinking," Strader told the AP.
The driver and the victims have not been identified.
The Associated Press contributed to this report.
More content from NBCNews.com: