Two crane operators were among four people killed Saturday when their rig fell from a downtown Seattle building and into traffic below, authorities said.
Four other people were injured when a section of the crane collapsed onto six cars at the intersection of Fairview Avenue and Mercer Street shortly before 3:30 p.m., said Seattle Fire Chief Harold Scoggins. The two others who died were in separate cars, he said.
The injured included a mother and her baby. All suffered non-life-threatening injuries, the fire department said.
"They're doing OK," Scoggins said of the mother and child. Harborview Medical center said the 25-year-old mother and her 4-month-old baby have been discharged. A 28-year-old man was in satisfactory condition.
The identities of the four people killed were not immediately released. The fire department said the dead were three males and one female.
The crane fell across a building undergoing construction on Mercer Street, NBC affiliate KING5 of Seattle reported. Investigators had not yet determined what caused the crane to collapse.
Several people told the station they saw crews working to dismantle it earlier Saturday. Officials would not confirm that the crane was being dismantled but said work was being done.
"I was in my apartment when I felt the building shake and heard it land on the street," said Harrison Kelner, 30, who lives near the intersection where the crane fell.
Seattle Mayor Jenny Durkan said the collapse was "just a horrible tragedy" and thanked first responders who helped people get out of damaged cars and treated the injured.
"My heart breaks for the families that have lost someone today, and for the workers who lost fellow workers," she said.
A witness told KING5 she was biking to an event at the Seattle Center and she heard a sound "a crash, kind of like thunder."
"And I thought, oh maybe there's some thunder in Seattle, even though that's so rare. And then I heard sirens — the most that I've ever heard before," she said.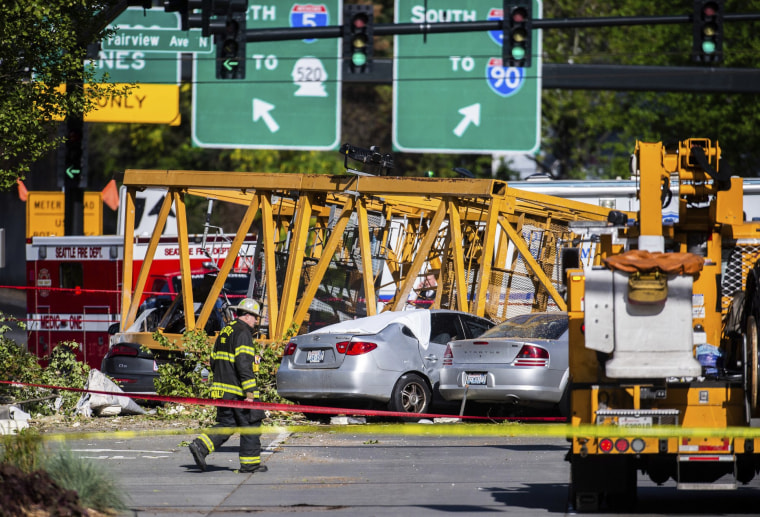 Esther Nelson, a biotech research assistant who was working in a building nearby and who saw the crane fall from a break-room window, told the Seattle Times that "it was terrifying."
"I looked up. The wind was blowing really strong," she told the newspaper, adding that the crane appeared to be eight or nine stories tall and broke in half, with one part falling down the side of the building and the other onto the street.
Johnny Burg, a meteorologist with the National Weather Service's Seattle office, said nearby observation sites recorded gusts of up to 23 mph around the time of the accident. He described the wind conditions as somewhat typical.
Durkan urged anyone with video to provide it to police.
"Determining exactly how and why this happened is going to take a significant period of time," she said.