At least 11 people have died from severe storms that carved a wide swath through Texas and the South all the way up to Chicago.
The National Weather Service in Birmingham, Alabama, on Saturday confirmed three deaths near the town of Carrollton in Pickens County. The service also said a tornado struck the area in the late morning and warned of severe thunderstorms, high wind and flooding in eastern and central Alabama.
In Louisiana, the Bossier Parish Sheriff's Office said on Facebook that firefighters found the bodies of an elderly couple near their demolished trailer home. Jerry W. Franks, 79, and Mary Sue Franks, 65, were confirmed dead after 135 mph winds whipped through their residence. First responders were searching through mud and debris for other victims, the sheriff's office said on Facebook.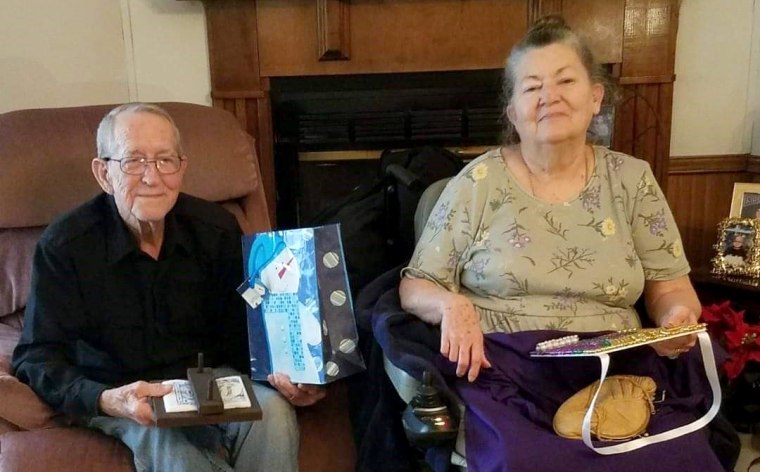 "The storm moved their home from its foundation to some 200 feet away," the sheriff's office said. Three dogs at the residence were initially unaccounted for following the tornado. A German Shepherd was later found alive in the rubble and taken to the vet for some wounds and one Chihuahua was found dead. Family members are still searching for the other one.
Christina Stephens, spokeswoman for Louisiana Gov. John Bel Edwards, tweeted Saturday that his planned trip to Bossier to survey damage had to be canceled because the weather precluded travel.
Also in Louisiana, a man was discovered dead Saturday after a tree fell on his home in Caddo Parish.
"Once on scene, deputies found a large tree fell on the residence of an elderly couple causing devastating damage to the home," the Caddo Sheriff's Office said in a statement. "Sadly, the man died at the scene. His wife was fortunately uninjured."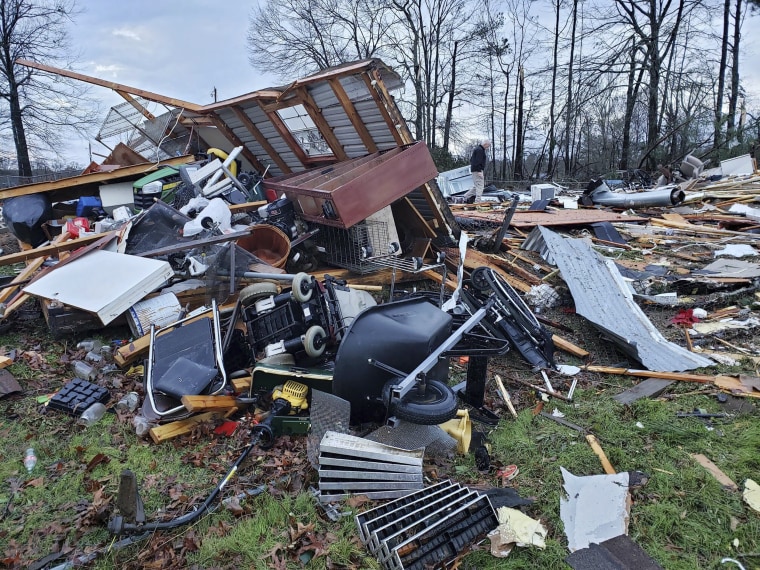 The police department in Lubbock, Texas, reported that Nicholas Reyna, 27, a one-year sworn veteran, died after he was struck by a vehicle as he responded to a rollover crash in bad weather.
Lt. David Hill, 39, a paramedic, was also struck and later died at a hospital, police said.
Firefighter and paramedic Matt Dawson, 30, a third victim of the collision, was in critical condition, the Lubbock Police Department said.
The weather service and authorities in Nacogdoches County, Texas, said a man identified as Harry Hadnot, Jr., 44, was found dead at the scene after a tree fell and struck a home there.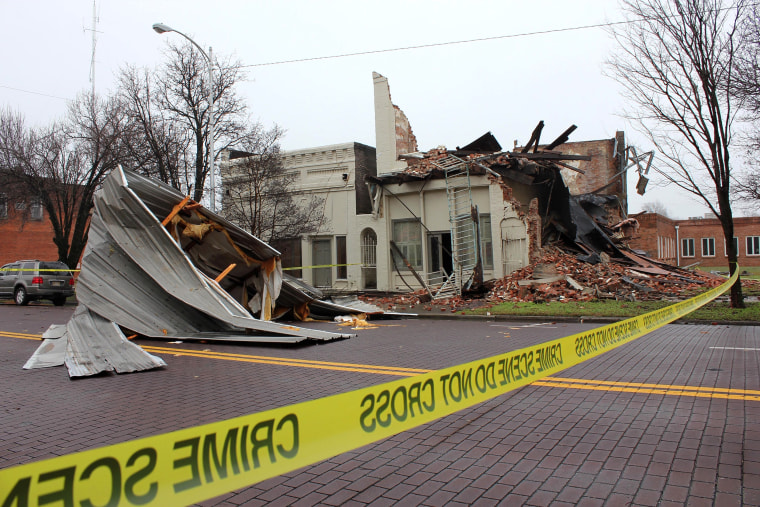 In Oklahoma, a man was swept away by flood waters near Kiowa. Randall Hyatt, 58, of Wardville, was driving his Chevy pickup southbound through deep flood waters when the car became inoperable. He was pronounced dead at the scene, about a hundred yards from his vehicle, according to Pittsburg County Sheriff's Office.
Iowa State Patrol confirmed oneweather related fatality in a semi-truck crash near Iowa City, IA late Saturday.
The Oklahoma Department of Transportation said several highways remained closed due to snow, sleet and flooding.
In Arkansas, the Department of Transportation also reported "high water" had led it to close portions of multiple state highways.
Arkansas, Oklahoma and Texas were clear Saturday of the severe thunderstorms that had passed through the previous night, forecasters said.
According to PowerOutage.us, more than 108,000 customers were without power in Alabama. Major outages also impacted Texas, Arkansas, Louisiana, Mississippi, Tennessee and Kentucky.
The front reached north into Chicago, where the Federal Aviation Administration reported that snow, ice and wind pushed arriving flights at O'Hare International Airport back for over four hours.