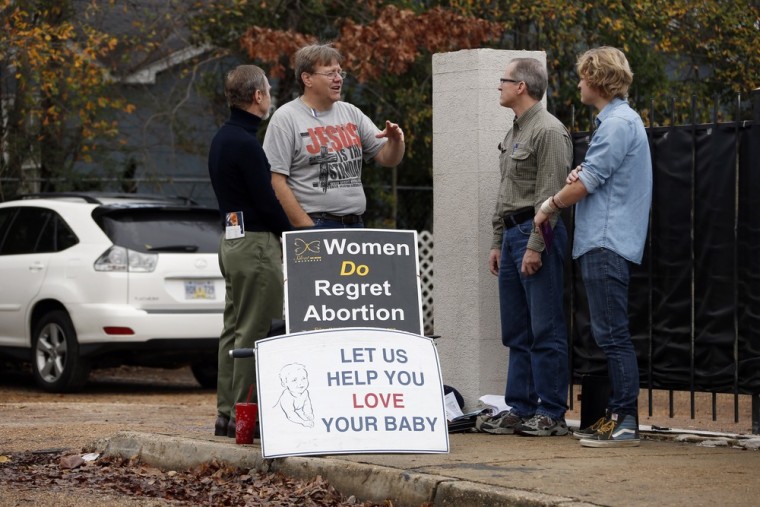 Forty years after the U.S. Supreme Court struck down many state restrictions on abortion with Roe v. Wade, women who want to terminate a pregnancy face a growing number of roadblocks in many parts of the country.
Last year, 19 states enacted a total of 43 provisions limiting access to abortion, according to the Guttmacher Institute. That was half the number that went into effect the previous year, but still the second-highest number since 1985.
"The laws that have been passed, in the last couple of years especially, really make women walk through a gauntlet to get abortions, throughout the country," said Eric Ferrero, a spokesman for Planned Parenthood.
Eight states now require women seeking abortion to have ultrasounds, after Virginia lawmakers passed a measure in 2012. Three states also enacted laws that require abortion providers to have admitting privileges at a local hospital, which can deny them for a variety of reasons.
Louisiana banned abortions after 20 weeks. Utah tripled its mandatory waiting period to 72 hours. A Montana ballot initiative mandated parent notification for abortions on minors under age 16.
In at least four states -- North Dakota, South Dakota, Arkansas, Mississippi -- there is only one clinic.
"When you're the only provider in a state, you become a target," Tammi Kromenaker, director of the Red River Women's Clinic in Fargo, N.D., recently told MSNBC's Rachel Maddow.
The fate of Mississippi's sole clinic, in Jackson, is up in the air. As of mid-January, it had not been able to comply with a new law requiring providers have hospital admitting privileges. If the clinic is shut down, Mississippi would become the first state where getting an abortion is impossible.
The erosion is happening as the rate of abortions has leveled off at about 15 per 1,000 women after a steady decline, according to the Centers for Disease Control. At the same time, public support for abortion rights appears to be stable or growing.
A new NBC News/Wall Street Journal poll found 54 percent of adults think abortion should be legal always or almost all of the time -- the biggest percentage since the question was first asked a decade ago. Seventy percent don't want Roe v. Wade to be overturned, the highest number since 1989.
But abortion opponents say there's another statistic worth noting: Most Americans don't want public funding of the procedure.
"A majority of Americans do not want their tax dollars being used to fund abortions," said Mallory Quigley, a spokeswoman for the Susan B. Anthony List, which is part of an effort to strip $60 million in women's-health funding from Planned Parenthood. 
U.S. law prohibits federal funding of most abortions, and only 17 states fund abortions for low-income women, most of them under court order. But abortion advocates argue that any government funding of Planned Parenthood for other health services -- from family planning to gynecology exams -- essentially frees up money it can use to provide abortions.
A scorecard put out by Quigley's group says officials in Arizona, Indiana, Kansas, New Hampshire, New Jersey, North Carolina, Tennessee, Texas and Wisconsin have moved to cut funds for the women's health group. 
Some state efforts are tied up in court; in others, Planned Parenthood was able to obtain direct federal grants to fill the gap. In Texas, the organization lost a court battle to hold onto funding until a trial.
Ultimately, though, Planned Parenthood believes it will prevail against state efforts to slash its programs, either through legal action or public pressure on lawmakers.
"What we've seen over the last two years is the public doesn't want these preventive health services to be defunded and the courts won't allow it," Ferrero said.
Related: NBC/WSJ poll: Majority, for first time, want abortion to be legal