The greater sage-grouse is a chubby bird, with a speckled body and stumpy feet. The male has a bright yellow sac on his chest that inflates like a life jacket, and a spiky tail that fans out when he's trying to woo a female.
That flashy mating routine has earned hundreds of thousands of views on YouTube, but it hasn't stopped the population of the strange-looking bird from dwindling. The greater-sage grouse is in trouble.
Now the U.S. Fish and Wildlife Service must decide by Sept. 30 whether to add the bird to its endangered species list, and it is a decision with billion-dollar consequences. Declaring the bird endangered would virtually shut down huge swaths of land to other uses in the 11 states the bird currently inhabits.
That possibility has sparked a backlash from some Republicans and other pro-business proponents — who cite a well-regarded study that claims declaring the sage grouse as endangered would cost the U.S. more than $5.6 billion in annual economic output.
Energy development, mining, oil and gas drilling and some forms of ranching all pose threats to the land inhabited by the sage grouse. Coal, natural gas, crude oil, and beef industries, to name a few, all stand to take a huge hit if the land is deemed off-limits to them.
"When they listed the spotted owl in the Northwest, it literally devastated the counties and communities" that relied on the timber industry to fuel their economy, Joel Bousman, a Wyoming rancher and a Sublette County commissioner, told NPR earlier this summer. "Our fear here is it would have a similar impact on gas, grazing."
"Everybody would have some level of impact," said Ed Arnett, a senior scientist with the Theodore Roosevelt Conservation Partnership, a group dedicated to guaranteeing quality places to hunt and fish in the U.S.
Greater sage-grouse live amid sagebrush plants in the American West, and have survived for centuries by munching on sagebrush leaves for strength before their breeding season. Harsh winters are no problem for them: They eat snow for hydration.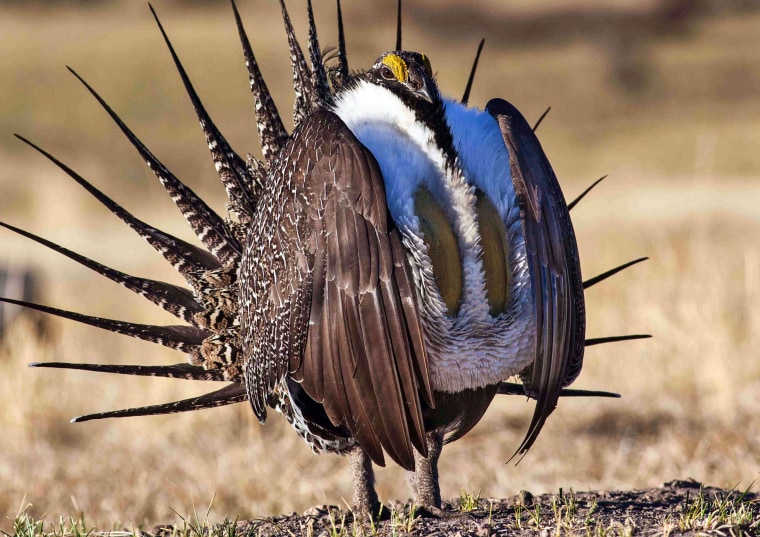 But while they were once prolific in the West, a shrinking sagebrush territory has slashed their total population — now estimated to be somewhere between 200,000 and 500,000, according to the National Audubon Society.
"Sage grouse are pretty sensitive to human disturbance," Holly Copeland, a scientist with the environmental organization Nature Conservancy, told NBC News, adding that the birds' population was once as high as 16 million.
And humans have closed in on their land, with energy and residential development, agriculture, or recreation, Copeland said.
There are some natural causes of their demise, too: Cheatgrass, a hearty, invasive grass that has increased throughout the West in the last century, is one. Cheatgrass burns easily, so when there are wildfires, they roar through the cheatgrass, wiping out a lot of sagebrush with it. The cheatgrass rebounds; the sagebrush doesn't always.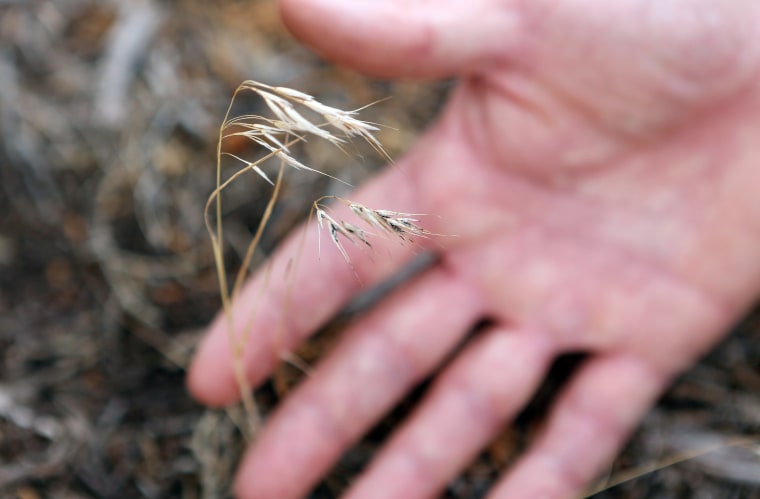 "Sage grouse cannot survive without sagebrush," Brad Jessop, a natural resource specialist with the Bureau of Land Management in Salt Lake City, told NBC News. Jessop's work focuses on reducing another natural threat: juniper trees, which crowd out space in habitats that could be used for sagebrush.
"An ecosystem that's dominated by juniper and cheatgrass will not have sagebrush. And that's an ecosystem that's out of balance and will not sustain sage grouse or other wildlife," he said.
The Bureau of Land Management is one of many agencies, both federal and state, that has worked tirelessly for the past several years to rehabilitate the landscape and preserve habitat to prevent an endangered listing. Through the Sage Grouse Initiative, which partners with ranchers and businesses, the agencies have imposed land restrictions that are less harsh than the ones that would be in place if the endangered designation is approved, but still protect sagebrush.
The colossal effort, said Ed Arnett of the Theodore Roosevelt Conservation Partnership, a group dedicated to guaranteeing quality places to hunt and fish in the U.S., "is just unprecedented."
"We've never seen anything quite like this," he said. "People are realizing that we can work together, collaborate, and come up with management practices to avoid the listing."
U.S. Secretary of the Interior Sally Jewell told NBC News sage grouse are an "indicator species" — one whose livelihood is indicative of how others in the landscape are faring.
"There's no question that the health of the greater sage-grouse and the greater sage-grouse ecosystem, which is sage brush landscape, is an indicator of the health of the American West," she said. "Changes that we see in climate are impacting these landscapes in a significant way, but we can take steps to return them to health."
Critical sage brush areas are now mapped out throughout the American West, Jewell said, which helps prioritize which fires to fight first, or which areas can support development and which can't.
"We know where the sage grouse are. We know where the sage ecosystems are the strongest. We know what to protect from fires. We know what to protect from disturbances on the surface," she said.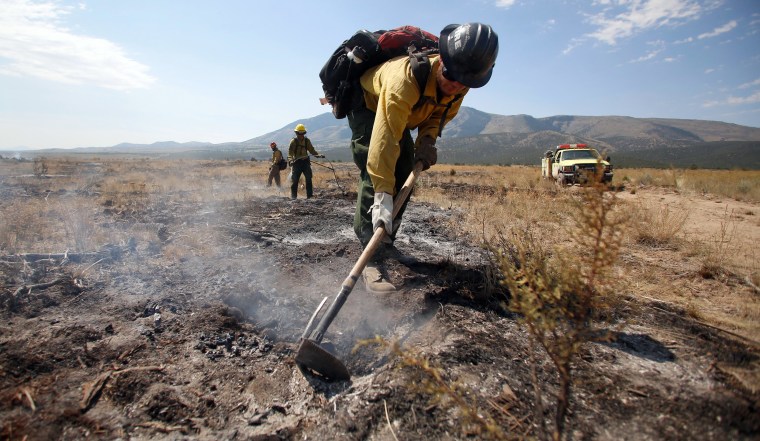 Ranching, she added, "can be very compatible" with a healthy sage brush ecosystem — meaning those who want to use the land aren't necessarily at odds with those who want to save the bird.
"Working closely with ranchers, we can actually end up with a healthier system than if the ranchers aren't there," she said.
Some studies have shown the sage grouse population has rebounded. A report last month from the Western Association of Fish and Wildlife Agencies found the number of male birds counted on traditional mating areas had increased 63 percent since 2013.
But the steps taken so far have not satisfied conservationists, who argue the Bureau of Land Management needs to act now to prevent the sage grouse from going extinct.
"The Obama administration knows exactly what sage grouse need to survive and recover, but ignored the science to appease the fossil fuel industry," Erik Molvar, wildlife biologist with WildEarth Guardians, said in a statement in June. "The plans must be strengthened to ensure the bird and its habitat are protected."