CLEVELAND, Texas — Authorities were still searching Sunday for a man accused of fatally shooting five of his neighbors, including an 8-year-old child, in their Texas home last week after one asked him to stop firing rounds in his yard.
The suspect, Francisco Oropesa, 38, was armed with a black AR-15 semi-automatic rifle when he went to the home in the Trails End area in Cleveland around 11:30 p.m. Friday and opened fire, the San Jacinto County Sheriff's Office said. The FBI previously spelled the suspect's last name as "Oropeza" but released the updated spelling as "Oropesa" on Sunday "to better reflect his identity in law enforcement systems," the FBI's Houston office tweeted Sunday.
On Saturday, authorities believed they had the suspect within a 2-mile or so search area but said later he may have slipped past it after they found his cellphone and clothing.
"He could be anywhere now," Sheriff Greg Capers said at a news conference.
James Smith, the special agent in charge of the FBI's Houston-area office, urged anyone who spots the suspect to call 911.
"We consider him armed and dangerous," he said. "He is out there, and he's a threat to the community."
Authorities are offering an $80,000 reward for information leading to the suspect's capture, they announced Sunday.
The state of Texas is offering $50,000 of the total reward money, and Multi-County Crime Stoppers, a local nonprofit organization, is offering $5,000 more. The FBI is offering another $25,000, Smith said.
Smith said Sunday that authorities are "running into dead ends" as he appealed to the public to share any relevant information.
"Right now, we have zero leads of him," he added.
Capers identified the five people who were killed as Sonia Argentina Guzman, 25; Diana Velazquez Alvarado, 21; Julisa Molina Rivera, 31; Jose Jonathan Casarez, 18; and Daniel Enrique Laso, 8.
He said earlier that all were from Honduras.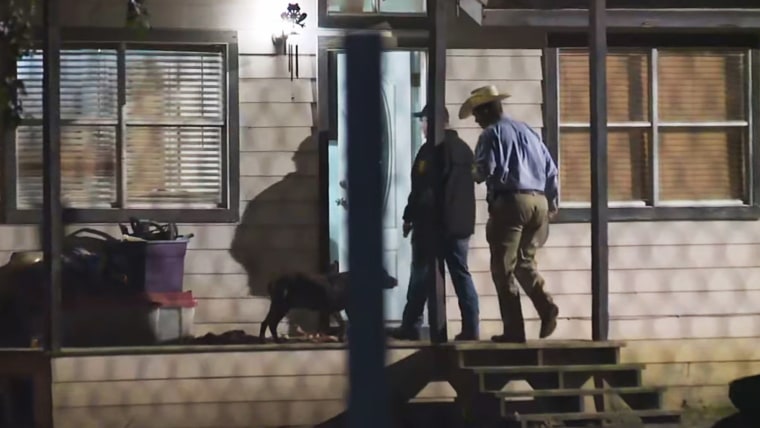 Capers got choked up talking about the victims Sunday.
"My heart is with this 8-year-old little boy," Capers said. "I don't care if he was here legally, I don't care if he was here illegally. He was in my county, five people died in my county, and that is where my heart is — in my county, protecting my people to the best of our ability."
He said that authorities seized the rifle used in the attack but that the suspect might still be armed with a handgun.
Capers said that scent-tracking dogs lost Oropesa's trail Saturday and that he could be 20 miles away or farther. He said that more than 150 police officers were looking for Oropesa on Saturday and that more than 200 were involved in the search Sunday, adding that they were going door to door looking for tips.
"It is my No. 1 priority to find him, as it is everybody that's out here looking for him," Capers said.
The FBI, the Bureau of Alcohol, Tobacco, Firearms and Explosives and the Texas Public Safety Department were involved in the manhunt, authorities said. Some of the law enforcement officers searching were on horseback.
Authorities said deputies were called to the home in reference to a harassment complaint.
"While en route, the communications center received multiple 911 calls of an active shooter incident at the dispatch location," the sheriff's department said.
What to know about the Texas shooting
The shooting occurred at a home in Cleveland, Texas, around 11:30 p.m. Friday.
Ten people were in the house. Five have died, including an 8-year-old child.
A suspect, Francisco Oropesa, is accused of using an AR-15 rifle and is believed to have fled the county.
Oropesa was not in custody Saturday evening.
Four of the victims were found dead inside the house, the sheriff's office said Saturday on Facebook. The child died at a hospital.
Victims were found in the living room and a bedroom and by the front door.
"There was two females in the bedroom that were laying on top of juvenile children and, my opinion, to keep them children safe," Capers said in an interview. 
"All of them were headshot in an execution style," he said.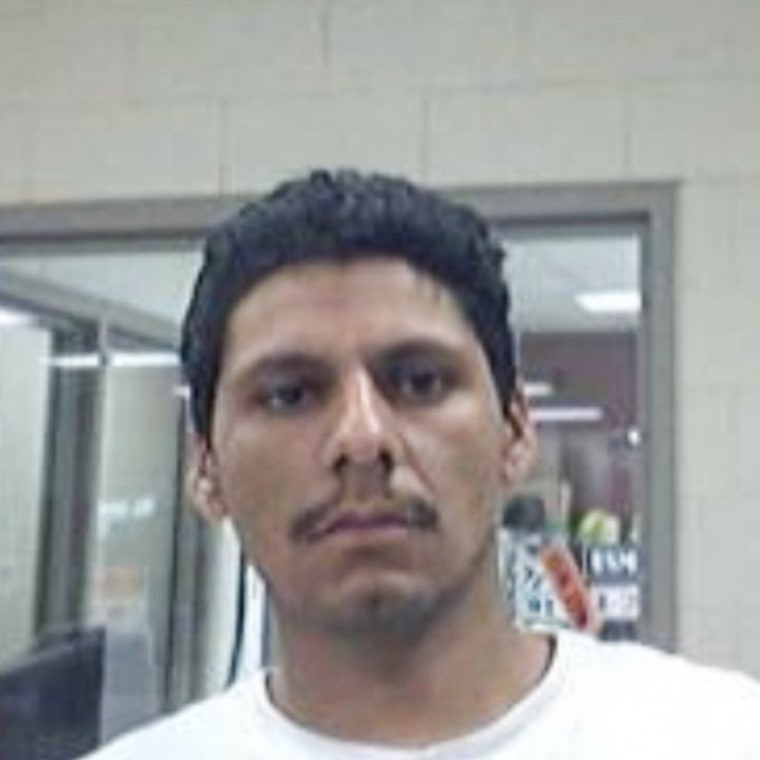 Three children were taken to the hospital. Capers said they were "covered in blood" but were not physically injured. They are safe and with family members, Capers said Sunday.
Two other people in the home were evaluated on scene and released, the sheriff's office said.
An arrest warrant was issued for the suspect, who is a Mexican national, and a judge assigned a $5 million bond. He faces five counts of murder.
Capers said that the suspect was alleged to fire his gun in the front yard of his home but that it wasn't entirely clear whether shooting on his property was illegal. It might depend on the size of the property, he said.
Deputies have been to the residence in the past based on similar complaints about open gunfire, he said.
Shortly before the shooting, one of the victims went outside and told the suspect that their baby was trying to sleep, Capers said.
In an interview, Capers described what allegedly happened next:
"This man takes it upon himself to walk out of his residence with a loaded AR-15, walk out into the street, walk down the street, walk into that man's driveway, walk up into that man's house and start shooting."
He said it has been a difficult case.
"To walk in the door and see four, and then a baby at the hospital being the fifth one, is grotesque," he said in the interview.
He said he believes as many as 15 rounds were shot in the home.
The San Jacinto County Democratic Party said it was canceling a planned annual fundraiser Saturday night and would instead hold a prayer vigil for the victims.
"San Jacinto County is devastated by the horrific events that happened last night," John Michael Adams, the county party chair, said in a statement. "We've decided that it no longer made sense to hold our annual fundraiser tonight, but still felt we needed to come together as a community — however we could — and send our love and prayers to the loved ones of the victims of this senseless shooting."
Cleveland is roughly 45 miles north of Houston.