Five people who died in an Illinois highway crash succumbed to exposure to a tanker truck's payload, anhydrous ammonia, a toxic chemical used in fertilizer, a coroner said Sunday.
"Preliminary investigation indicates five individuals died from exposure to anhydrous ammonia at the crash site," Effingham County Coroner Kim Rhodes said in a statement.
The chemical, which is transported as liquid but transforms into gas as it's exposed to air, can burn skin and lungs and paralyze the respiratory system, experts say.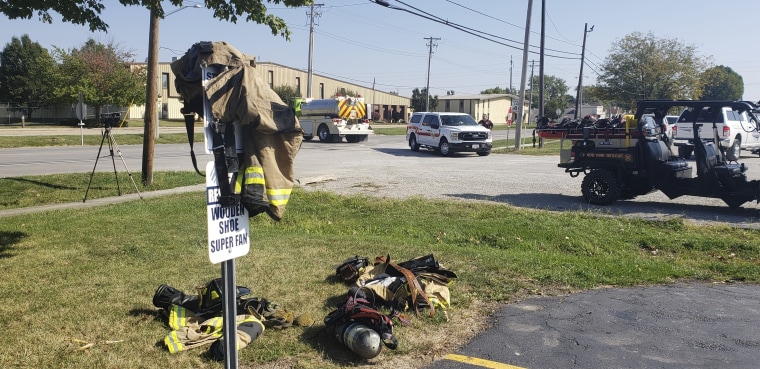 The deceased were identified by the coroner as Kenneth Bryan, 34, of Teutopolis; his two children, Rosie Bryan, 7, and Walker Bryan, 10, both of Beecher City, Illinois; Danny J. Smith, 67, of New Haven, Missouri; and Vasile Cricovan, 31, of Twinsburg, Ohio.
Seven other people were taken to hospitals, where they were treated for exposure to the chemical, Rhodes said. Five of them were taken by helicopter, indicating serious injury or trauma.
"Several" others arrived at hospitals by private transportation after having traveled through the crash site on U.S. Highway 40, the coroner's statement said.
The crash, which involved a tanker truck and a semi-truck, was reported about 8:40 p.m. Friday near Teutopolis, state police and a National Transportation Safety Board member said.
A westbound tanker truck carrying about 7,500 gallons of anhydrous ammonia jackknifed after a vehicle either passed or tried to pass it, NTSB member Tom Chapman said at a news conference Sunday.
The tanker truck ended up off the road, jackknifed and collided with a parked utility trailer, he said. The trailer's hitch punctured the tanker's container, allowing about half the contents to escape, Chapman said.
Chapman identified the operator of the tanker truck as Prairieland Transport Ltd., based about 30 miles west of the crash site, in Brownstown, Illinois. The firm uses 11 drivers and has a U.S. Transportation Department safety rating of "satisfactory" from 2011, according to department records.
The company said Sunday that it would have a statement in the coming days.
Questions about the roles of the victims — whether they in other vehicles or walking or working near the highway — the role of the semi-truck and the status of the drivers of both drivers remained.
"This is a rapid sequence of events," Chapman said.
The highway was shut down, and the crash site was teeming with an estimated 100 investigators well into Saturday evening as they tried to determine the cause of the crash, Rhodes said.
Teutopolis was evacuated, and vehicles were abandoned along the highway, she said in her statement on Sunday.
"Testing has indicated that the danger from the anhydrous ammonia has dissipated," Teutopolis Assistant Fire Chief Joe Holomy said in a statement released overnight. "We have notified residents that they may return home."
Chapman said the NTSB, which sent a 15-member team of investigators to the site late Saturday, would focus on safety and "hazmat routing" — why the tanker truck was carrying so much hazardous material.
Frequently, he said, anhydrous ammonia is transported in smaller quantities by "nurse tanks."
Autopsies for the five deceased were scheduled Monday at Champaign County Regional Autopsy Center in Urbana, Illinois, Rhodes said.