A Michigan sheriff on Wednesday said five local police officers involved in the fatal shooting of a Detroit man earlier this month have been cleared of any wrongdoing.
Macomb County Sheriff Anthony Wickersham released the findings of his agency's investigation at a Wednesday news conference a little over three weeks after the Nov. 4 shooting of Theoddeus Gray, 29.
Gray was killed by officers responding to a call from a banquet hall in St. Clair Shores where Gray was attending a baby shower for his first child. An employee called police to report a man with a rifle outside the venue.
Authorities originally said that officers opened fire on Gray after he shot and killed Axe, a 4-year-old police dog, with a handgun. At Wednesday's news conference, Wickersham said it's unclear who shot Axe and that officers fired at Gray because he fired at them.
"If somebody is shooting at the police, you can expect that the police are going to fire back," Wickersham said.
Oliver Gantt, a spokesman for the Gray family, questioned the police narrative.
"They claim they shot the young man because he shot the K-9 dog Axe," Gantt said to NBC News. "Now they're pivoting, saying he was not shooting at Axe."
Gantt also noted the money raised in response to the dog's death. More than $15,000 was donated in Axe's honor to get protective vests and first-aid bags for other police dogs.
"They valued the dog's life more than they valued this man's life," Gantt said.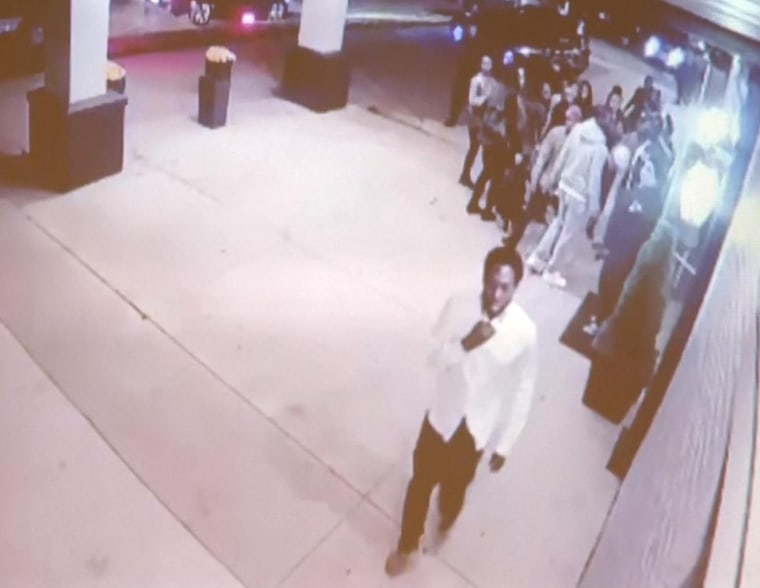 Police on Wednesday released audio from the 911 call and footage captured from outside the venue that evening, where Gray and about a dozen others had gathered outside before police arrived. Police said Gray ignored several demands from officers and attempted to flee the scene on foot. Gantt said the video footage did not show Gray holding a gun.
A fully loaded AK-47 was recovered on the banquet hall property, Sheriff Wickersham said. It is unclear who it belonged to.
He said that Gray's pistol jammed after he fired the first shot, but he continued to flee. Gray was hit by six bullets, police said. None of the officers were hit.
Wickhersham said his office believes Gray was prepared for some type of confrontation that evening.
St. Clair Shores Police Chief Todd Woodcox on Wednesday said he has not disclosed the identities of the officers — who include a 20-year veteran — because his department has received threats since Gray's death that he believes are related to the incident.
Reached Wednesday, the Macomb County Prosecutor's Office could not say whether it was also investigating the shooting.