Five soldiers were killed, three more were injured and four others remained missing Thursday night when a military vehicle was swept away by fast-moving flood waters during a training exercise at Fort Hood, Texas, the Army said.
"It's heartbreaking," Tyler Broadway, a spokesman for the 240,000-acre base in Killeen, halfway between Austin and Waco, told NBC News.
Broadway called it "a bad day for the military."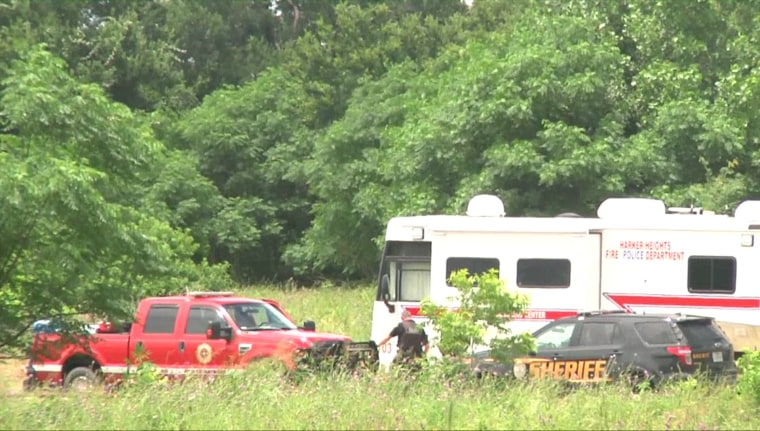 The Army said emergency personnel were called at 11:20 a.m. (12:20 p.m. ET) for a swift-water rescue for the soldiers' Light Medium Tactical Vehicle, which was stuck at a low-water crossing in a heavily wooded, hilly area in the northeast quadrant of the base.
The lifeless bodies of three soldiers were quickly recovered from the water downstream, the Army said. Two more bodies were recovered Thursday night, it said.
Three other soldiers who were rescued nearby were listed as stable at Carl R. Darnall Army Medical Center on the base. Their conditions weren't reported.
Four other soldiers — all from the 3rd Battalion, 16th Field Artillery Regiment, 2nd Armored Brigade Combat Team, 1st Cavalry Division — remained missing, the Army said. Search efforts were continuing late Thursday night.
Broadway told NBC News that intense storms that have inundated the area this week weren't a consideration in deciding whether the training exercise should have been canceled.
"It never rains in the Army. It rains ON the Army," he said. "We have people training in all weather."
Maj. Gen. John Thomson, the base's commanding general, said in a statement that "the 1st Cavalry Division is grieving."
"We are deeply saddened by the loss of several troopers and continue search operations," he said. "Your thoughts and prayers are greatly appreciated during this difficult time as we care for the families, loved ones and fellow soldiers of those impacted by this tragedy."