It may not have been at the same time other kids take their first steps when learning to walk, but one little boy's parents couldn't be more proud.
Five-year-old Bryce was finally able to experience what it's like to stand up and walk on his own two feet for the first time Tuesday.
"Growing up, he was always the first to do or try things," Bryce's father, Jesse Santoro told NBC News. "Even with his disability, he'd find his own little way to do it."
Born with club feet and spina bifida, he was unable to stand up or walk. But with the help of special braces, he took his first steps at the Shriners Hospitals for Children in Tampa with his whole family — parents, little brother, aunts and grandparents — all there to watch.
"It's amazing to see him stand up," Santoro said. "This is just the first step. He always used to do things Bryce's way but this is huge. Nothing is going to stop him now."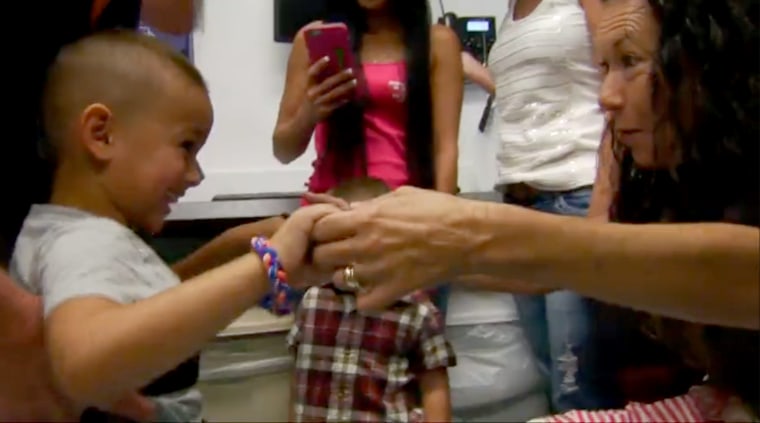 The special brace system starts at his toes and extends to his waist and lower chest. The brace can be locked and includes an extra function that can move his body by inching each leg forward.
Prosthetist-Orthotist Brad Pickering, who fitted Bryce for his brace, told NBC News the device will improve circulation, bone strength, balance and teach the tot to be more independent.
"He'll be able to stand and see his peers eye to eye," Pickering said. "That's huge."
Pickering said Bryce, who plays for a baseball "miracle league" with other special-needs children, is a good kid with a good attitude and Bryce's parents said anything he wants to do, they're behind him all the way.
"I prayed a long time — since he was born, that if there were a God or something like that he would take my good legs or something good from me to give him so he could stand up and enjoy the simple things," Santoro told NBC Station WFLA.
And with therapy and time, he'll be able to do just that.