LOS ANGELES — California Gov. Gavin Newsom declared a state of emergency Friday in Sonoma and Los Angeles counties, where wildfires fed by high winds and dry weather have led to evacuation orders for tens of thousands of residents.
---
Here's the latest:
The Tick fire in northern Los Angeles County forced the evacuation of about 50,000 people. At least six structures have burned so far, with the fire only 5 percent contained, officials said at a news briefing Friday morning.
The blaze has scorched 4,300 acres, and led the Los Angeles Unified School District to close all its schools in the San Fernando Valley on Friday because of "air-quality and safety concerns from the fires."
In Sonoma County in Northern California, the Kincade fire that started Wednesday night in a rural area, led to evacuation orders for around 2,000 people and by Thursday evening had destroyed 49 structures, including 21 homes, NBC Bay Area reported.
The blaze had by Friday morning scorched 21,900 acres and was 5 percent contained.
---
Los Angeles County Supervisor Kathryn Barger said she heard reports of residents attempting to cross barricades and being stopped by sheriff's deputies.
"They are presenting themselves at these barricades and they're not being allowed to and they're frustrated," Barger said. "The sheriffs are frustrated, too. It's hard to sit and watch your community burn."
The tally of evacuation orders has hovered between 40,000 and 50,000.
Los Angeles County Fire Chief Daryl Osby said erratic winds blowing at approximately 60 mph at ridge tops had caused the flames to jump a freeway.
A man in the Santa Clarita area in Los Angeles County was stunned by the proximity of flames from the Tick fire on a ridge. "Whoa, Lord. What are we going to do?" the man, who identified himself as James, told NBC Los Angeles as the sky filled with a smoky haze.
"This is the first time I've seen this going on. Oh my goodness," said the man, who has called the area home since 2006. "Wow. This is unbelievable. I'm about to leave — I can't stay."
That fire began at 1:42 p.m. near Tick Canyon Road in the Santa Clarita area, and numerous other fires have also broken out in the area, Barger said.
"Numerous homes have been burned," Barger said, adding that officials know of at least six. "But that number may rise," she said.
Download the NBC News app for breaking news
More than 500 firefighters were working to combat the blaze Thursday as sustained winds of 20 mph and gusts of 40 mph were recorded, the Los Angeles County fire chief said.
Early Friday morning, winds had picked up, with the National Weather Service reporting thatSanta Ana winds were gusting upwards of 45 to 55 mph across Los Angeles County and Ventura County to its north.
Osby urged people to stay aware even if they can't see flames because there are plenty of hot spots. The fire was only 5 percent contained late Thursday night.
"If you have not been evacuated, stay vigilant," Osby said at a Thursday night news conference. "These things can occur quickly," he said.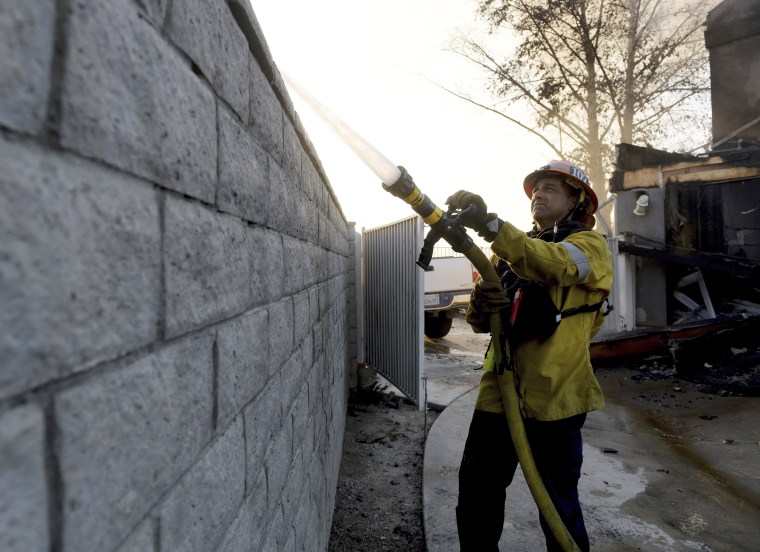 The Kincade fire in the northern part of the state broke out near the community of Geyserville, according to the California Department of Forestry and Fire Protection, known as Cal Fire.
The fire was 5 percent contained Thursday evening. Around 1,300 firefighters were on the line and that number was expected to increase, Cal Fire Chief Mike Parkes said.
"Because of the terrain of the area, the crews had a difficult time getting around it early on, and the fire grew much more quickly in size," Parkes said.
No injuries have been reported in either fire.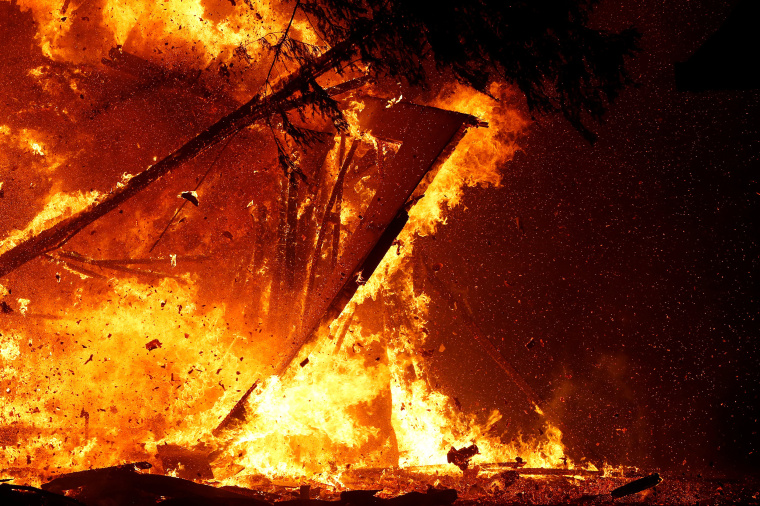 The threat of wildfires prompted utility company Pacific Gas & Electric to preemptively shut off electricity to hundreds of thousands of people in Northern California on Wednesday to try and stop power lines from sparking blazes.
PG&E said in a regulatory filing with the state Public Utilities Commission on Thursday that it learned that a nearby transmission tower malfunctioned about seven minutes before the Kincade fire erupted Wednesday night.
The utility said it learned from preliminary findings that a "transmission level outage" happened on a 230,000-volt line in the area at 9:20 p.m. Cal Fire says the Kincade fire broke out at 9:27 p.m.
PG&E had shut off power to around 28,000 customers in Sonoma County, including in the Geyserville area where the fire began, but it did not de-energize transmission lines in the area.
"Those transmission lines were not de-energized because forecast weather conditions, particularly wind speeds, did not trigger the PSPS protocol," PG&E said in a statement, referring to "public safety power shutoff," the term used for the planned blackouts.
"The wind speeds of concern for transmission lines are higher than those for distribution," the utility said in the statement.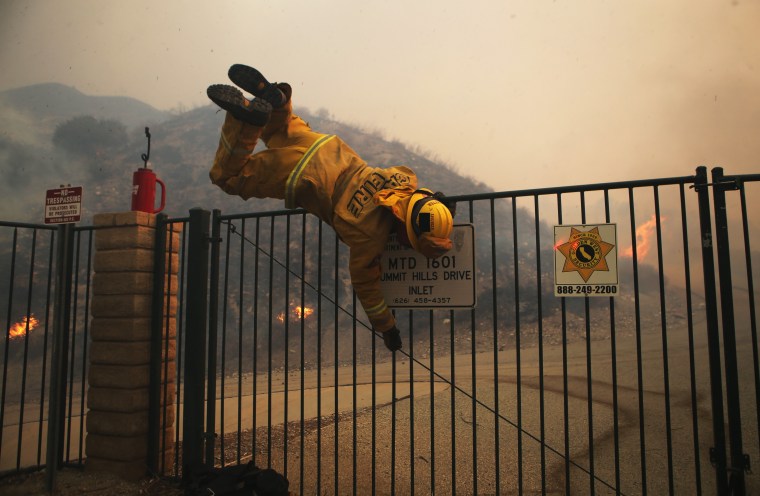 The PG&E outages that began Wednesday were the second time in two weeks that the utility shut off power to large swaths of Northern California over fire risks.
In the first shutoff, power was cut to about 2 million people across northern and central California. In recent years, authorities have blamed electrical equipment for causing several deadly and destructive fires.
Weather conditions in Northern California eased by Thursday evening, and PG&E said that it had restored electricity to 84 percent of the 179,000 customers who had their power shut off.
But forecasters say another wind event could be in store for Northern California on Saturday evening.
Southern California Edison also was conducting preventive power outages. The utility company said Friday morning that roughly 29,000 customers were without power, with more than 10,300 of those in Los Angeles County, 7,436 in San Bernardino County and 4,768 in Ventura County.
Southern California Edison said on its website that 386,116 customers in Southern California were under consideration for blackouts as of 6 a.m. Friday.
Phil Helsel reported from Los Angeles, and Janelle Griffith from New York.