The strongest earthquake to hit Southern California in two decades, shaking buildings and rattling nerves during the Independence Day holiday, was followed up early Friday with a strong aftershock — one of many in the hours after Thursday's 6.4 magnitude temblor.
The latest aftershock, at 5.4 magnitude, was centered in the Mojave Desert region and could be felt in Ridgecrest, near Thursday's epicenter, just after 4 a.m., according to the Geological Survey. There were no immediate reports of damage or injuries.
Kern County authorities said Thursday there had been minor injuries from falling glass and that a nearby dam would be assessed for possible damage. A hospital in Ridgecrest was evacuated so it, too, could be inspected for possible structural damage, police said.
President Donald Trump tweeted that he had been briefed on the earthquake and that "all seems to be very much under control!"
The earthquake was a stark reminder for Californians of the potential dangers from future, stronger earthquakes after several years when they have been relatively rare.
"We expect aftershocks. People should hold tight," Los Angeles Mayor Eric Garcetti told NBC Los Angeles. It's a "great time to come up for plan" for the next one, he said.
The Geological Survey said the earthquake struck at 10:34 a.m. local time near Searles Valley, a remote area in San Bernardino County, about 170 miles north of Los Angeles and 125 miles east of Bakersfield. The agency initially said the magnitude was 6.6 but revised its measure downward.
Seismologists said there were likely hundreds of separate earthquakes Thursday, most of them much smaller. About 30 were above magnitude 3.0, they said, warning that aftershocks could continue for days, with a small chance of an earthquake that's even stronger than 6.4.
"This earthquake was large enough that the shaking could have caused damage," Rob Graves, a seismologist with the Geological Survey, said at a news conference.
Ridgecrest Regional Hospital was evacuated so an engineer could assess whether it had structural damage, Ridgecrest police Capt. Justin Dampier said. Authorities said about 15 patients were moved to other emergency rooms.
One structure fire was reported, Kern County Fire Battalion Chief Jason Schillinger said, adding that a house was involved and that it was 50 percent saved.
Ridgecrest City Hall was opened as a shelter, and Mayor Peggy Breeden declared a state of emergency, a common move to allow the city to request assistance from other agencies. California Gov. Gavin Newsom followed suit later in the day.
San Bernardino County fire officials said they had reports of multiple buildings with minor cracks, broken water mains, downed power lines and rockslides on some roads but no injuries or fires. Los Angeles police said they hadn't received any reports of damage within the city.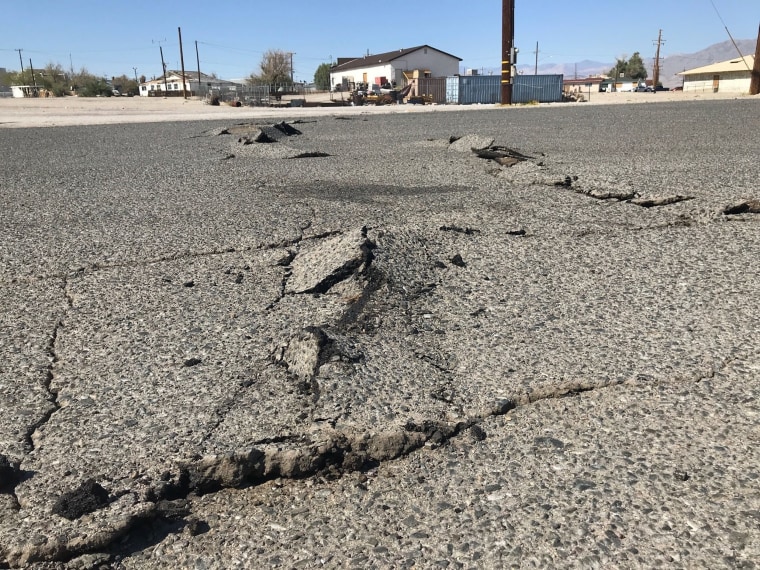 Lt. John Williams, commander of the Mojave office of the California Highway Patrol, reported only minor damage to area roads, which he said was quickly fixed.
"We did have, on State Road 178, we did have one large crack in the roadway that CalTrans responded to, and within an hour we had that filled in," Williams said.
Other than scattered debris and boulders on U.S. Route 395, "there's no other problems or concerns," he said.
Lucy Jones, a seismologist at the California Institute of Technology and a former science adviser at the Geological Survey, said at the news conference that it was the largest earthquake recorded in Southern California since 1999.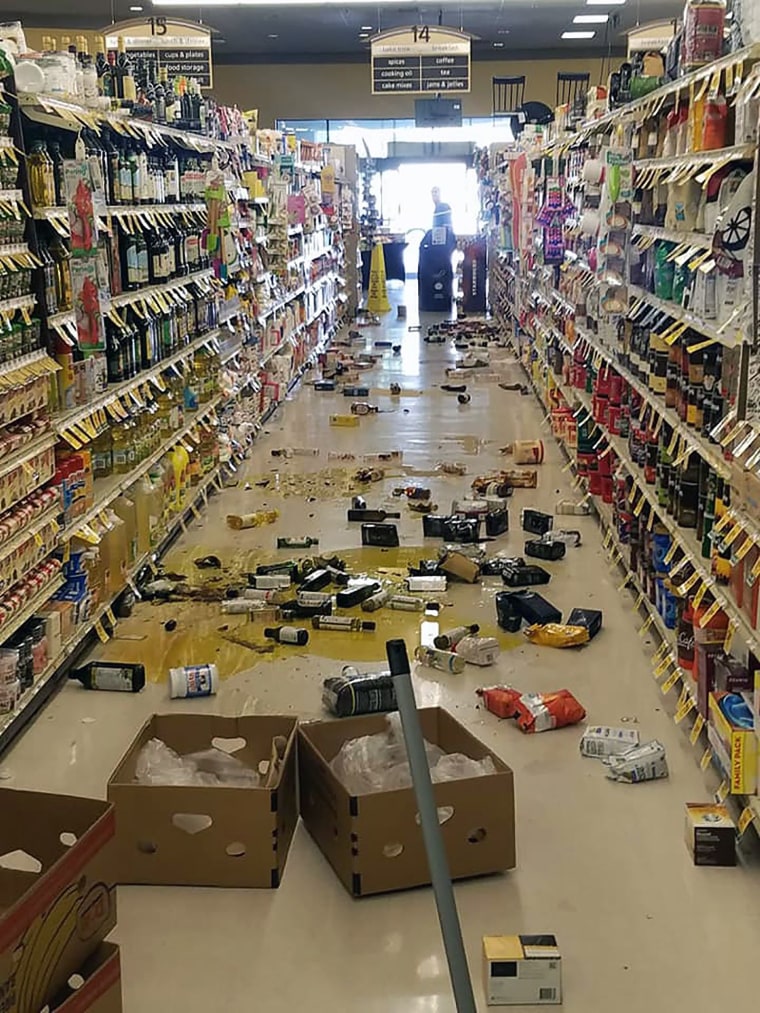 People said on social media that they could feel the shaking at least as far away as Las Vegas, and videos posted online showed swaying chandeliers, broken bottles of alcohol and water sloshing from swimming pools.
"I swear my bed jumped up and down at least a foot and a half," said Katie Woods of Ridgecrest, who told NBC Los Angeles that she was trying to nap when the earthquake hit. "I was just laying there hoping the ceiling wasn't going to come down."
Woods, who said she was about to turn 73, said that she had glass broken all over her house from lamps that fell over and that she was still feeling aftershocks.
At least one Fourth of July parade in progress during the earthquake continued with little interruption, according to NBC Los Angeles.
Amanda Callaway, 36, said she was driving home in Ridgecrest with her fiancé when they thought their car had lost a tire.
"We go to pull off the road, and we see that the road is moving," she said. "We could see the rippling in the road."
How people in the region experienced the quake would depend on factors such as how far they were from the epicenter and the makeup of nearby soil, Jones said. For some people, it likely felt more like rolling waves than shaking, she said.
"Even in the L.A. area, we'll have disparity in terms of the reports of the shaking," she said.
The Geological Survey was sending seismologists into the field to investigate which fault lines were involved, Graves said. It appeared to be at least two faults, he said.