Two people were killed and five others were injured, including a police officer, in a shooting at a mall Monday afternoon in Boise, Idaho, police said.
A suspect was critically injured and in custody, they said.
Officers responding to a 1:50 p.m. report of gunfire at Boise Towne Square mall encountered a person matching a description of the shooter, Boise Police Chief Ryan Lee said at a news conference.
"There was an exchange of gunfire that ensued shortly thereafter resulting in the officer's injury as well as the suspect being taken into custody," the chief said.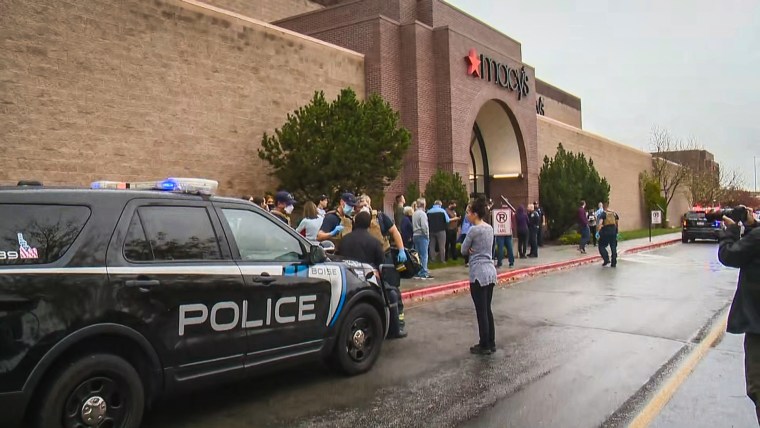 The officer was treated at a hospital and released, the Boise Police Department said.
The initial gunfire reports to authorities indicated one victim was struck and "down," Lee said. It's not clear how the second victim died.
The chief initially said "at least" four people were injured, but his department's evening statement clarified that five people, including the officer, survived the violence and were hospitalized, at least temporarily.
The suspect, though injured, "is in custody," Lee said.
"At this time, we believe that there was only a single shooter involved and that there is no ongoing threat or danger to the community at large from this incident," Lee said.
Lee said it was too early to say what might have motivated the attack.
"This is an ongoing investigation as well as a tactical incident," he said. "We really cannot at this time speak to any motivation behind it — or anything else that may impact the investigation."
Idaho Gov. Brad Little said on Twitter: "Those injured in today's unthinkable shooting at the Boise Towne Square Mall are in my prayers. The State of Idaho stands prepared to assist the Boise Police Department as they investigate the shooting."
Boise Mayor Lauren McLean praised police and first responders, saying: "You came quickly, and you showed compassion to so many people that were scared at a really tough moment. And you did everything you could to keep people safe."
The mall's owner, Brookfield Properties, said it was "working closely with the Boise Police Department as they investigate the circumstances that led to this terrible tragedy. We are grateful for their quick response and continued partnership. This is devastating for our entire community, and our thoughts are with the victims' family and friends during this unimaginable time."
The initial shooting was being investigated by Boise police. The officer's exchange of gunfire was the subject of an investigation by a "critical incident task force" headed by the neighboring Meridian Police Department.
The mall was expected to be closed through Tuesday night.