Six people, including an 11-year-old, were killed early Friday in a Minnesota's deadliest crash since 2010, officials said.
The two-vehicle crash, which happened just after 1:30 a.m. on Interstate 90 near Eyota, southeast of Minneapolis, involved a wrong-way driver, the Minnesota State Patrol said in an incident report.
A 2008 Ford Focus was headed the wrong way when it struck a 2005 Chrysler Sebring, police said.
Each vehicle had three people in it, and they all died. Several were not wearing seat belts, according to the patrol. It was unknown if the child was restrained.
One of the vehicles caught fire after the crash.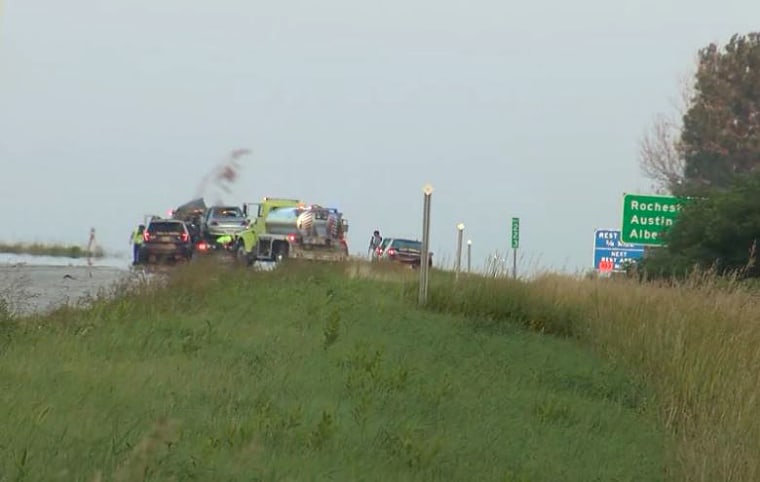 Investigators are working to determine where the wrong-way driver got onto the interstate, Minnesota State Patrol Lt. Heath Dienger said at a news conference. It was not clear yet if either driver was impaired.
Those killed were identified Friday as Christopher Michael Peterson, 26, who was the driver of the Sebring, and passengers Ester Linda Peters, 47, and Shayla Jean Peterson, 23. They were listed as living in Minnesota.
Sheila Eagle, 54, was driving the Focus with passengers Tamara Lynn Eagle, 29, and Nyobee Eagle Richardson, 11, of Wisconsin.
"We are all extremely devastated by this loss," the grandfather of Nyobee said in a statement to NBC affiliate WTMJ of Milwaukee. He also extended sympathies to the other families involved.
"This is a severely tragic accident, and they will all be sadly missed," he said.
"We ask the public not to engage in speculation in regards to the conflicting reports about the crash," he said in the statement.
The state patrol said that Friday's crash was the deadliest on Minnesota roads since 2010, when six people were killed in a crash.
Eyota is a town of around 2,000 east of Rochester, and around 85 miles southeast of Minneapolis.