One person was killed and 12 other people were still missing after a 129-foot commercial ship capsized off Louisiana, officials said Wednesday.
Nineteen people were on board the ship Seacor Power when it left Port Fourchon on Tuesday, according to a manifest, said Lafourche Parish President Archie Chaisson III.
Six people have been rescued.
"Unfortunately, we recovered one individual on the surface of the water deceased, and the search effort continues for the remaining 12," Coast Guard Capt. Will Watson told reporters Wednesday.
The victim had not been identified by midday Wednesday, and the cause of the capsizing was not immediately known.
"My heart and the collective heart of our team goes out to the families and to Seacor, but we're giving it all we have," Watson said.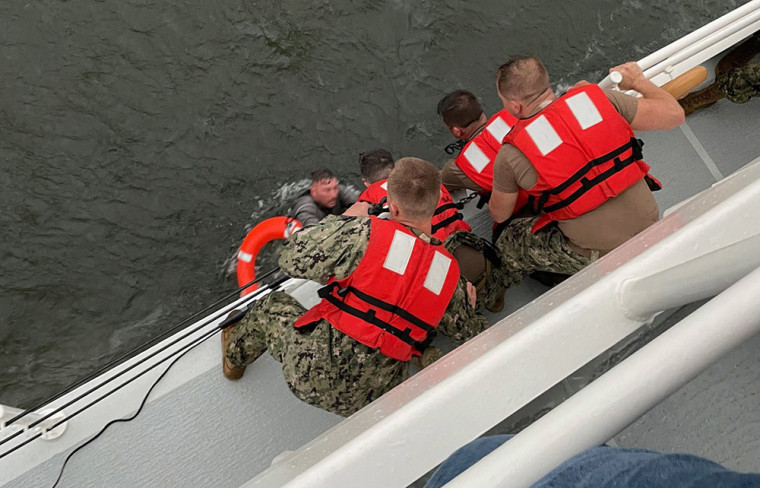 An 87-foot Coast Guard cutter, a 45-foot response boat, a helicopter and a plane were searching for more survivors, Watson said.
Weather has dramatically improved since the search began Tuesday afternoon, when rescuers battled winds of 80 mph to 90 mph, with limited visibility.
By late Wednesday morning, winds had calmed to 20 mph to 30 mph, with visibility up to 4 miles.
"We are committed to the search-and-rescue effort," Watson said.
The Coast Guard said it got an emergency beacon notification around 4:30 p.m. Tuesday and responded with other boats to the area 8 miles south of Port Fourchon, which is south of New Orleans, it said in a statement.
The commercial ship was described as a lift vessel.
It was still capsized at midday Wednesday, and rescuers said survivors could be trapped in air pockets in the prone vessel.
"It is a possibility. We don't know for certain right now. But that's something we're looking into as the investigation unfolds," Coast Guard Ensign Shelley Turner said. "But it is a possibility right now."
Private vessels rescued four people from the water, the Coast Guard said.
Download the NBC News app for breaking news
The area experienced a weather phenomenon, a "wake low," Tuesday afternoon, which resulted in high winds that would have made seas very rough, said Benjamin Schott, meteorologist in charge of the National Weather Service's New Orleans-area office.
The wake low was spun off from a complex of thunderstorms that moved through southeastern Louisiana, Schott said.
The condition creates a small but deep area of low pressure, with the effect of increased winds even outside a thunderstorm, he said. Wake lows are unusual, but they can happen anywhere, and Schott described Tuesday's as "a really powerful one."
The weather service had issued a special marine warning because of high winds.
CORRECTION (April 15, 2021, 7:00 p.m. ET): An previous version of this article misspelled the name of the capsized ship. It is Seacor Power, not Seacore Power.