Six women have been found dead in less than three months in secluded, wooded areas in the Portland, Oregon, region, but law enforcement authorities said they have not found any evidence that the cases are linked.
The women's bodies were found within 100 miles of one another, the Portland Police Bureau said in a news release over the weekend. Police have not determined whether they were all homicide victims, but they were all under age 40. 
Although news of the deaths was widely circulated on social media, the Portland Police Bureau said there was no reason to believe the deaths were connected.
"These discussions have led to some anxiety and fear in our community, and we want to provide reassurance that the speculation is not supported by the facts available at this point," the department said in the statement.
The body of Kristin Smith, 22, was discovered on Feb. 19 in southeast Portland. Police said her cause of death has not been determined.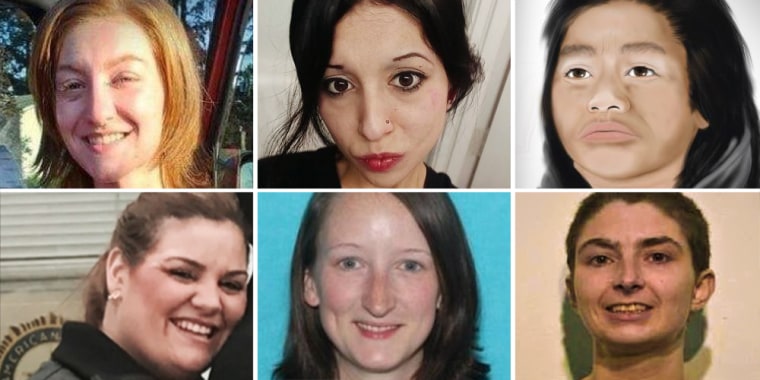 JoAnna Speaks, 32, was found dead on April 8 inside a barn at an abandoned property in Ridgefield, Washington, about 22 miles north of Portland, authorities said. She died of blunt-force trauma to her neck and head, according to the Clark County Medical Examiner.
Charity Lynn Perry, 24, was found in a culvert by the East Historic Columbia River Highway in Multnomah County on April 24, said Deputy John Plock, a spokesman for the sheriff's office.
The same day, an unidentified woman was found dead inside a tent in Portland, police said, adding she may have been Indigenous, and there were no signs of foul play.
Bridget Webster, 31, was discovered on a rural road in Polk County on April 30, and Ashley Real, 22, was found in a wooded area on May 7.
"It's just so heartbreaking, and it's really hard to put into words," Robyn Speaks, JoAnna Speaks' sister, told NBC affiliate KGW of Portland. "It's kind of hitting us more that it's real, and we keep seeing on the news all these new girls."
JoAnna Speak's stepsister Ariel Hamby said in an interview with "NBC Nightly News" that she was horrified and heartbroken.
"She was an amazing sister and wonderful daughter and a fantastic mother," Hamby said. "This isn't just about my sister anymore even if it's not one person doing this."
Webster's stepgrandfather, who would provide only his first name, Tom, because he said he has been inundated with phone calls about the women, said he raised Webster "until she left when she was a freshman in high school."
"She was a good girl until I lost contact with her years ago," Tom said, adding that he changed her diapers and taught her how to play basketball.
Multiple police and sheriff's departments are investigating the cases, and the Portland Police Bureau said it was also working with the county and state medical examiner's offices.
"One of the main things that they are going to be looking at is the manner of death and the weapon," Bryanna Fox, a former FBI special agent, told "NBC Nightly News." "If that's consistent across all of these victims, then that will be a huge point."