A 6-year-old girl was removed from the California home of the foster family she has lived with for four years because she has a tiny sliver of Native American heritage — despite resistance from her foster parents and their tens of thousands of supporters.
Rusty and Summer Page of Santa Clarita, California, have long fought to gain custody of Lexi, 6, who is 1.56 percent Choctaw Native American. That figure means that Lexi's home placement is dictated by the Indian Child Welfare Act of 1978.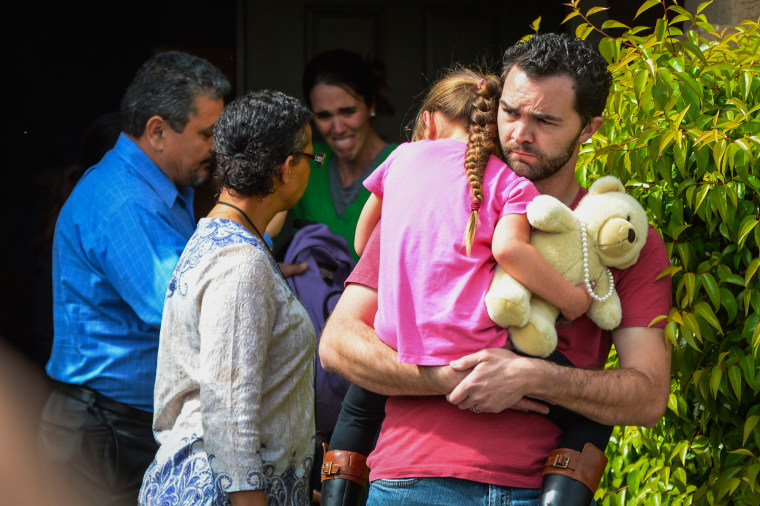 That law "seeks to keep American Indian children with American Indian families," according to its own language.
The child's birth parents struggled with substance abuse, according to court documents. Her father, who had a criminal history, never lived on a Choctaw reservation and didn't have any social, political, or cultural ties to the tribe, according to the court documents. But officials determined that Lexi is 1/64th Choctaw based on his ancestry.
Lexi was placed with the Pages — who have three other children — in December 2011 after two unsuccessful foster homes, including one where she was taken out of because of a black eye and a scrape on her face, the court documents said.
In 2011, "extended" family in Utah became aware that Lexi was with a foster family and expressed "interest in adopting" her, according to the documents. The documents said that Lexi is related to the Utah couple, who are not Native American, through her step-grandfather.
The California Court of Appeals originally ruled in August of 2014 that Lexi could stay with the Pages and they could continue to fight the Utah family for custody of the child.
But a decision earlier this month ordered the Los Angeles County Department of Children and Family Services (LA DCFS) to place Lexi with the Utah family "in accordance with the federal Indian Child Welfare Act," the department said in response to inquiries about Lexi's case.
In the days after losing their legal battle, the Pages addressed an online petition called "Keep Lexi Home" to several California and LA DCFS officials.
"There is a 6-year-old little girl who is going to be ripped away from the only family that she has ever known. Her name is Lexi," the petition said. "To Lexi this family is her everything — her mommy, daddy and brother and sisters." By Monday afternoon, more than 40,000 people had signed the petition.
Dozens of supporters also surrounded the Page's home Monday in an attempt to block LA DCFS officers. Many of those gathered had been camped out in the street — singing and praying — since Sunday, when the officers were originally expected to arrive.
Their efforts weren't successful.
Lexi was taken from the Page home on Monday afternoon, Armand Montiel, a public affairs director with LA DCFS, told NBC News.
The emotional scene played out on a Facebook live stream — watched by more that 1,000 people — which showed a teary child, wearing a pink shirt and grasping a teddy bear while Rusty Page carried her out of the home and loaded into a black sedan as his wife wailed "I love you Lexi" from the driveway.
"They fought for you," supporters screamed at the car, as officers prepared to pull away. "The Page family loves you."
"Our family is so incredibly devastated. Our hearts are broken and we are trying to make sense of everything that has happened with our three other children who witnessed their sister Lexi forcefully ripped away from our family by strangers," the Page family said in a statement Monday night.
"But nobody could possibly be more devastated than our 6-year-old daughter who found herself restrained in a car and driven away to go and live in a foreign place hundreds of miles from her family, friends, teachers, home and life," the statement said.
The Page's lawyer said in a statement Sunday that they had been willing to offer the Utah family visitation rights, but they "never responded to offers of compromise."
"They are not interested in anything except full custody, and they are not thinking about this little girl's best interests," the lawyer's statement said.
The LA DCFS said in a statement that the department always seeks to act in the best interest of the children it serves. "Often there are no easy solutions, but when a court makes an order, we must follow it," said the department's director, Philip Browning.
The National Indian Child Welfare Association argues that the decision to re-place Lexi was the right one because "the purpose of foster care is to provide temporary care for children ... not to fast-track the creation of new families when there is extended family available who want to care for the child."
"The foster family was well aware years ago this girl is an Indian child, whose case is subject to the requirements of the Indian Child Welfare Act," the National Indian Child Welfare Association said in a statement.
"The Pages were always aware that the goal was to place Lexi with her family, and her permanent placement has been delayed due to the Pages' opposition to the Indian Child Welfare Act," the Choctaw Nation echoed in a statement. "We believe that following the Choctaw Nation's values is in Lexi's best interest."