One of the most expensive high school football stadiums in America — a $60 million behemoth in Texas — will be closed this fall because the concrete is cracking, and a report commissioned by the school district says it may not have been designed to code.
The facility, Eagle Stadium at Allen High School, home of the state champions, opened to fanfare in 2012 but has been closed since February because of cracks in the concourse. The school already had to move graduation.
The stadium seats 18,000, and held as many as 22,000, counting standing room, for some games last year. Voters in Allen, by a margin of 63 percent, approved a public bond in 2009 to pay for it.
It sprawls over 72 acres, has a 3,300-square-foot high-definition scoreboard and a three-story press box and is surrounded by 5,000 parking spaces.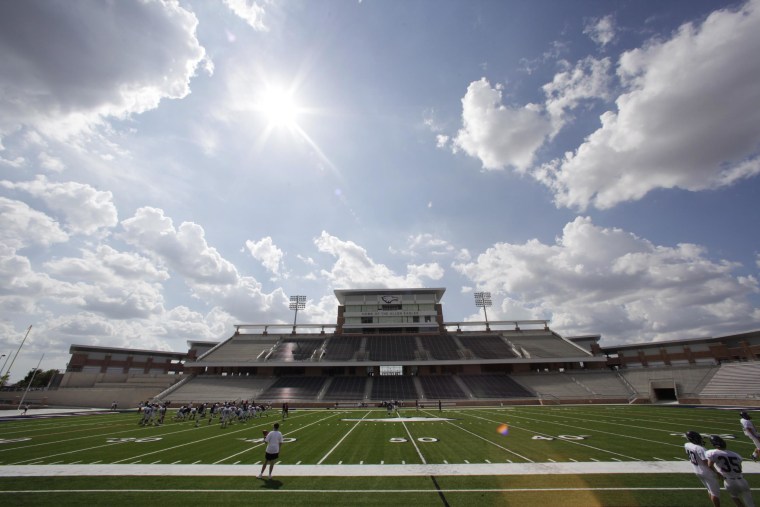 The company that designed it first said that the concrete was probably cracking because of "natural shrinkage" in the Texas humidity, said Tim Carroll, a spokesman for the district.
But early findings of the report commissioned by the district suggest that the concourse is not strong enough to meet the building code. In some spots, the concourse exceeds the capacity allowed by the code by 70 percent, the findings say.
"These are not 'near misses,' in many areas," lawyers for the school district wrote to the design and construction companies, according to a letter provided to NBC News on Tuesday by the district. The lawyers cited "construction failures" that exacerbated "already deficient design."
A final report is expected in June. The preliminary findings were first reported Tuesday by The Dallas Morning News, which obtained the documents through an open-records request.
The design company, PBK Architects, and the construction contractor, Pogue Construction, told the newspaper that they were committed to correcting problems at the facility. The design company estimated in a letter to the district's lawyers that repairs should cost $1 million or less.
"At the end of the day, our goal is to provide the taxpayers of Allen exactly what they paid for," the design company said in a statement.
Pogue Construction said in a statement that it is conducting its own review, stands by its work and will take responsibility for any repairs required because of the quality of its work.
The Eagles will play their home schedule this fall in nearby Plano.
"The stadium does not make the team," Tom Westerberg, the football coach, said in a statement. "The players make the team."