Seven more deaths have been confirmed where a wildfire is raging in Northern California, a sheriff's official said Thursday, bringing this month's death toll from fires burning across the state to at least 12.
Officials did not release additional details about the victims Thursday, pending notification of next of kin.
"We again offer our heartfelt condolences to the loved ones of the victims who have lost their lives in this devastating fire," Butte County sheriff's Capt. Derek Bell said.
On Wednesday, the Butte County sheriff announced three deaths from the Bear Fire, which is now part of the North Complex.
The North Complex has burned more than 244,000 acres, and part of that known as the "West Zone" is threatening Butte County, officials said.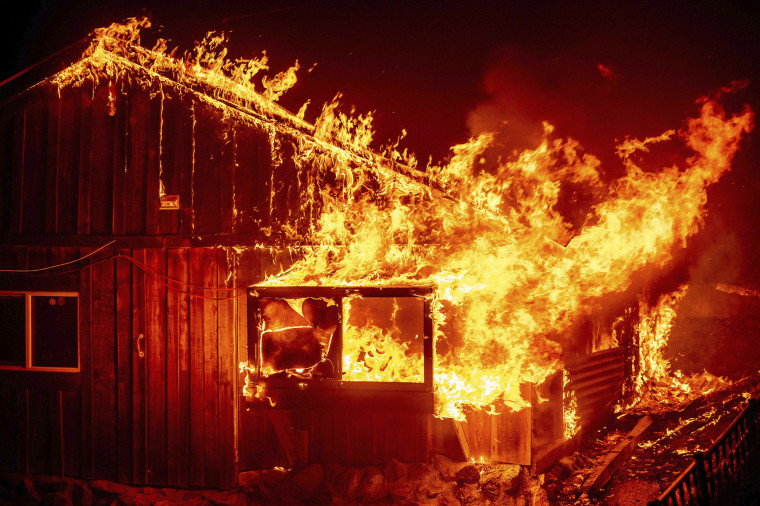 About 2,000 homes or structures have been damaged or destroyed, but more in-depth assessments will be done, an incident spokesman said.
There are 29 major fires or groups of fires called complexes burning across California and more than 3.1 million acres have burned since the start of the year, the state's wildfire firefighting agency said.
Fires are also raging in Oregon with more than 30 active fires, and an estimated 500,000 residents were under some type of evacuation notice, which includes those told to be ready to evacuate. More than 40,000 Oregonians have evacuated, the state emergency management agency said Friday. Thursday night, the state joint information center said 500,000 had been in areas under mandatory evacuation orders.
At least four deaths in the state this week have been blamed on the fires, according to officials.
Oregon Gov. Kate Brown said Thursday that more than 900,000 acres have burned. The number of those under evacuation orders continued to grow Thursday night, state officials said.
In the small town of Phoenix, a community of about 4,000 southeast of Medford that suffered devastating damage from the Almeda Fire earlier this week, stunned residents returned to survey the damage.
"There were flames across the street from me, flames to the right of me, flames to the left of me. I just watched everything burn," said Jonathan Weir, whose home was destroyed.
People spent the night in their cars in a Home Depot parking lot on the town's outskirts before returning to what was left of the town Thursday. In the city of Talent, with a population of around 6,000 southeast of Phoenix, the fire "ripped through" the main corridor, Mayor Darby Ayers-Flood has said.
In Clackamas County, Oregon, south of Portland, two large fires, the Beachie Creek and Riverside fires, were expected to merge, said Lance Lighty of the state's fire marshal's office
The entire county was under evacuation orders or warnings. "We've seen fire situations over the last three days in Oregon that we've never seen before," Lighty said.
In another fire burning in Northern California, near and across the Oregon border, another person was discovered dead Thursday, according to a sheriff's official.
The Slater Fire, which is burning in the Klamath National Forest and has destroyed an estimated 150 homes in the area of the small community of Happy Camp, had been blamed for at least one other death.
The Slater Fire has grown to more than 120,000 acres, fire officials said.
Wildfires have also been burning in Washington state, where at least one death linked to the fires.
Gov. Jay Inslee on Thursday visited the devastated town of Malden, where he estimated 80 percent of the community of about 260 in the eastern part of the state was destroyed by wildfire.
"We've had this trauma all over Washington," Inslee said, according to NBC affiliate KHQ of Spokane. "But this is the place where the whole heart of the town was torn out."
The deadly fire season has been record-setting in California, where hundreds of fires were sparked by thousands of lightning strikes in August.
Eight people were killed in those blazes, including five people who died in the LNU Complex burning northeast of San Francisco and near Vacaville and other communities.
That fire has burned more than 363,000 acres and damaged or destroyed nearly 1,500 structures, according to the California Department of Forestry and Fire Protection, also known as Cal Fire. It was 94 percent contained Thursday.
Southern California is also battling several blazes, including the Bobcat Fire burning in Angeles National Forest near Los Angeles.
That fire was at more than 23,000 acres Thursday night and was 6 percent contained, and residents in cities of Monrovia, Pasadena and others were told to prepare to evacuate, according to fire officials.
The El Dorado Fire in San Bernardino and Riverside counties, east of Los Angeles, was about 13,600 acres Thursday evening and had destroyed 10 structures, according to Cal Fire. It was 31 percent contained.
That fire, which began Saturday morning, was sparked by a smoke-generating pyrotechnic device during a "gender reveal party," at El Dorado Ranch Park in Yucaipa, the department has said.