Eight people died and 44 others were injured after a charter bus rolled over on a south Texas highway Saturday, the state Department of Public Safety said.
The crash on northbound Highway 83 in Webb County near the border with Mexico occurred at around 11:26 a.m. local time (12:26 p.m. ET), DPS Trooper Conrad Hein said.
Seven people were pronounced dead at the scene, and an eighth person died at a hospital, he said. Forty-four others were taken to hospitals in Laredo and Dimmit County.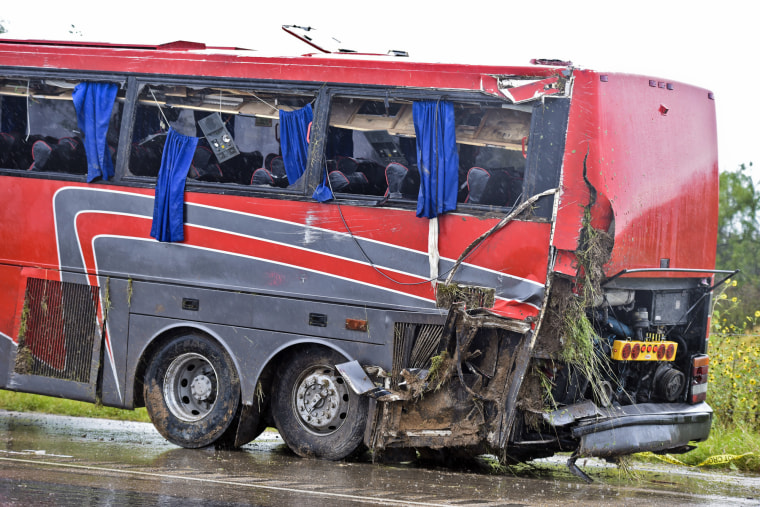 "The driver of the bus lost control and rolled over," Hein said. The driver was among the injured, Hein said. The driver's name and the names of the passengers were not released.
It was raining at the time of the crash, Hein said, but the cause of the crash is still under investigation. "We are still looking into it," he said.
The National Transportation Safety Board said it was sending a team to investigate the crash. The team is expected to arrive Sunday.
Hein said he believes the bus was heading from the Rio Grande Valley to Eagle Pass, a city on the border about 120 miles north of Laredo.
"I extend my heartfelt condolences to the loved ones of the individuals who lost their lives and those who were injured in this tragic accident," Webb County Sheriff Martin Cuellar said in a statement. The crash happened south of the Webb-Dimmit county line, Cuellar said.
One of 23 patients received at Doctors Hospital in Laredo had to be transferred to San Antonio for critical care, Chief Nursing Officer Daman Mott said. Most being treated there had minor injuries, Mott said.
Laredo Medical Center had 15 patients from the bus crash and they are all adults in stable condition, hospital spokesperson Priscilla Salinas said.
Texas Gov. Greg Abbott expressed his condolences to the families of those killed and to those injured.
"Cecilia and I extend our deepest condolences to those affected by the tragic accident in South Texas today. I ask the entire State of Texas to keep the families of loved ones lost today, as well as the Dimmit County community, in its thoughts and prayers during this difficult time," Abbott said in a statement.
The crash is one of the deadliest bus accidents in Texas in the last several years.
In January of 2015 two prison guards and eight inmates were killed after their prison bus struck a piece of displaced highway guardrail west of Odessa. The bus fell about 20 feet before striking a Union Pacific freight train that happened to be passing beneath the highway.
Seventeen passengers died in 2008 near Sherman when their bus plunged over a highway bridge on their way to a religious retreat in Missouri. The National Transportation Safety Board concluded the crash was caused when a retreaded tire on the right front axle was punctured by an unknown object.