Six children and two adults were found dead in a Texas home after a police stand-off Saturday night, authorities said.
A 48-year-old male suspect, identified as David Conley, surrendered to police and was taken into custody after firing a gun when officers entered the house in suburban Houston, police said. He was charged with multiple counts of capital murder.
Harris County Chief Sheriff's Deputy Tim Cannon said the motives appeared to be related to a dispute with Valerie Jackson, Conley's former domestic partner and one of the adults killed in the shooting.
Previous records show Conley has faced various misdemeanor and felony records dating to 1999.
Sheriff's Deputy Thomas Gilliland said officers were called to the house in Harris County just after 9 p.m. Saturday and upon arrival discovered that the man inside had an outstanding warrant for the aggravated assault of a family member.
He said the High Risk Operations Unit was then called in to run the arrest, but officers decided to move in after seeing the body of a child through a window.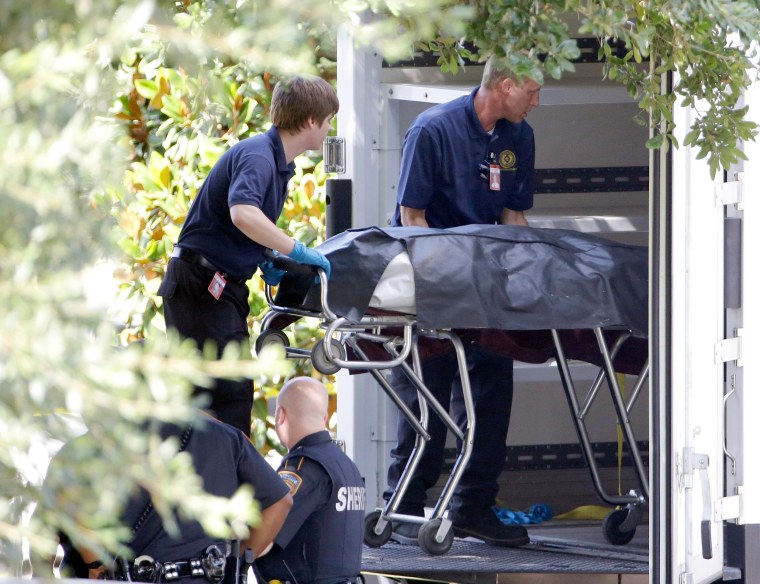 "A sergeant and three deputies made entry into the house, and at that point the 49-year-old subject began to shoot a weapon in the house. Our deputies pulled back and formed a perimeter," Gilliland said.
The negotiator was called in and the suspect was arrested about an hour later, Gilliland said.
Officers were then able to enter the house, at which point they discovered the eight bodies. In addition to Valerie Jackson, 40, they were identified Sunday as Dwayne Jackson, 50, and six children, ages 6 to 13.
Homicide detectives have taken control of the scene. Gilliland said the number of victims means "we will be here for quite a while."
Gilliland said the violence brought back grueling memories of the Stay family murders near Harris last year, in which four children and their parents were shot dead by a relative. "Again it's played out for Harris County citizens to endure this," Gilliland said.
"It's a hard job to be a patrolman in this town. Our deputies do a yeoman's job every day when they are forced to see the horrific nature, something so callous," he said.