A 6-year-old Phoenix girl died after she and her 8-year-old brother snuck out of bed, stole away in their mother's car and — still in their pajamas and with police following them — went on an overnight joyride that ended with a crash Thursday morning, police said.
Witnesses said the boy appeared to know how to drive — at least a little — and he was stopping at red lights and obeying other traffic laws. But after about five miles, he veered right into a roadside pole late Wednesday night.
Police — who were pursuing what they thought was a kidnapping suspect — immediately began giving assistance, Phoenix police Sgt. Steve Martos told NBC station KPNX of Phoenix.
"It was an absolute shock to them, a surprise to them — again believing that this was a criminal act, wanting to save these kids," Martos said.
The boy escaped with minor ankle injuries, but the girl — who police said didn't appear to be wearing a seat belt — suffered massive injuries and died Thursday morning at a Phoenix hospital.
The girl was identified as Aaliyah Felder.
Martos also said there's nothing to indicate the children's mother would face any charges. 
"There's really no criminal element to any of it," Martos said. "From mom's standpoint, there's nothing to indicate any neglect or abuse. From the kid's point, he's 8 years old so his mental state is not culpable."
One man who followed the car for about 15 minutes, Phoenix resident Ruby De La Cruz, said the little boy could barely see over the dashboard.
"They were swerving into and out of traffic — into oncoming traffic — and, you know, the headlights weren't on, the windshield wipers were going crazy, so I knew they couldn't see too good with them going back and forth," De La Cruz told KPNX. "It was crazy."
"I (saw) the little boy's face, and when he saw me he looked scared, but he looked like, 'OK, I'm going to keep on going anyway,'" he said.
Right before the crash, the boy "looked like he had freaked out" because "the cops had already turned on their lights to pull them over," De La Cruz said. "He went real quick to the right, but he hit the curb and swerved into the pole."
Wednesday night had begun as usual for the family.
Both children had had their baths and were in bed by 9:30 p.m., Martos said. But then their mother woke up about 10 p.m. to discover that the children were missing — along with her Hyundai Elantra. She called 911, believing they had been kidnapped.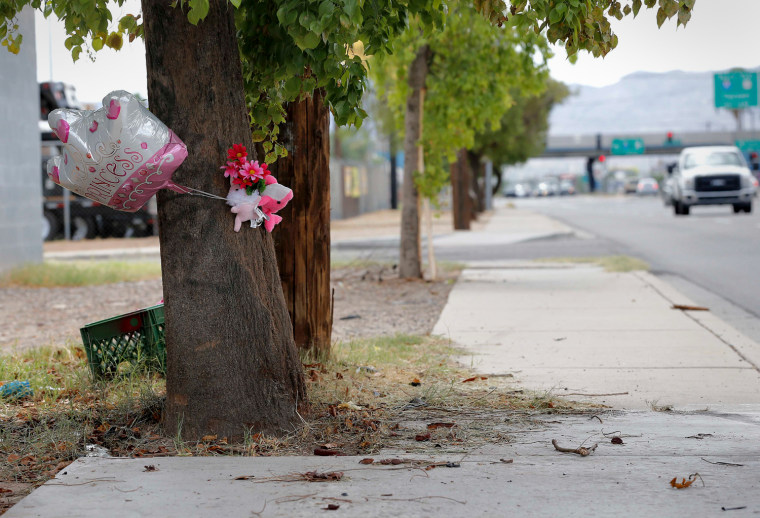 Simultaneously, other calls were coming in to 911 from motorists who saw the car hit a fence and drive away. One of the drivers began following the car and later reported that "the driver was actually stopping for red lights and that kind of driving," Martos said.
"The vehicle veers to the right, collides with a pole, officers run to the vehicle to try and render aid and discover this horrific scene," he said. "They discover this 8-year-old and now a 6-year-old with fatal injuries."
The children may have been on their way back when they crashed, because the accident occurred just a short distance from their home.
"Mom lives about a block or so from here," Martos said. "She, again, was still frantic, thinking that the kids had been kidnapped, saw some of the police activity on 19th Avenue, only to discover that the vehicle and the children that we were working with were in fact her children."
Martos said investigators were so far unable to explain why the children drove away.
"The mother indicated that she has never seen or known of the children taking the vehicle before," he said. "We don't know why this happened."