Cincinnati Public School officials released a disturbing surveillance video on Friday of an attack on an 8-year-old boy in a school bathroom by another student — an incident that took place two days before the boy took his life.
In the grainy 24-minute video, taken at the entrance of a bathroom at Carson Elementary School, third-grader Gabriel Taye appears to be approaching a larger boy, who just pushed another boy, and extending his hand seemingly for a shake when the larger boy grabs his arm and pushes him into a wall, causing Gabriel to collapse and faint.
While the video is hazy, Gabriel's motionless body is seen lying on the floor for several minutes, during which numerous children go past him, step over him, and even kick and poke him with their feet.
Almost eight minutes later, an adult in a dark suit is seen walking over and attending to a still unmoving Gabriel.
Two days after the bathroom attack, the boy hung himself with a necktie in the bedroom of his Cincinnati home.
The school made no mention of the incident to the boy's mother, Cornelia Reynolds, only telling her that he fainted, said Jennifer Branch, an attorney representing Reynolds, adding that they learned about the surveillance video months after the attack in January.
"Mom got a call from the school. She was told her son had fainted, he's in the nurse's office. His vitals are fine, he's fine and she decided to come to the school to get him to make sure he was okay and she took him home," Branch said. "Later that night he was nauseous and had fainted and thrown up a couple of times and she took him to the hospital."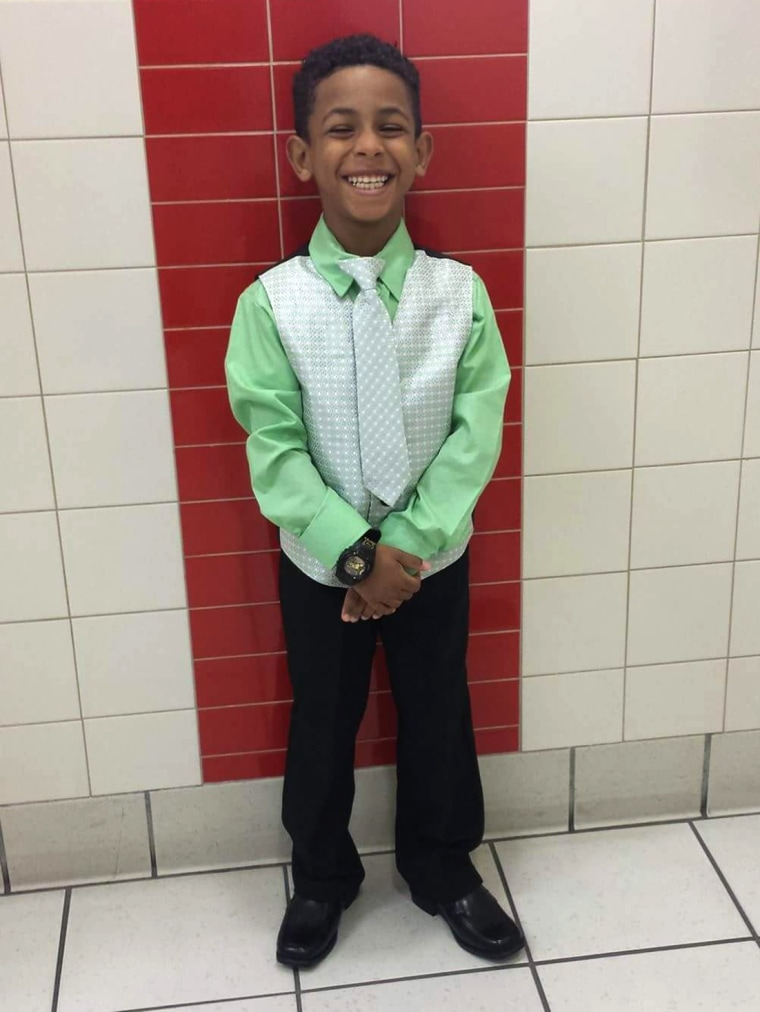 But because the mother didn't know what happened, the doctor at the hospital didn't either, which changed the nature of the medical examination, she said. "If she had known he had lost consciousness for over 7 minutes, that is a critical detail for a medical professional to know," she said.
Reynolds found out about the bullying incident after her attorneys received a copy of a police investigative file that contained an email from a homicide detective to school officials describing the surveillance video, she said.
"If Gabe's mom had known that her son was going to school every day and experiencing, and witnessing, and being involved in these violent, very unsettling events, she wouldn't have continued to send him there," Branch said.
But the school says it has no culpability in what happened to Gabriel and instead stands by a different version of events — one where the school nurse told Reynolds to take her son to the hospital.
"When checking on Gabriel, the school staff members asked him what happened. He responded that he 'fell,'" the district said in its statement Friday. "He later said that he 'fainted.' At no point did Gabriel indicate that he had been hit, yanked, pulled, pushed or assaulted in any way. He had no visible abrasions and there had been no report of a fight of any kind."
"The school nurse checked Gabriel's vital signs, which were normal. She also contacted Gabriel's mother and asked her to pick him up and take him to the hospital to be checked out," the district said in its statement.
Related: 8-Year-Old Was Bullied Before Killing Himself, Attorneys Say
"We ask that you review the video, in its entirety. It is our firm position that the allegations portrayed in the media are not supported by the video," the school said in a statement after releasing the video Friday.
The school said it released the surveillance video to be "completely transparent" and reminded the public that "no charges resulted" from an investigation into Gabriel's death.
The Hamilton County Coroner's office said Thursday they were reopening an investigation into Gabriel's death.
Attorneys for Reynolds say they have not filed a lawsuit against the school yet.
"What we are investigating is grounds to file a lawsuit and looking to see if the school district did anything to contribute to his death," Branch said.
What happened to Gabriel is not an uncommon scenario at Carson School, said Branch.
"There's lots of violence going on in that school," she said. And by "downplaying" the incident with Gabriel, the school is putting "many more kids at risk," she added.
"To watch these children walking in and out of bathroom who are afraid, and to see someone like Gabe who is trying to diffuse the situation by putting out his hand, you realize that 10-minute snapshot at that school, is what it must be like all day at that school," she said.