Frustrated first responders to the Sept. 11 terror attacks who have long-sought reauthorization of a program aimed at helping provide them with health care camped outside of Senate Majority Leader Mitch McConnell's office on Wednesday to demand a vote on the measure.
The move came after Senate Democrats accused McConnell of single-handedly blocking the legislation from being included in the long-term highway bill, which was unveiled Tuesday and is expected to pass as soon as this week.
"It's absolutely disgusting that we have to keep on coming back down here and to keep on begging, it's like we're beggars," Anthony Flammia, a retired New York City Police Officer and 9/11 responder said outside McConnell's office. Flammia and a group of over two dozen 9/11 first responders met with a top staffer for Senator McConnell today to ask why the bill was left out of the highway legislation.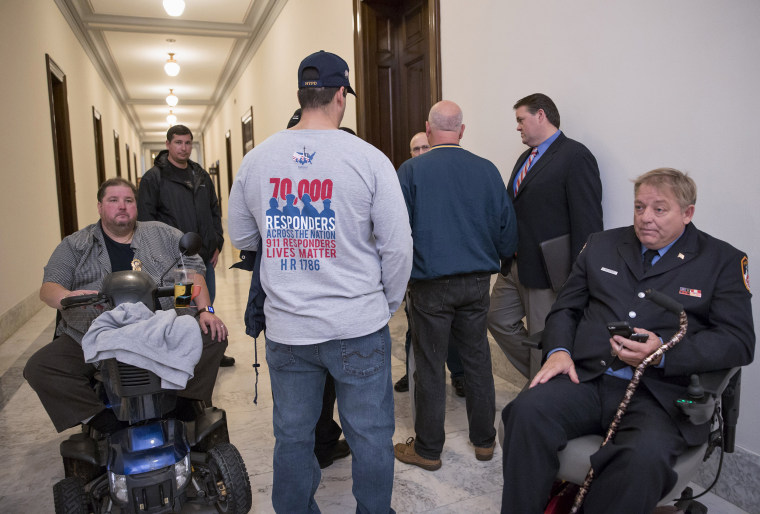 "He knew the popularity of the bill and when he didn't get his way this is the one he pulled off the bill," 9/11 first responder Kenny Specht told reporters of McConnell, "That says something about the type of man we're dealing with here. He held us hostage and it's not right, it's not right."
Related: Why is a Health Bill for 9/11 First Responders Stuck in Congress?
The bill, called the James L. Zadroga 9/11 Health and Compensation Act, would reauthorize an expiring health care program for 9/11 first responders permanently, while at the same time reauthorize a victims compensation fund for five years, aides say.
The bill has been spearheaded by a bipartisan group from the New York congressional delegation, which has said renewing the programs is "a real life or death issue."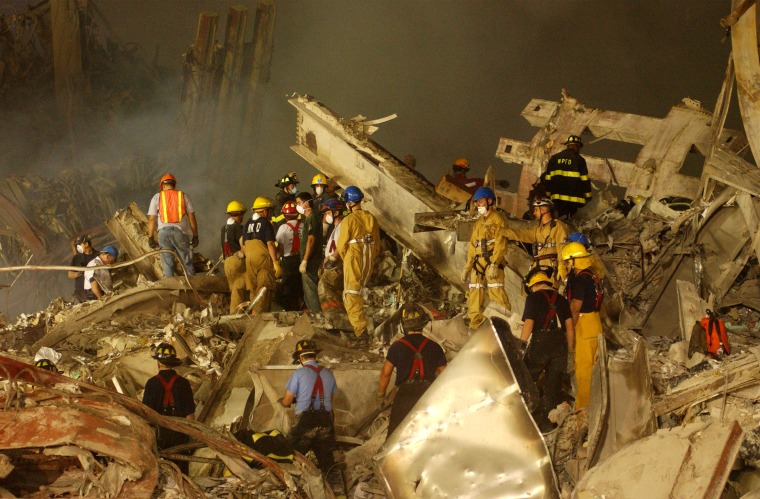 "These guys and women put their lived on the line literally on the line and now they are suffering from it and the thought that the government is hesitating to keep its commitment to them it is distressing and disturbing to a lot of them – it's very disappointing because these are true patriots," Rep. Peter King, R-N.Y. told NBC News in an interview.
But aides familiar with the negotiations say that Sen. McConnell asked that the highway bill also lift the U.S. ban on oil exports, and when that was not agreed to he stopped the Zadroga Act from being included in the five-year highway legislation.
"I believe that Senator McConnell was using this as a negotiating position—give us something, we'll give you help for the 9/11 rescue workers," Senate Minority Whip Dick Durbin, D-Ill., told reporters on Tuesday, "And in the end he was the one, Senator (Charles) Schumer and (Kirsten) Gillibrand ticked off every box of every potential opponent, Democrat, Republican, House and Senate, and it all came down to one box at the bottom: Mitch McConnell. He stopped it."
Senate Minority Leader Harry Reid, D-Nev., says an agreement on the Zadroga Act has been "done for weeks," and that he was "surprised" when he was told it would not be included in the highway bill.
Related: 9/11 first responders fight for support
"It was done, it's been done for weeks," Reid told reporters, "It was supposed to be in the highway bill, quite frankly I was surprised yesterday when I was told by Senator McConnell that it wasn't going to be in the highway bill, I was really quite surprised."
"It's not in the bill and I'm disappointed," Reid said, "It's something that these people deserve. And I was told, well, we're going to do it on the omnibus, and now I was told later in the day that they want to do it on the tax extenders."
But Senator McConnell's office denies the Majority Leader is blocking anything, saying "There's still no final bill to object to," and claiming that Sen. Durbin is "misinformed."
"The questions of duration and pay-fors are still being worked out," McConnell spokesman Don Stewart told NBC News on Tuesday, "But members on both sides of the aisle and both sides of the building are working on wrapping that up."
Wednesday's meeting between a top staff member for Sen. McConnell and a group of 9/11 first responders comes as pressure continues to grow to pass the legislation before the year's end. The group of first responders on Capitol Hill plans to continue to meet with congressional offices today and tomorrow, and AFL-CIO President Richard Trumka released a statement on Tuesday calling on Congress to pass the bill as soon as possible.
Related: Jon Stewart to Congress: Don't Forget 9/11 First Responders
"It is despicable and negligent for Senator McConnell to play politics with the lives and health of some of America's bravest men and women," Trumka said, "Senator McConnell should not stand in the way of a permanent and fully funded James Zadroga 9/11 Health and Compensation Reauthorization Act."
Senate Republican Conference Chairman John Thune, R-S.D., said the exclusion of the Zadroga Act from the highway bill was not as a result of "any specific individual that was blocking," but instead said "there were a lot of attempts to add some of these extraneous items to (the highway bill), but I think for the most part conferees try to keep it as much as possible confined to transportation priorities."
"The 9/11 responders issue will be addressed, everybody knows that, it will have a lot of bipartisan support," Thune said.
All indications are that congressional leadership is close to reaching an agreement to get the legislation passed before the end of the year, with House Judiciary Committee chairman Bob Goodlatte, R-Va., saying in a statement that "most of the major issues have been resolved."
"We are continuing our talks with all stakeholders in order to have a final bill completed by the end of the year," Goodlatte said.
And House Energy and Commerce Committee Chairman Fred Upton, R-Mich., announced Wednesday a plan to permanently extend the health care component of the program, paid for by using a number of cuts and reforms to Medicaid which total more than $4 billion.
"Let's end the uncertainty by permanently and responsibly extending this critical program," Upton said, "Our solution puts heroes ahead of spending on millionaires. The choice is that simple — it's time for Congress to get the job done."
The bill has the support of former 'Daily Show' host Jon Stewart, who was on Capitol Hill in September lobbying members of Congress to reauthorize the programs for 9/11 first responders.
"It's the least we can do. it's literally the least that we can do," Stewart said at the time of the Zadroga Act, "That they don't have to be insecure about the medicine they are going to need to treat illnesses that have been scientifically shown – doctors here – and studies have shown links to 9/11."
House Speaker Paul Ryan, R-Wisc., told NBC News on Tuesday that the bill is still a priority.
"We have not decided what vehicle it will be or what funding level but it is something we do intend to get done by the end of the year," Ryan said.
There are two components to the legislation. One is to fully fund the healthcare of those workers who served on "The Pile" at Ground Zero. The other is a continuation of the 9/11 victims compensation fund.
A possible compromise would to fully fund the health care and then sunset the compensation fund at some point, which could assuage the concerns of some conservatives worried about the creation of a new entitlement program.