Ceremonies on the 19th anniversary of the Sept. 11, 2001, terrorist attacks looked different this year amid a pandemic that has unmistakably altered American rituals.
As flags flew at half-staff Friday at the National September 11 Memorial & Museum in New York in remembrance of the nearly 3,000 victims, this year's ceremony was marked by harrowing loss and coronavirus precautions.
Attendees around the site wore masks, greeted each other with elbow bumps rather than handshakes and stood 6 feet apart.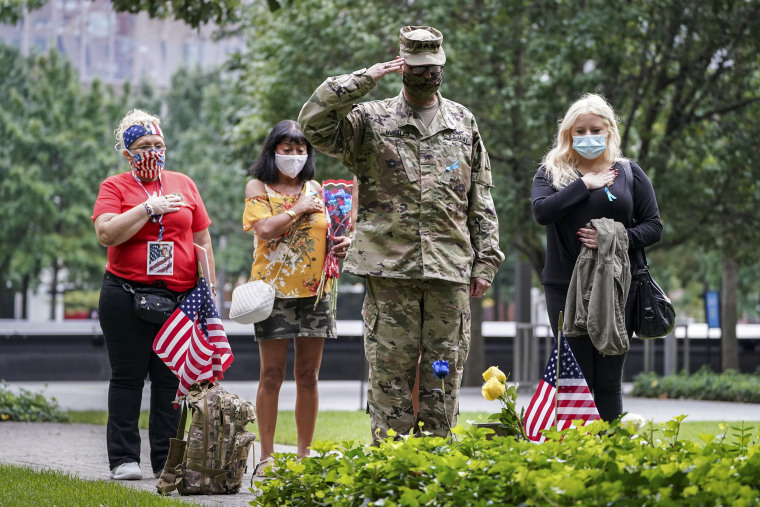 Instead of relatives reading the names of the dead, a recording of the names from speakers was played around the vast plaza — a change that memorial leaders felt would avoid close contact onstage while allowing families to remember their loved ones at the place where they died.
Families who attend, as in previous years, have exclusive access to the museum on Sept. 11. Earlier in mid-March, the memorial and the museum closed, and only the memorial has reopened this July.
Democratic presidential nominee Joe Biden was in attendance at the national remembrance ceremony at Ground Zero on Friday morning, along with New York Gov. Andrew Cuomo, New York City Mayor Bill de Blasio and Vice President Mike Pence. Biden and President Donald Trump are also expected to attend the ceremony at the Flight 93 National Memorial in Shanksville, Pa. on Friday.
Ahead of his trip from Delaware to New York, Biden told reporters on Friday morning: "I'm not gonna make any news today. I'm not gonna talk about anything other than 9/11. We took all our advertising down, it's a solemn day, and that's how we're going to keep it."
President Donald Trump delivered remarks on Friday morning — without a face mask — at the memorial in Shanksville, where one of the hijacked planes crashed in a field, killing everyone on board.
"To every 9/11 member all across this nation: The first lady and I come to this hallowed ground deeply aware that we cannot fill the void in your heart or erase the terrible sorrow of this day," Trump said. "While we cannot erase your pain, we can help to shoulder your burden."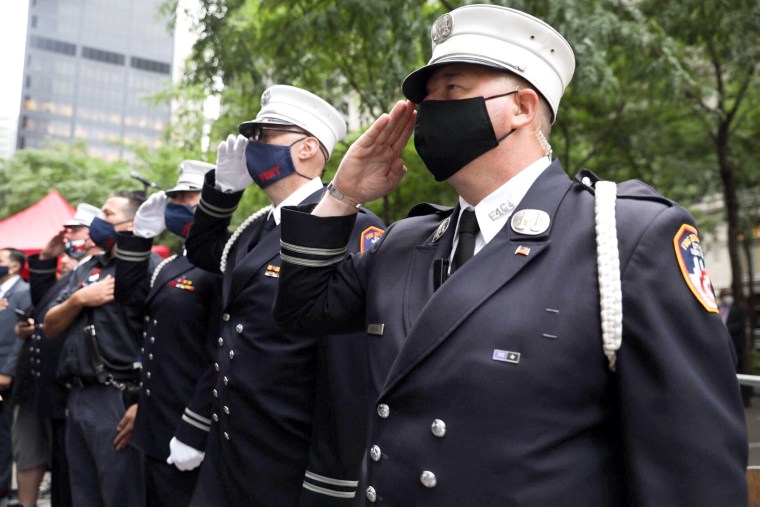 In his remarks, Trump honored first responders who died during the attacks and passengers who fought back against the Flight 93 hijackers. He also mentioned the deaths, under his administration, of Iranian Gen. Qassem Soleimani and ISIS leader Abu Bakr al-Baghdadi, both of whom were killed within the past year.
"Less than one year ago, American warriors took out the savage killer and leader of ISIS, al-Baghdadi," he said. "Soon after, our warriors ended the brutal reign of the Iranian butcher who murdered thousands of American service members — the world's top terrorist, Qassem Soleimani, is dead."
Biden, who is expected to steer clear of politics for the day, is set to visit Shanksville with his wife, Jill Biden, later in the afternoon.
Democratic vice presidential nominee Sen. Kamala Harris and her husband Doug Emhoff offered remarks at a 9/11 remembrance on Friday morning outside the Public Safety Headquarters in Fairfax, Va.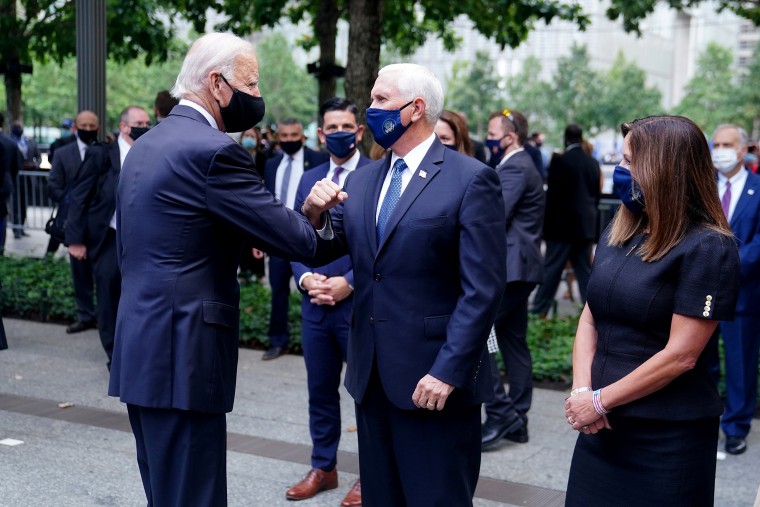 There, Harris, clad in a black mask, delivered a tribute to victims and first responders. She described how Americans acted with love and courage on 9/11 and the days following the tragedy.
"What our attackers failed to understand is that the darkness they hoped would envelope us on 9/11 instead summoned our most radiant and defined human instincts — the instinct to care for one another, to transcend our divisions and see ourselves as fellow citizens, to race toward danger and risk everything to protect each other, the instinct to unite," she said.
"If we learned anything watching the heroes of 9/11, it's that the strength of the human spirit knows no bounds and that even the greatest threats against us only serve to reveal our true strength."