Eleven people were shot overnight Friday near Southern University and A&M College in Louisiana at the close of a party, police said.
Baton Rouge police responded to a report of a shooting around 1:50 a.m. local time (2:50 a.m. ET) in the 600 block of Harding Boulevard, on the edge of the Southern University and A&M College campus. Investigators believe the shooting was "an isolated incident" with no ongoing threat to the university campus.
NBC affiliate WVLA of Baton Rouge reported the shooting took place near the Kappa Alpha Psi Fraternity at Southern University. 
Police said they initially found nine individuals who sustained non-life-threatening gunshot wounds, but two additional victims eventually came forward.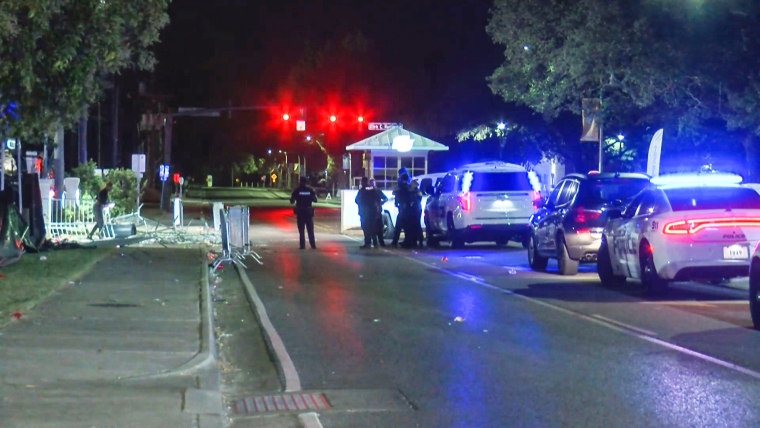 Two suspects that police identified as Daryl Stansberry, 28, and Miles Moss, 24, have been arrested in connection to the shooting. Both were charged with 11 counts of accessory after the fact to attempted first degree murder and illegal use of a weapon.
Police did not clarify if they are looking for more suspects related to the shooting.
Southern University said in a statement Friday morning that the shooting occurred "off campus" and "at a non-University sponsored event."
"The University strongly condemns any act of violence," the university's communications director Janene Tate said in a statement. "We are keeping anyone affected by this incident in our thoughts."
The violence comes ahead of Homecoming celebrations on the campus this weekend.
"Officials, including the Southern University Police Department, are continuing to work to ensure that students, employees, alumni and other visitors to campus are safe during this Homecoming weekend," the school said.
The shooting remains under investigation and police are urging "any witness or partygoer" with information on the shooting to come forward.