Daydreamers all across America are contemplating a question with a seemingly limitless response: What would you do with hundreds of millions of dollars?
That's because Saturday night's Powerball jackpot has surged to a record-breaking $900 million, prompting those who wouldn't even waste money on a scratch-off to go as far as snatch up several lottery tickets.
For many people, that amount of money is incomprehensible. The one-time lump-sum payment — should someone finally win — is a slightly lesser fortune of about $558 million, lottery officials said.
Either way, statisticians say understanding the odds of winning is the real challenge.
"Once you get numbers that size, it's hard for people to wrap their minds around them," said Ron Wasserstein, executive director of the Alexandria, Virginia-based American Statistical Association.
The odds of winning Saturday are one in 292.2 million, but it wasn't always that way. Last fall, the chance of winning was one in 175 million, but lottery officials changed the rules, hoping to generate bigger jackpots and a higher volume of sales.
It worked.
No one has matched the six numbers since Nov. 4 causing it to grow from its $40 million starting point to $500 million by Wednesday night.
But no one won, and as more people decided to get in on the action, the jackpot eclipsed the previous North American record of $656 million, which was set in 2012.
The $900 million jackpot amount achieved Saturday likely won't jump to a billion by the time of the nighttime drawing, said Alex Traverso, the assistant deputy director for the California Lottery.
But the lack of an extra zero isn't stopping people from lining up for tickets and buying into pools.
California usually sees about $3 million in sales during a typical Powerball draw-buying period, but Saturday's anticipation has garnered nearly $100 million in sales, Traverso told NBC News.
"We are incredibly excited. We're seeing long lines at retail locations across the state," Traverso said. "In some cases, lines up to four hours long."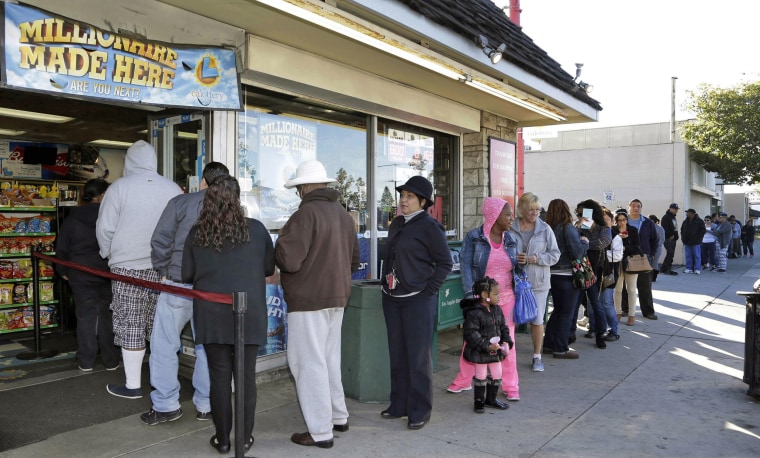 One such line was building at the border between California and Nevada. The gambling mecca is ironically one of six states that doesn't participate in the lottery.
Scott Deil, a Nevada resident, made the trek to the border to get his tickets, according to NBC affiliate KSNV. "[My odds] are horrible but, hey, you know I've got just as much chance as anybody in this whole line," he said.
Bashir Rahman, a chef from Moscow, Idaho, also realizes winning is a long shot. "You buy more than two, you're just stupid," he said.
Related: Powerball Mania: Six Things to Know Before You Buy Your Lottery Ticket
Meanwhile, Anndrea Smith, 30, of Omaha, Nebraska, spent big and bought four tickets — even though she normally never indulges. If she wins, her first purchase will be "a warm vacation," she said.
Los Angeles man Dony Elias, who also has never bought a lottery ticket, picked one up and was fantasizing about more grandiose travel plans. "I would take a trip to the moon," the 26-year-old said.
New Yorkers were feeling lucky, too. Powerball sales surged from $473,000 per hour at 8 a.m. ET to $3.3 million an hour by 4 p.m., according to the New York Lottery.
Related: Bummer: Winning the Lottery Isn't Necessarily a Ticket to Happiness
Even GOP candidate Jeb Bush had a ticket in his possession.
A man in a crowd at a Right to Life rally in South Carolina passed the Florida governor a Powerball ticket and Bush accepted it, joking that he would use the money as a campaign contribution, although he wasn't sure he would be allowed.
As more and more people bought tickets, the chances of no one hitting the jackpot grew slimmer.
"We anticipate that by the time sales close tonight, around 75 percent of all the combinations will be wagered on," said Gary Grief, executive director of the Texas Lottery.
But if one of those numbers within the estimated 25 percent aren't drawn, the jackpot will once again grow at a staggering rate. The next drawing would be held Wednesday.
"If no one wins the jackpot tonight, Wednesday night's jackpot amount is set for $1.3 billion," said California Lottery's Alex Traverso. "So suffice it to say, this jackpot run is turning a very good fiscal year into an incredible one."