From NBC San Diego
The 2014 Rock 'n' Roll San Diego Marathon saw new records for time and age shattered by one runner.
At 91 years old, Harriette Thompson has become the oldest woman to complete the Southern California race – her 15th time running it. That made her the second oldest marathon runner in U.S. history.
With a time of 7 hours, 7 minutes and 42 seconds, she also broke the U.S. record for the fastest marathon run in the 90-94 age group.
The previous record was held by a 90-year-old runner in Portland, Oregon, who ran a marathon in 8:53:08, according to U.S.A. Track & Field.
But a brief chat with Thompson reveals her story outpaces even her record-breaking running.
The North Carolina resident is a cancer survivor, most recently battling squamous cell carcinoma on her legs, Runners World reports.
"I'm having radiation on my legs. I just had nine radiation treatments, and they're being healed now," she said before Sunday's race.
Treatments and hospitalizations forced her to skip last year's Rock 'n' Roll San Diego Marathon, but she came back this year with a new spring in her step. Before the race, she said she felt fine, though one leg was giving her a bit of trouble.
Through her runs, Thompson helps to raise money for the Leukemia and Lymphoma Society's Team in Training. The team's campaign director told the Charlotte Observer Thompson's efforts have generated more than $90,000 for the society.
The cause is close to her heart because everyone in her family had died from leukemia or some form of cancer, she told NBC 7.
Recently, she lost her 99-year-old brother to lymphoma, so keeping up her own health is one of her main motivations to run.
In previous races, Thompson has trained with a team, but this year, she had a hard time keeping up with them – understandable, since they are a group of 20 year olds.
Instead, she put together her own routine.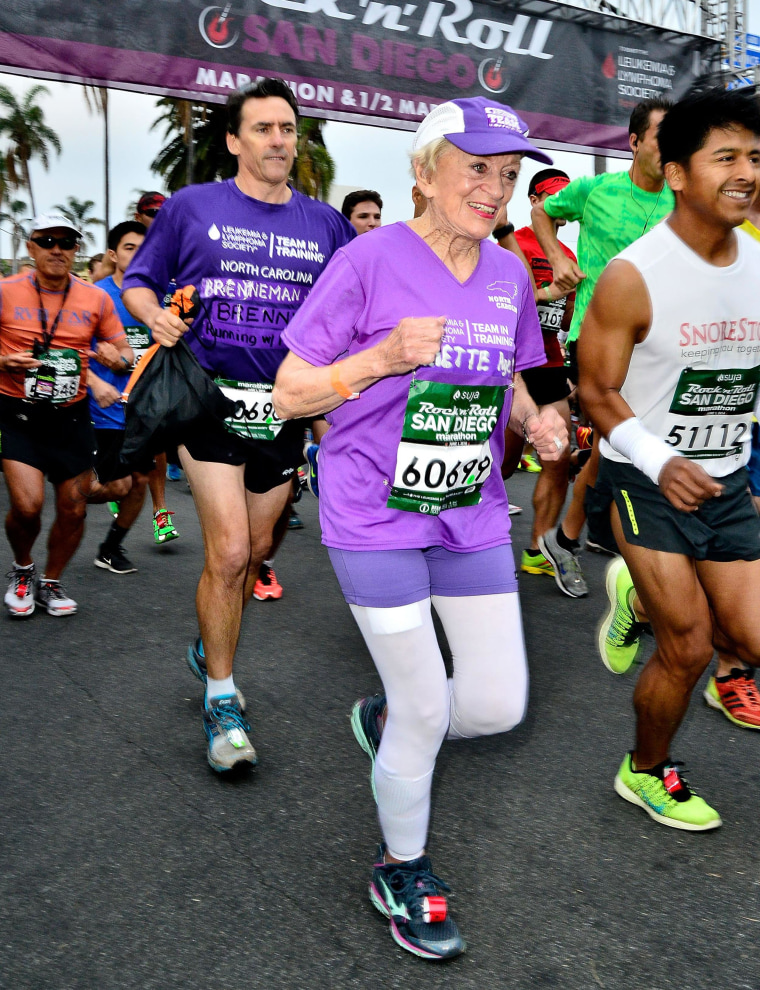 "I try to run around the block, and I do a few 5Ks," said Thompson. "I think the most I've done this year is an 8K, so it's sort of a lot to ask to jump from that to 26."
But jump she did, running with her son to help keep her going. Her favorite part of a marathon?
"Oh, my favorite part's at the end when I get over that finish line! That's the best part," she said.
However, there's more to this race that has kept her coming back for 15 years. The Rock 'n' Roll San Diego is the first marathon she ever ran, making her debut at the age of 76, according to the Charlotte Observer.
"The city is wonderful, the people are wonderful, the scenery, the weather – everything's great. And it's not terribly hilly, so I can't imagine doing any other one," said Thompson.
But this year, she did not anticipate all the media attention. When told that she was an inspiration to others, the humble runner responded, "That's wonderful if that's true. That's a benefit I didn't expect."
The 91-year-old took some time before the race to share some wisdom for those beyond the marathon course.
"I guess I could say it's never too late, and you feel wonderful if you -- I'm sure that if you exercise, you certainly know the benefits of it," she said.