LOS ANGELES — Frustrated Southern California mountain residents are finally digging themselves out of a historic winter storm that dumped more than 100 inches of snow in a region that had faced unprecedented drought conditions just a few months earlier.
The ferocity of the storm in the San Bernardino Mountains east of Los Angeles appeared to catch residents and officials off-guard and unprepared, trapping hundreds of residents for nearly two weeks as roads became impassable and roofs collapsed under the weight of a weather event rarely experienced in this part of the state.
Hikers were stranded, and people posted on social media about loved ones stuck in cabins with no way out. The sheriff's department delivered freeze-dried meals to people who were running out of food, but not everyone could access emergency pantries because of closed roads.
"Nobody expected that much snow," said Valli Bryan Compton, whose great aunt, Elinor "Dolly" Avenatti, 93, was found dead Monday in her home in Crestline by a concerned neighbor who was checking on her.
The San Bernardino County coroner's office said there was no evidence Avenatti's death was related to the weather. 
"It's hard to say it's the government's fault or it's the city's fault," she added. "I just wish they could have let people go up there because we could have gotten her."
San Bernardino County officials are investigating 13 deaths from Feb. 26 to Wednesday, the sheriff's department said.
Preliminary findings suggest only one of the deaths, in a car accident, was directly related to the storm. Other victims included people with extensive medical histories or chronic conditions, Shannon Dicus, the county sheriff and coroner, said in a statement.
Crestline resident Terri Lee said she was snowed in for 14 days and in danger of running out of lifesaving medication for congestive heart failure and pulmonary hypertension. Her husband has severe arthritis in his back and was unable to shovel the snow that has blocked the couple's front door.
"It's a scary situation," Lee said. "We can't get out of our driveway, and we can't open the front door because the snow has piled up so high."
Lee estimated she called a county emergency hotline at least six times asking for help. She has also called 911 but was referred to the county.
The sheriff's department escalated her case, and by Thursday morning her front door had been cleared and a friend's son had delivered her medications.
"I'm now worried about the snow on my roof," she said, referring to a new storm system that could bring warm rain and the threat of floods and mudslides. "I just got my prayers going and my positive thoughts."
Mountain highways began to reopen this week after having been closed for more than 10 days, the California Highway Patrol said. By Tuesday, 90% of roads had been plowed, with more expected ahead of a storm that could bring warmer temperatures, rain and potential flooding from rapid snowmelt.
"We understand that people are not happy about being trapped in their homes," said David Wert, a county spokesman. "This was really unavoidable. When you have 10 feet of snow, there is no way to make it disappear instantly."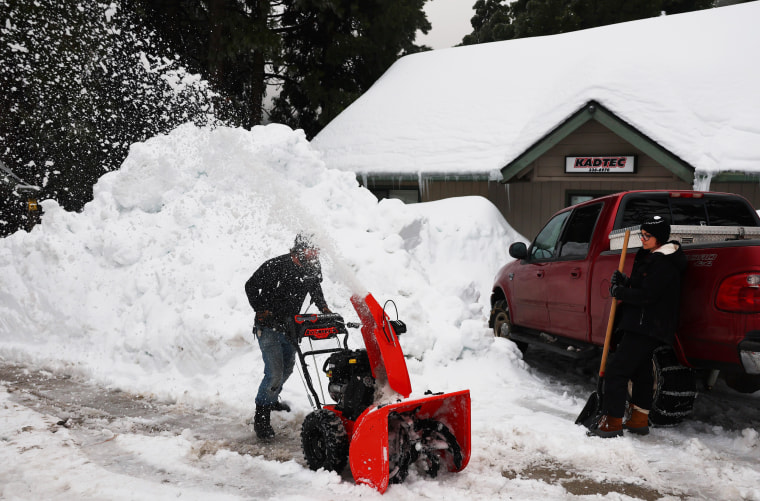 The weather took a turn for the worse late last month as an arctic air mass plunged down the West Coast, prompting a rare blizzard warning. In an extremely unusual storm, staggering amounts of snow fell in the San Bernardino and neighboring San Gabriel mountains, where thousands of people live in or visit high-elevation communities reached by steep, winding highways.
Both ranges routinely get winter snow, but what looked like the foundation for epic downhill ski days instead became a nightmare for Compton and her family.
She last spoke with Avenatti, her great aunt, on Feb. 28, when she warned relatives not to visit because of dangerous road conditions. During their last conversation, Avenatti was her usual spry self and answered the phone in good spirits.
"Winter wonderland!" Compton remembers Avenatti saying.
The power went out once during their call, and it took Compton about 20 minutes to get her great aunt back on the phone. The next day, Compton checked outages in Avenatti's neighborhood and saw that her great aunt, who lived alone, had most likely lost power again.
Her body was discovered Monday, sitting next to the fireplace.
"If she had power and wasn't trapped in the house, I 99.99% believe she would still be here today," Compton said. "At least she lived a great life and passed away in her happy place."
The extreme weather prompted Gov. Gavin Newsom to declare emergencies in 13 of California's 58 counties, beginning March 1. Since then, a multiagency response team has deployed 800 personnel to remove more than 7.2 million cubic yards of snow off state highways in San Bernardino County, or enough to fill 2,270 Olympic-size swimming pools, according to the state emergency management office.
Big Bear City in the San Gabriel Mountains got 80 inches of snow over seven days, the most since records have been tracked, according to the National Weather Service. Until this year, the most snow recorded in seven days there was 58 inches in 1979.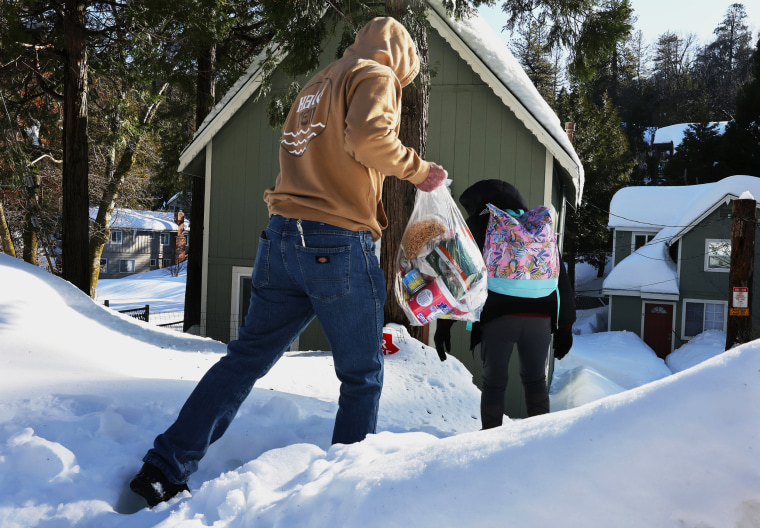 Despite a blizzard warning, no evacuations were ordered ahead of the storm.
"Evacuations were never on the table," Wert, the county spokesman, said Wednesday. "They were never discussed. Have you ever heard of evacuations before a snowstorm in any part of the country?"
Mike McClintock, a battalion chief with the fire department, said the area had never experienced a snow emergency of such magnitude.
"The amount of snow is no shortage of a challenge for first responders and crews," he said, adding that difficult road conditions have slowed recovery efforts.
San Bernardino County authorities said so much snow fell that it exceeded the ability of plows to clear roads, requiring earth-moving equipment and dump trucks to pick up and move snow.
A shortage of tire chains further hampered the response, a problem the county is already working to fix by ordering more chains for bulldozers and trucks, Wert said.
Highways were closed to all but emergency vehicles until this week, frustrating residents who had been away when the storm hit and were prohibited from heading back up to their homes.
Sections of key mountain roads in the Big Bear area were finally reopened Monday afternoon to residents only. The Highway Patrol warned people returning home that they may encounter enormous snow drifts, downed power lines and gas leaks.
Roof collapses caused by the weight of the snow were reported, one of them at a grocery store in the community of Crestline, where resident Cierra Lavarias said her family was stranded for nearly two weeks.
"We knew this was going to be a significant weather event days in advance. Where is the planning? Continuity? This is an epic failure of our local government," she said on Facebook. "Good thing is, us 'mountain folk' are strong and will continue to take care of each other."