When 97-year-old Helen Danis told her granddaughter Julie Huddon she had never attended prom, Huddon decided this year would be the time to change that.
Huddon, 48, from Warwick, Rhode Island, had always wanted to learn more about her grandmother's life. "She's had a tough life with a lot of memories that aren't so happy," she told NBC News.
When Huddon realized that her grandmother had never done basic childhood activities like attend prom or sit on Santa's lap, she decided to help make a "bucket list" of things she would help her grandmother do.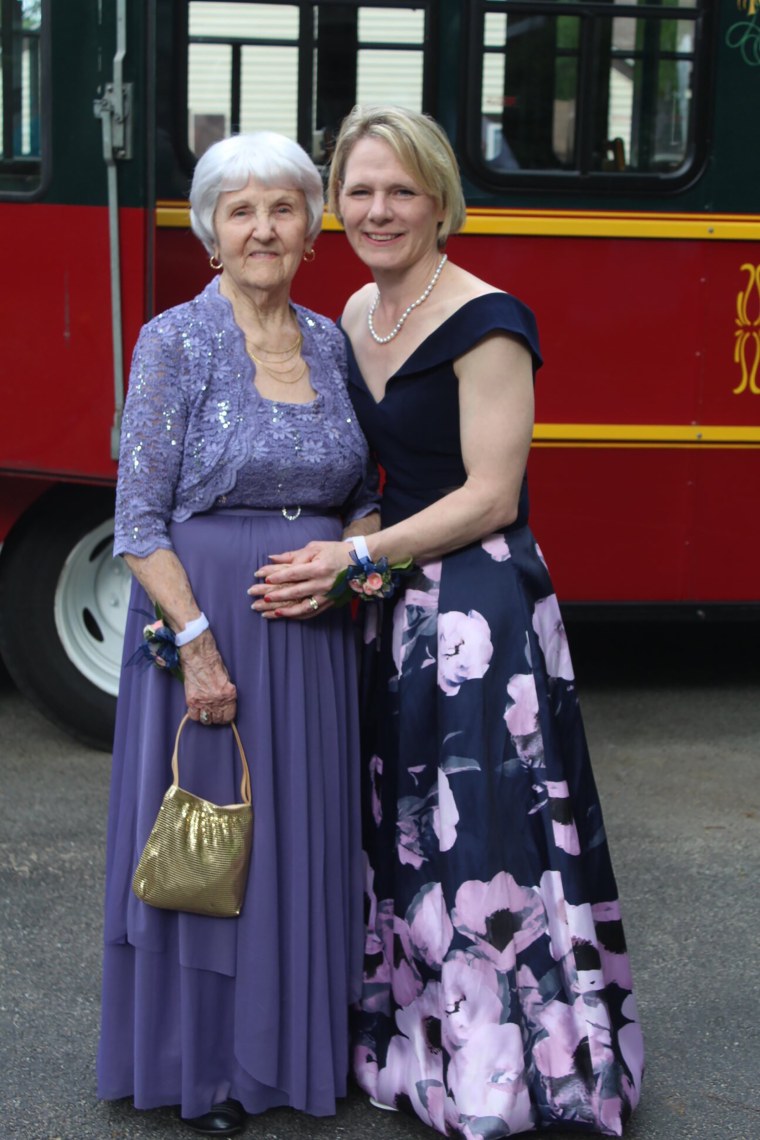 "She was telling me about the prom, how she couldn't go because she couldn't afford it," Huddon told NBC News. Huddon's son Evan is a senior at Pilgrim High School in Warwick, and she decided this would be the perfect opportunity to cross one of her grandmother's activities off the list.
After checking with school principal Gerald Habershaw to make sure Danis could attend, Huddon went over to her house to ask her if she'd like to attend the prom.
"I went over with a crown, made a note, and asked her if she would go to prom with me," Huddon said. "She was all excited."
Her next step was to get her grandmother a dress. "I was shopping online and I saw this dress and thought 'this is my grandmother, it's screaming her name,'" Huddon explained.
She bought the dress and brought it to her grandmother, who loved it. "I tried it on, it was very nice. It was the first time I tried a dress on and it fit without altering it," Danis told NBC News.
On prom night the two got ready at Huddon's house, where she gave her grandmother a corsage and the two, along with Evan and his friends, rode a trolley to the prom.
"I was just so happy to see her so happy, she had a smile that didn't leave her face," Huddon said.
Later in the evening Danis was even crowned honorary prom queen. "I was so proud," Huddon recalled. "All the seniors were cheering for her and clapping, they ended up naming the principal honorary prom king and he danced with her."
Danis had a great time at the prom. "Being so much different in age, and yet to be able to correspond together and make an evening of it, it was nice," she said. "My favorite part was being there with all the kids, and having such a good time."