Most drivers have found themselves so angry with another motorist that they've engaged in some form of aggressive driving, new research from AAA auto club suggests.
Nearly 80 percent of drivers admitted to expressing significant anger, aggression or road rage in the past year, AAA found.
Such behavior includes tailgating, aggressive horn honking, blocking and cutting off other drivers and offering another driver an obscene gesture.
And men are three times more likely to do it than women, according to experts who study driving habits.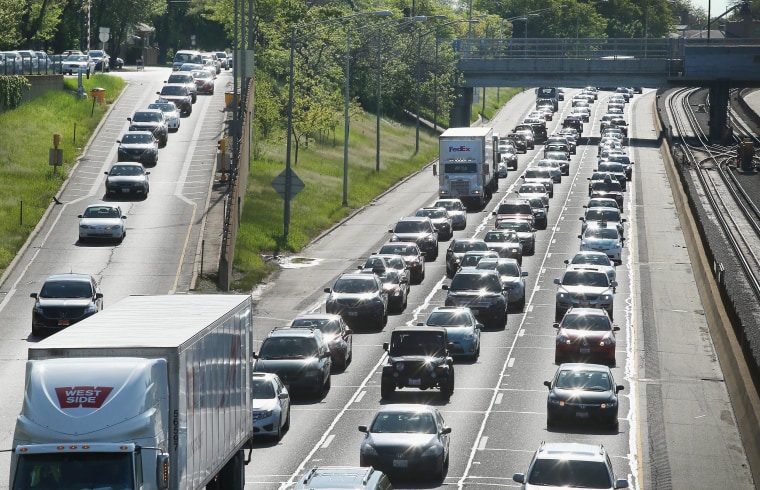 Read More: Man Wounded in Suspected Road Rage Shooting in South LA
"We've all heard the old adage, we all say things we don't mean when we're angry. Well, when you're behind the wheel, you do things you wouldn't otherwise do when you're angry," said Jake Nelson, director of traffic safety advocacy and research with AAA.
One recent and extreme example of aggressive driving caught on-camera outside of Tulsa, Oklahoma: The driver of a pickup truck became so frustrated that he couldn't pass that he rammed the car in front of him and sent it careening off the road into a guardrail.
"It was terrifying. I don't remember what I was thinking, but it was just scary," Noah Wilson, 18, told NBC affiliate KJRH in early June. Wilson and a fellow passenger, Gracie Bottger, 17, sustained minor injuries. Police were looking for the driver of the truck.
In Austin, Texas, a traffic altercation in January turned into a road rage duel with baseball bats.
And near San Bernardino, an all-out brawl broke out at a stop light.
Virginia state police troopers say they see this kind of behavior every day.
"It might turn into a verbal altercation, which might turn into a physical altercation, and now you have maybe two parties fighting on the side of the interstate," said state trooper Anthony Johnson.
In fact, AAA reports 56 percent of fatal accidents involve at least one form of aggressive driving. And while male drivers are three times more likely than women to be aggressive, men between the ages of 19 and 39 are the most aggressive on the roadways.
And drivers in the congested northeast are more likely to yell, honk or gesture than drivers in other parts of the country.
Safety experts urge patience on the roads.
"Be tolerant, don't engage, focus on getting to your destination safely," Nelson said.
And if you do come across an overly aggressive driver, take precautions. Police say if someone tries to run you off the road, tailgates you or follows you, don't go home. Instead, call 911 and drive to a nearby police, fire station, or a public place like a shopping mall for help.
"Don't contact them if they are giving you obscene gestures," Johnson said. "Don't even look at them if they are following you, get off."
Read More: Want to Avoid the Summer's Worst Road Rage? Don't Drive at This Time
Back in Oklahoma, the teenagers inside the car that was run off the road say the experience left them shaken but unhurt.
"I feel it was more like a fight or flight response," Bottger said. "You're not really thinking very clearly in those moments. You're more thinking… what can I do to get out of this?"
Police finally tracked down the alleged driver of that pickup truck.
Aarick Caldwell, 45, now faces felony charges of assault with a deadly weapon and leaving the scene of an injury accident.
His attorney declined to comment.