Abigail Zwerner, the Virginia teacher who was seriously wounded when police say a 6-year-old student intentionally shot her during class, says her recovery remains grueling.
Zwerner, speaking publicly for the first time in an interview to air Tuesday on the "TODAY" show, said she faces "obstacles and challenges" following multiple operations after being shot in her left hand and upper chest. Her occupational therapy appointments have also left her physically and mentally exhausted, she told "TODAY" co-anchor Savannah Guthrie.
"Some days are not so good days, where I can't get up out of bed. Some days are better than others, where I'm able to get out of bed and make it to my appointments," said Zwerner, 25, with her left hand bandaged after a recent fourth surgery to help a bone that was severely damaged.
The physical scars are healing, she said, including a wound on the side of her body where doctors inserted a chest tube after her lung collapsed.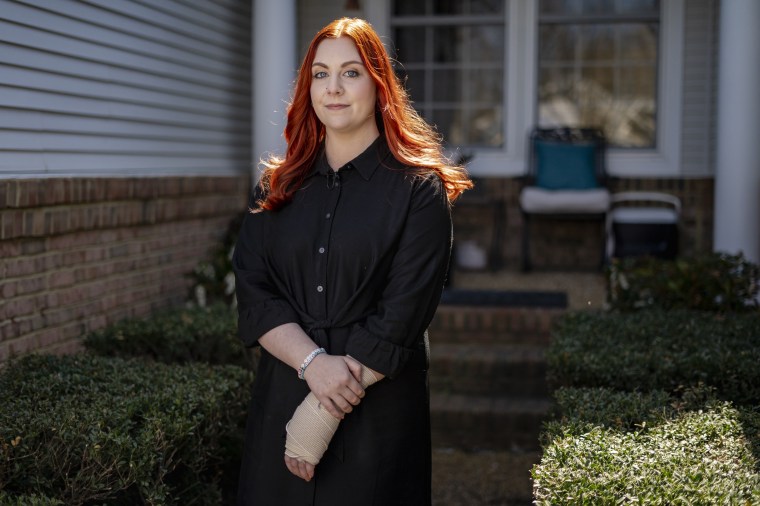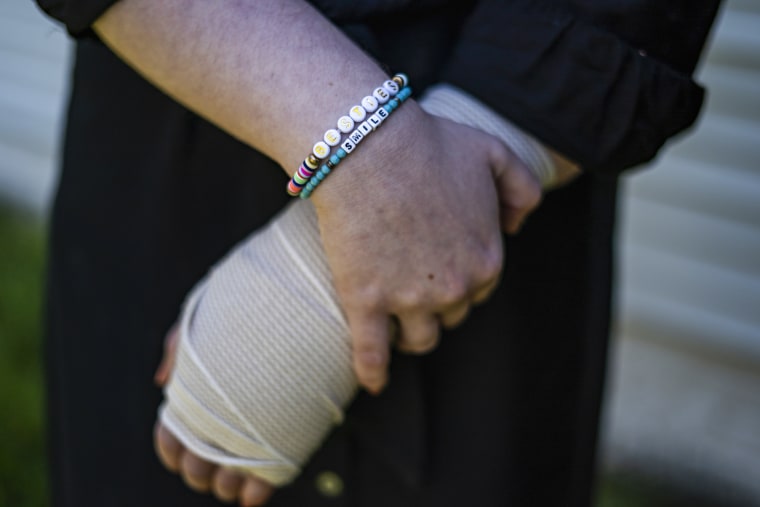 "But, you know, for going through what I've gone through, I try to stay positive," said Zwerner, a first-grade teacher at Richneck Elementary School in Newport News. "You know, try to have a positive outlook on what's happened and where my future's heading."
Zwerner was praised for her handling of the shooting, in which she escorted about 20 students to safety. She was hospitalized for nearly two weeks.
She said in an interview with NBC News on Monday that she still doesn't have full function of her left hand, making the most simple tasks, such as making a fist, opening a water bottle and getting dressed, extremely difficult. She said her doctors are still uncertain about whether she will be able to use her hand like before.
"Physical therapy is not only physically exhausting but mentally exhausting as well. I'm supposed to be moving them once every hour, throughout the hour," she said of her fingers, "just manipulating them to get that blood flowing and to get that movement back into the hand."
The Jan. 6 shooting raised concerns about potential security failures at the kindergarten through fifth-grade school and in a school district rattled by other incidents of gun violence at local schools in the past 18 months.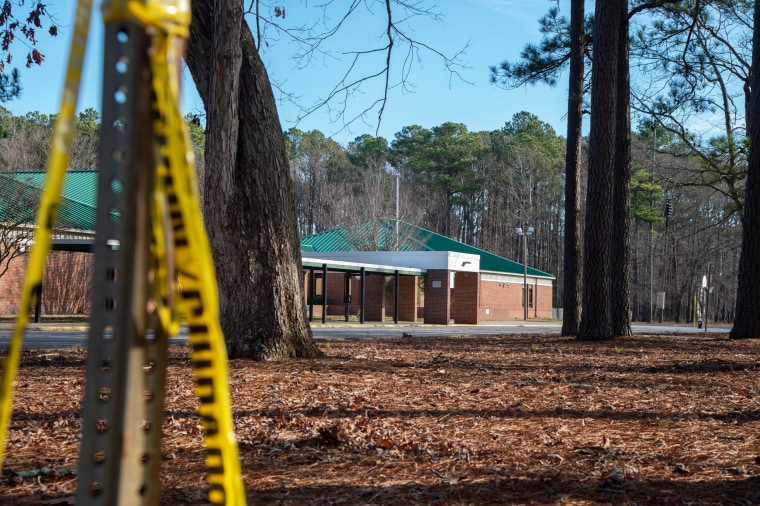 The law firm representing Zwerner is planning to file a lawsuit in two weeks related to the case.
"I can tell you there were failures on multiple levels in this case, and there were adults that were in positions of authority that could have prevented this tragedy from happening and did not," lawyer Diane Toscano said.
Toscano has said the boy who shot Zwerner had behavioral issues and a pattern of troubling interactions with school staff and other students.
According to a notice of intent to sue provided to the Newport News school board on Jan. 24, the boy was given a one-day suspension for breaking Zwerner's cellphone and returned the next day with a 9mm Taurus handgun that he used to shoot his teacher in the classroom while she sat at a reading table.
Three teachers had gone to the school administration about the boy's behavior and the suspicion he had a gun on campus, Toscano said. A source close to the incident told NBC News that Zwerner had texted a loved one before she was wounded saying the boy was armed and that school officials were failing to act.
Following the shooting, the family of the 6-year-old boy said in a statement that the weapon was "secured" in the home and that they have "always been committed to responsible gun ownership and keeping firearms out of the reach of children."
The family also said the boy has an acute disability and, following the shooting, was receiving the "treatment he needs" under a court-ordered temporary detention at a medical facility.
Newport News police conducted interviews with school staff and students before turning over the case to the Newport News Commonwealth's Attorney in February for possible criminal charges.
Police said the child's mother legally purchased the gun he used, but haven't specified how he obtained it or if it was safely secured as the family has claimed.
The local prosecutor, Howard Gwynn, told NBC News this month that while a 6-year-old child could theoretically be criminally charged under Virginia law, he would not seek charges against the student.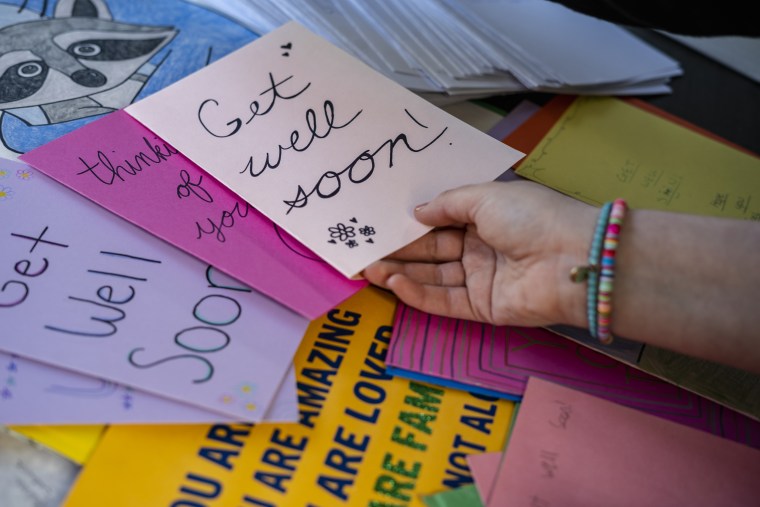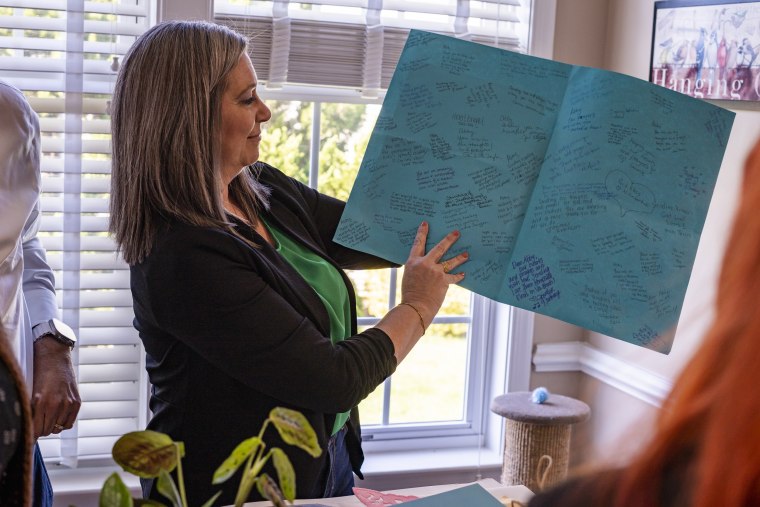 "Our objective is not just to do something as quickly as possible," Gwynn said when asked about the timing of charges and who could be charged. "Once we analyze all the facts, we will charge any person or persons that we believe we can prove beyond a reasonable doubt committed a crime."
James Ellenson, a lawyer for the boy's family, said in an email Monday that they "welcome the prosecutor's decision and continue to pray for Ms. Zwerner's complete recovery."
The shooting also brought about other changes to Newport News schools and Richneck, where metal detectors were installed.
More on Virginia teacher's shooting
School board members voted to oust Schools Superintendent George Parker III "without cause" less than three weeks later. Richneck's principal was transferred to a different role within the school district, while Richneck's assistant principal resigned.
Zwerner's lawyer had pushed back at Parker's initial comments to parents during a virtual town hall that at least one school administrator had been alerted to a possible gun on campus and a subsequent search of the 6-year-old boy's backpack revealed no weapon. He provided no further details about who conducted the search, why the gun was not found and if the child's clothing was physically examined.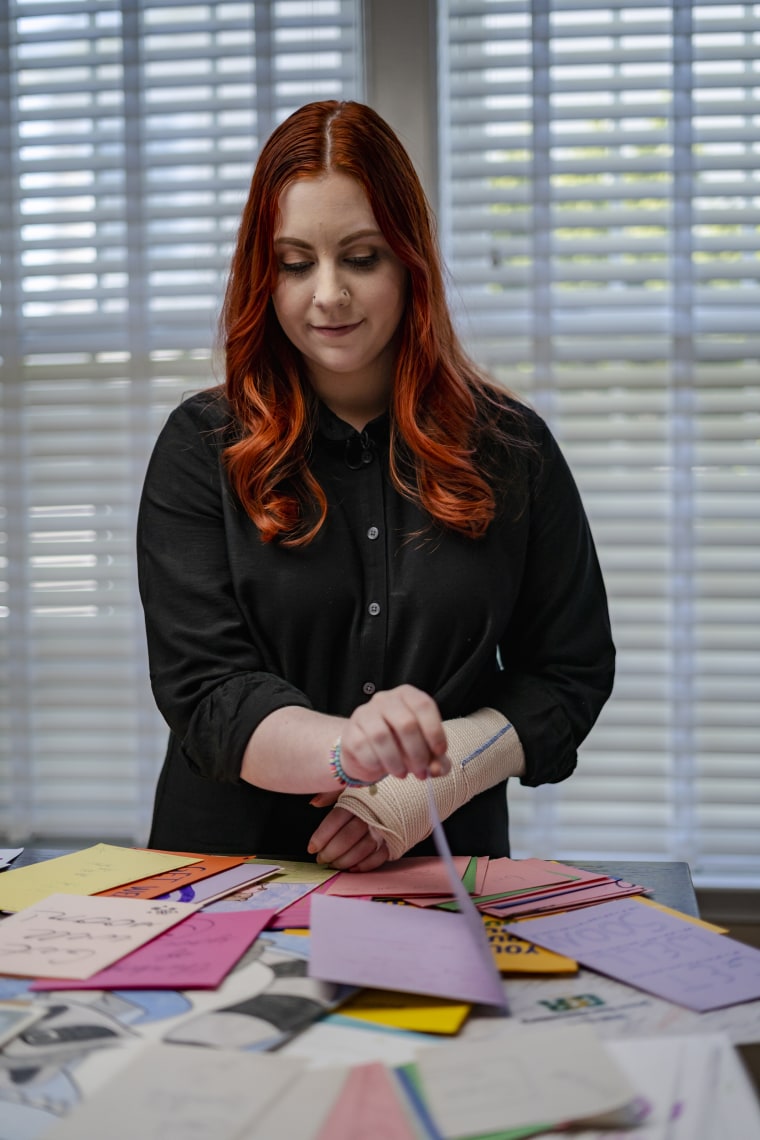 A spokeswoman for the Newport News Public Schools did not immediately respond to a request for comment Monday, but has previously said the district could not comment about allegations made against school officials amid an ongoing internal investigation nor share any information in the student's educational record, citing the criminal investigation.
While gun violence in U.S. schools has climbed, with the number of school shootings reaching its highest number in two decades during the 2020-21 school year, according to a federal report in June 2022, it's still uncommon that a young child is a shooter.
"This is the 17th shooting by someone under 10 years of age in a school," David Riedman, the founder of the K-12 School Shooting Database, which tracks U.S. shootings on school grounds dating to 1970, told NBC News following the Newport News shooting in January. "It's rare for a 6-year-old to pull the trigger."