Influential American abstract painter and sculptor Ellsworth Kelly died on Sunday, said an art gallery owner in New York. He was 92.
Matthew Marks of the Matthew Marks Gallery said Kelly died of natural causes at his home in Spencertown, New York. Marks said he was told of the death by Kelly's partner, Jack Shear.
Kelly was born in Newburgh, New York, in 1923 and served in the U.S. military during World War Two. Afterward, he studied art in France for several years on the GI Bill and had his first solo show at the Galerie Arnaud Lefebvre in Paris in 1951.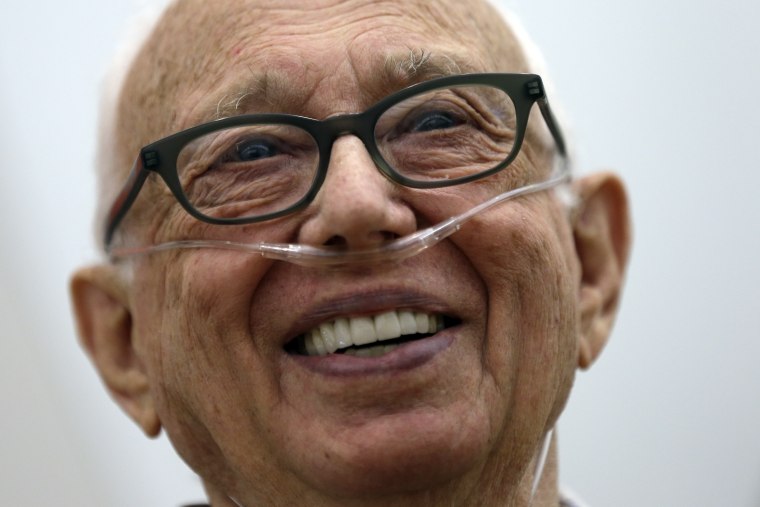 He returned to New York several years later.
"I think he bridged European and American modernism," Marks said. "He was a real American original."
Kelly had retrospectives at New York's Guggenheim Museum and the San Francisco Museum of Modern Art, among others over his decades-long career.
"In his work Kelly abstracts the forms in his paintings from observations of the real world, such as shadows cast by trees or the spaces between architectural elements," according to his biography on the Guggenheim's website.
He also carried out public commissions around the world, including a memorial for the United States Holocaust Memorial Museum in Washington.
Kelly, who named Pablo Picasso and Henri Matisse among his influences, told the opening of a large contemporary art wing showcasing his work at Boston's Museum of Fine Arts in 2013: "I am nourished by the past, I am questioning the present, and I am stepping into the future."