A sex-abuse survivors group is calling on Congress to take down a portrait of former House Speaker Dennis Hastert, an ex-teacher accused of paying off a one-time student to keep allegations of sexual misconduct under wraps.
SNAP said in a statement that it wasn't rushing to judgment and that the portrait can be put back up if Hastert is exonerated.
"But history, psychology and common sense — plus the actions of the FBI, a U.S. prosecutor and Hastert himself — all strongly suggest that he exploited his power over a youngster to sexually gratify himself," the group said. "He does not deserve a place of honor in our nation's Capital, even a symbolic one."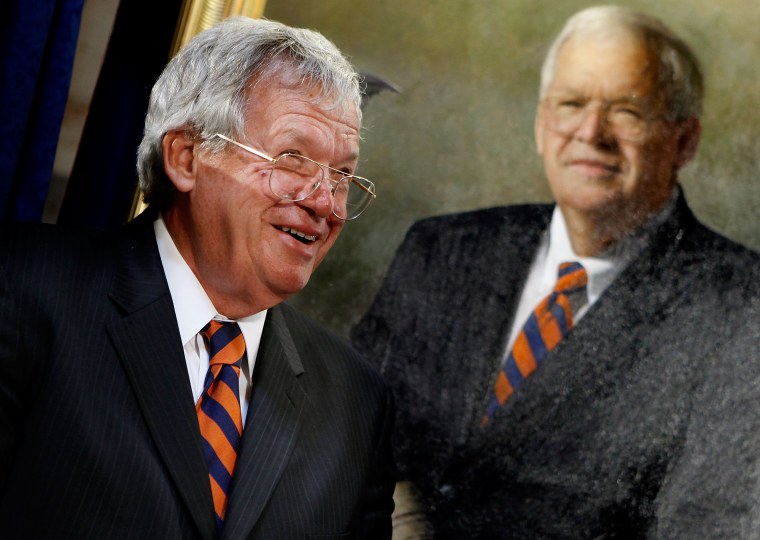 Hastert is not charged with any sexual crimes. He was accused of structuring bank withdrawals to avoid detection and lying to the FBI about it. Court papers say he agreed to pay a person identified only as Individual A $3.5 million in hush money to cover up "prior misconduct."
Federal sources have said Individual A was a student at Yorkville High School in Illinois while Hastert was a teacher, wrestling coach and football coach there between 1965 and 1981, before he took public office. They say the misconduct was sexual in nature.
Hastert, 77, has not responded to the allegations and is not due in federal court until Tuesday — but he's already taking a beating in the court of public opinion.
Earlier this week, Wheaton College, his alma mater, removed his name from its Center for Economics, Government, and Public Policy. And organizers of the Denny Hastert Yorkville Invitational, a popular wrestling tournament, will probably be renamed, too, according to the Chicago Tribune.
But there are no immediate plans to remove the congressional portrait.
"I think it's important for us to have the facts before we make decisions," current House Speaker John Boehner said on Thursday.
Boehner said he had "no inkling" that Hastert could have been involved in anything inappropriate. "I was as shocked and dismayed by the reports that I read as anyone else around here," he said.
Others have already distanced themselves from Hastert. Sen. Mark Kirk, R-Ill., donated $10,000 Hastert gave to his 2010 campaign to a charity on Thursday, after the Democratic Senatorial Campaign Committee called for him to return the cash.