Malcolm Young, who co-founded the Australian rock band AC/DC, died at age 64 after suffering from dementia for several years, the band said on its Facebook page on Saturday.
The "beloved husband, father, grandfather and brother ... passed away peacefully with his family by his bedside," they said in a statement.
Tributes for the talented rocker were quick to pour in after the announcement: "We salute you, Malcolm Young," the Rock & Roll Hall of Fame tweeted. "Your blistering guitar shook generations and united us with sonic anthems that will ring forever."
Young was born Jan. 6, 1953, in Glasgow, Scotland. His family eventually moved to Sydney, Australia, and it was there that he co-founded AC/DC with younger brother Angus in 1973.
Two years later, the group found international success with the release of their debut album, "High Voltage," which featured the songs "High Voltage" and "It's a Long Way to the Top (If You Wanna Rock 'n' Roll)."
But it was the 1979 studio album, "Highway to Hell," that propelled the band to hard rock fame. The album became the band's first record to break the U.S. Top 100 and is the band's second-highest selling album, behind the 1980 hard rock classic, "Back in Black."
The success of "Highway to Hell," however, was bittersweet. Months after recording the album, the band's lead singer, Bon Scott, died from alcohol poisoning. At the time, Young was struggling to cope with a growing alcohol dependency.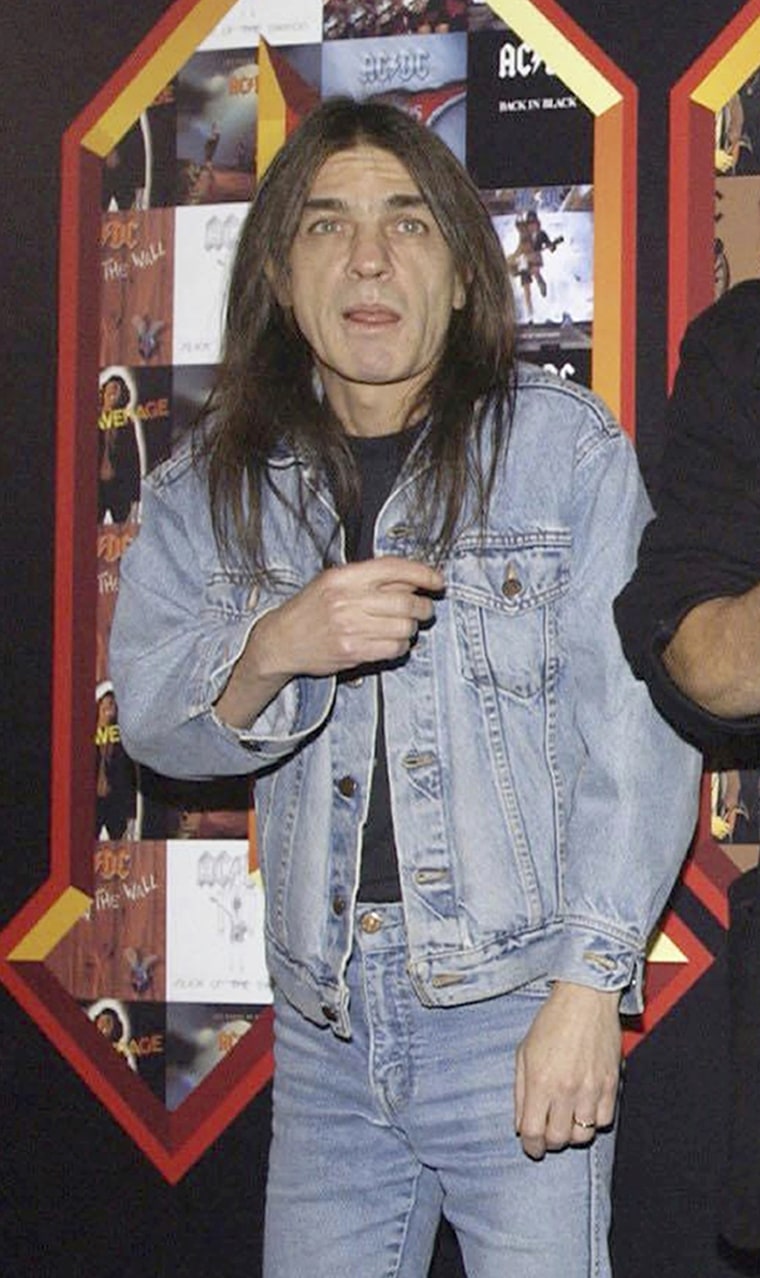 In a 2000 interview for VH1's, "Behind the Music," Young said at one point drinking overtook his life and made him feel like Jekyll and Hyde.
"I wasn't brain dead, but I was just physically and mentally screwed by the alcohol," he said.
After consulting with his brother and fellow bandmates, Young decided to take a step back from AC/DC and was replaced by his nephew, Stevie.
Eventually, Malcolm overcame his addiction and rejoined the group. Years later, Angus Young would tell Rolling Stone that his brother's determination was one of the reasons he looked up to him.
"But Malcolm was always one to battle through," he said. "He would look at me in times of crisis and go, 'We'll just go in and do some work. We'll sit and write some songs.'"
Young was a visionary rhythm guitarist, who also served as the band's backing vocalist and songwriter. He was known for his stoic stage presence and legendary riffs that helped define AC/DC's hard rock sound.
AC/DC was inducted into the Rock & Roll Hall of Fame in 2003. Young continued touring until 2014, when his dementia diagnosis forced him to leave the band that he'd co-founded and headlined for more than four decades.
"With enormous dedication and commitment he was the driving force behind the band. As a guitarist, songwriter and visionary he was a perfectionist and a unique man," Angus Young said in a statement Saturday. "As his brother, it is hard to express in words what he has meant to me during my life, the bond we had was unique and very special.
Fans and celebrities reacted to the news of the guitarists death,
"If the world seems off center it's because we lost it's rhythm," one fan tweeted.
Eddie Van Halen, lead guitarist for and co-founder of the band Van Halen, tweeted his condolences to the Young family.
"Malcolm Young was my friend and the heart and soul of AC/DC," Van Halen wrote. "I had some of the best times of my life with him on our 1984 European tour."
While Guns N' Roses guitarist Saul Hudson, better known by his stagename Slash, encouraged fans to take a moment of silence in Young's memory.
"This is a monumentally sad day in Rock n Roll," he wrote on his Instagram.
George Young, another brother to Malcolm and Angus, died last month on Oct. 23 at age 70. George Young had served as producer for AC/DC and guitarist for the band Easybeats.