A homeless man was charged with first-degree murder in the stabbing death of a highly accomplished former Iowa State University female golfer, whose body was found in a pond at a golf course, police said Tuesday.
Celia Barquín Arozamena's body was found Monday morning at Coldwater Golf Links, about two miles from the university in Ames, after golfers spotted a golf bag with no one around it and police were called to investigate. Barquín Arozamena, 22, who had been golfing alone, was found with stab wounds around her head, neck and upper body, Ames police Cmdr. Geoff Huff said.
The suspect, Collin Daniel Richards, also 22, was found not far from the golf course in a wooded area where he had been sleeping, Huff said. A criminal complaint said officers discovered him after an acquaintance approached them and asked something along the line of "what did he do to her?"
The acquaintance, identified as D.B., told officers that Richards had recently "made a statement to the effect of having an urge to rape and kill a woman" and that they could find the suspect at a nearby homeless camp.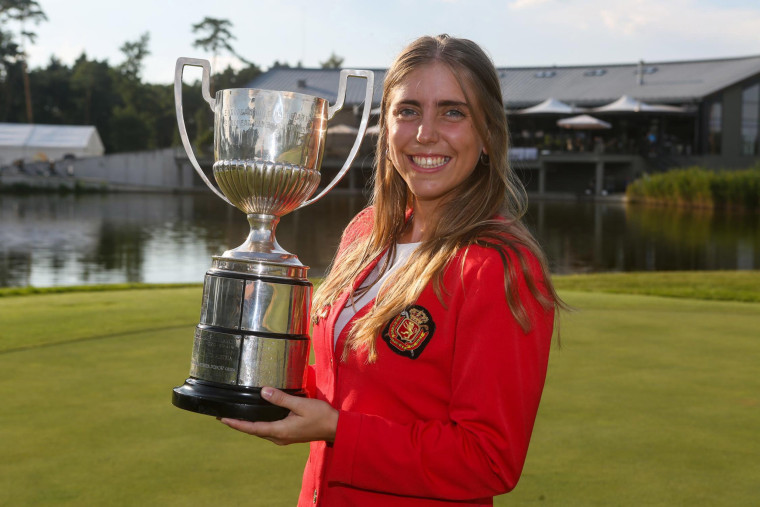 When police arrived at the camp, a police dog detected Barquín Arozamena's scent. Richards was found nearby with fresh scratches on his face "consistent with a fight" and a cut on his hand, which he tried to hide from police, according to the complaint. Investigators found a knife, "identified as having been in the possession of the defendant," and bloodied clothes in the camp, the complaint said.
A person living nearby told police that Richards had come to his home earlier in the day, "disheveled and covered in blood, sand, and water," according to the complaint.
At a hearing Tuesday, a state prosecutor alleged that the murder was a "random act of violence," according to NBC affiliate WHO of Des Moines. Richards was held on $5 million, with his next hearing set for Sept. 28. He faces a life in prison if convicted.
Criminal records show that Richards has been charged with at least a dozen crimes, starting in 2014, including domestic abuse, assault, harassment, intimidation with a deadly weapon and theft. He was also charged with a misdemeanor in 2016, accused of carrying a knife that was longer than five inches.
Paul Rounds, a public defender assigned to represent Richards, told NBC News that he had met with his client and filed standard paperwork stating his client's right not to speak with investigators.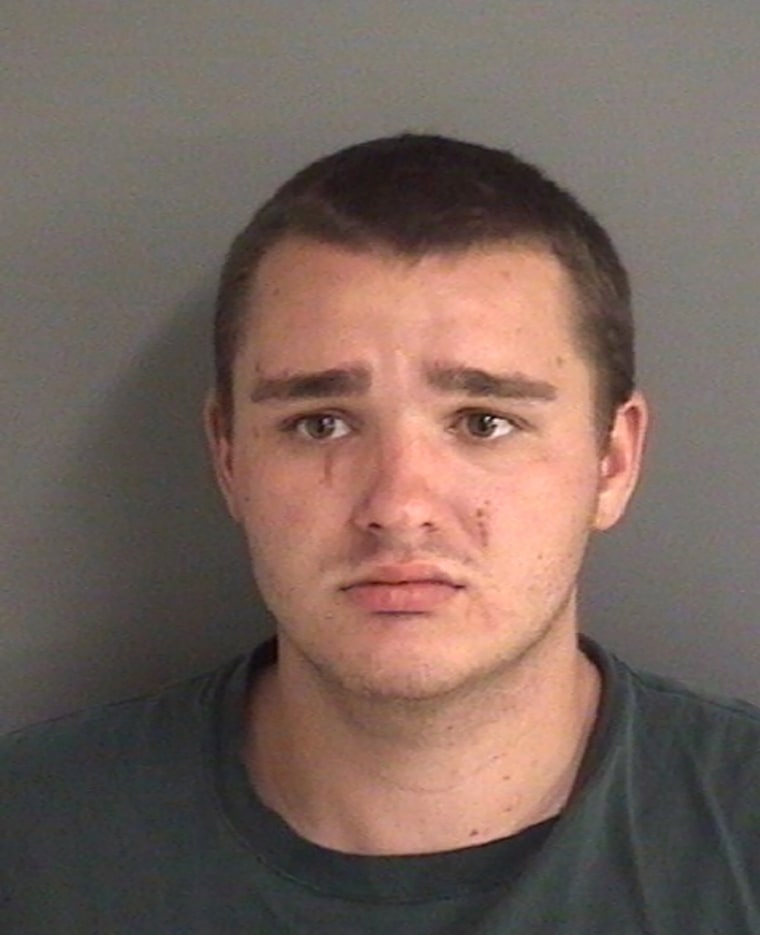 "We would just hope that people reserve judgment until trial," Rounds said.
Huff said he found it "troubling that something like this would happen in broad daylight and in a community as safe as Ames is."
The fatal stabbing of Barquín Arozamena follows the kidnapping and stabbing in July of University of Iowa student Mollie Tibbetts, who went missing while on a run in the small Iowa town of Brooklyn.
Barquín Arozamena, who was from Puente San Miguel, Spain, was finishing up a civil engineering degree at Iowa State University and had just wrapped up a stellar student golfing career, according to a statement from the school. Jamie Pollard, the university's athletics director, said she would be awarded her degree posthumously.
Andres Barquín, Barquín Arozamena's brother, said the family was "trying to put ourselves together." He said from outside the family's home in northern Spain that those close to Barquín Arozamena were all "very affected" by her death. People in the town held a moment of silence to honor her on Tuesday, and many flags flew at half-staff.
"We are all devastated," Iowa State women's golf coach Christie Martens said. "Celia was a beautiful person who was loved by all her teammates and friends. She loved Iowa State and was an outstanding representative for our school. We will never forget her competitive drive to be the best and her passion for life."
Barquín Arozamena ended her Iowa State career with her fourth straight NCAA Regional appearance, earning All-Big 12 Team honors for the third time, and she was named Iowa State Female Athlete of the Year, according to the school. This summer, she qualified for the U.S. Women's Open, according to Golfchannel.com.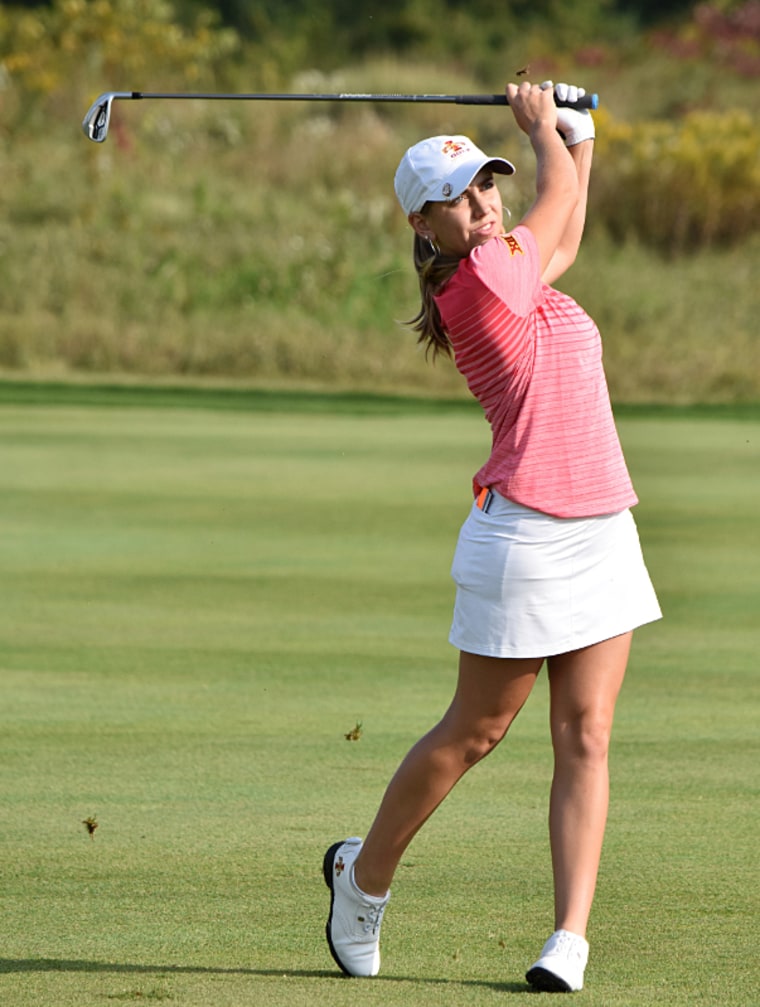 "This is a tragic and senseless loss of a talented young woman and an acclaimed student athlete," said Iowa State's president, Dr. Wendy Wintersteen. "We mourn with her family and friends in Spain, her teammates here and all who knew her."
The golf team withdrew Tuesday from a competition at the East & West Match Play in Ann Arbor, Michigan, to return to Ames and "be with friends and family to grieve the loss of their former teammate," according to a statement on its Facebook page. The team won in the semifinals Monday and had been scheduled to play the University of California-Davis in the finals Tuesday.
"Losing one of our student-athletes is like losing a child. We are all devastated and heart-broken," said Pollard, the athletics director. "Celia had an infectious smile, a bubbly personality and anyone fortunate enough to know her was blessed," he added.
Barquín Arozamena was looking forward to being celebrated as Iowa State University's female athlete of the year at a football game Saturday.
"When she was told she was going to be honored on the field at this Saturday's football game, she broke down and cried," Pollard said. Instead, Barquín Arozamena will be memorialized Saturday with a video tribute and a moment of silence.