Five people have been charged with 196 counts in the so-called Philadelphia dungeon case, in which a woman allegedly lured children and disabled people into her home, then tortured and imprisoned them for years to steal their welfare checks, federal prosecutors announced Wednesday.
Prosecutors say the crimes fall under federal hate crime law, marking the first time that hate crime charges have been applied to people with disabilities.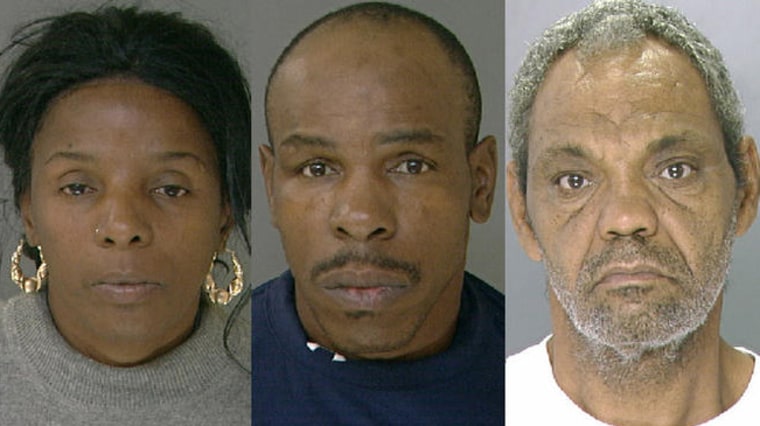 The indictment says that between 2001 and 2011, Linda Ann Weston, 52, of Philadelphia, fed her victims one bowl a day -- if that -- of ramen noodles and drugged them so they wouldn't act up or attempt an escape. Prosecutors say she forced two of her victims into prostitution.
Images of the dungeon where six people were rescued in October 2011 show decrepit conditions: a narrow corridor of a windowless room with bare mattresses, soiled sheets and rotten boards. At the center of the tiny room is the boiler to which she allegedly chained her victims – and also her children and niece.
Two women died in her care, prosecutors say. They are identified in the indictment only by their initials: M.L., who died of starvation after being coerced to live with Weston for five years, and D.S., who died after a month of captivity in 2005.
This is not Weston's first brush with the law. She was convicted of third-degree murder in 1983 for hammering her sister's boyfriend's head, hiding him in a closet and starving him to death.
That conviction was brought up in a lawsuit filed in September by Weston's niece, one of the people rescued in October 2011. The niece, who was 10 when she was transferred into her aunt's care, is suing her aunt, currently incarcerated, the City of Philadelphia and the caseworker who had her removed from her mother's house.
The niece, now 20, alleges that Weston forced her into prostitution, starved her, denied her education and beat her regularly. She says her body bears witness to nearly a decade of abuse.
The niece's complaint also alleges that the City of Philadelphia received numerous complaints that Weston was holding children captive in her basement.
At a press conference announcing the charges on Wednesday night, U.S. Attorney Zane David Memeger, described Linda Weston and her accomplices as an organized crime family. Weston could face the death penalty, Memeger said.
Her accomplices – boyfriend, Gregory Thomas, Sr., 49, Eddie Wright, 52, daughter, Jean McIntosh, 33, and Nicklaus Woodard, 26 – face a maximum of life in prison, Memeger said.
Memeger said that during the decade the Westons tortured disabled and mentally ill adults, they stole more than $200,000 of their Social Security benefits.
"Through cunning, trickery force and coercion she took the benefits that were supposed to help them," he said.
He said the "victims were tied up and confined like zoo animals and treated like property akin to slaves."
Weston and her accomplices kept their victims on the move, Memeger said, shuttling them from Virginia, Texas and Florida and locking them in attics and basements.
After Weston was arrested in October 2011, her son, Joseph McIntosh, told the Philadelphia Daily News that his mother abused her own children as well. He said that after she was released after four years from prison for third-degree murder, she successfully petitioned to get her children back.
"We didn't know about her background," Joseph told the Philadelphia Daily News in October 2011, after his mother had been arrested. "(Department of Health Services) knew about her history. They knew who she was, but they still released us into her custody - all of us at a young age."
He said his mother locked him in the basement for a year to prevent him from running away -- which he said would have reduced her welfare check payments. She fed him noodles and Kool-Aid doctored with drugs, he said. He said he finally escaped in 1998 when he was sent upstairs to wash but instead walked outside into the yard and hopped the fence.
McIntosh said that Weston even chained up his sister Jean, who prosecutors accuse of being one of the torturers.
The victims were freed on Oct. 15, 2011, when Philadelphia Police Department officers rescued them from a dungeon-like space in an apartment in the city's Tacony section.