FORT LAUDERDALE, Fla. — Accused school shooter Nikolas Cruz was formally arraigned on Wednesday, and his attorneys again offered to plead guilty in order to avoid the death penalty.
Cruz, 19, is accused of killing 17 people at Marjory Stoneman Douglas High School in Parkland on Feb. 14. He is charged with 17 counts of first-degree murder and 17 counts of attempted murder.
"At any time Mr. Cruz is willing to enter a plea of guilty on all 34 counts, consecutive life sentences, in exchange for the waiver of the death penalty," public defender Melisa McNeill, said Wednesday at an arraignment at a Broward County courthouse.
Prosecutors have said they intend to seek the death penalty.
Police have said that Cruz, who had been expelled from Stoneman Douglas, used an AR-15 rifle in the attack. He bought the weapon legally, authorities said. Police have said he confessed to the shooting.
Cruz showed little emotion during the hearing Wednesday and sat with his head down. His attorneys said they were standing mute on entering a plea, and a not guilty plea was entered on his behalf by the judge.
Some family members of the victims of the shooting rampage were at court for the arraignment and were visibly emotional at times.
Related: The 17 victims slain in the Parkland school shooting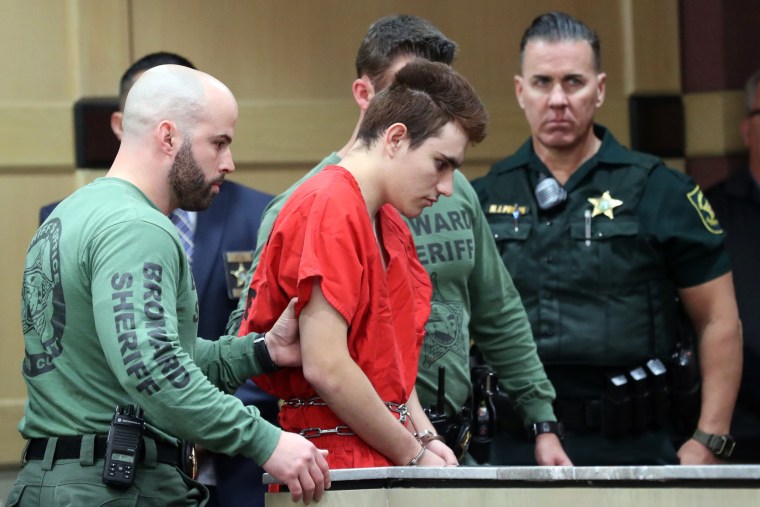 Fred Guttenberg, whose daughter Jaime was killed in the shooting, sat in the second row and stared intently at Cruz. Also attending the hearing was Cruz's younger brother, Zachary. Neither spoke with reporters.
The hearing occurred on the same day that thousands of students across the country walked out of classes to demand action on gun control. Organizers said the protests were held to highlight "Congress' inaction against the gun violence plaguing our schools and neighborhoods."
In the wake of the shooting, Florida's legislature passed a bill raising the age to buy all firearms to 21, from 18, and providing measures that could allow for armed teachers in classrooms. Florida Gov. Rick Scott, although he had said that he opposed the idea of armed teachers, signed the bill into law on Friday.
The National Rifle Association announced the same day that it was filing a lawsuit challenging the law, saying it strips the constitutional rights of people aged 18 to 20.