The father of three girls who say they were molested by gymnastics doctor Larry Nassar "lost control" during a sentencing hearing Friday, charged at the defendant and was wrestled to the flood by sheriff's deputies.
"Let me have that son of a bitch," the father, Randall Margraves, shouted after he lunged at the table where Nassar was sitting. "Give me one minute with that bastard!"
The chaos that erupted in the Michigan courtroom highlighted the high emotions that have marked three weeks of hearings for Nassar, who has pleaded guilty to abusing 10 girls but is accused by more than 250 others.
Margraves, 58, later apologized for the outburst, and the judge let him go without any punishment or charges.
There was widespread sympathy for Margraves on social media, and several unauthorized fundraising accounts popped up. At a press conference later in the day, Margraves said he didn't need the money and didn't feel like a "hero."
But he made it clear that his hatred of Nassar had not dissipated.
"I can only hope that when the day comes that Larry Nassar has ended his days on this earth that he will be escorted to one of the deepest, darkest, hottest pits in hell there is."
Margraves' anger initially boiled over just after two of his daughters finished giving victim impact statements against Nassar on the ninth day of sentencing hearings held in two counties.
Lauren Margraves, who said Nassar molested her during an appointment when she was 13, said her parents had also suffered.
"I see the look on their faces and I know they want to do something and they can't," she said.
Related: Eight times Larry Nassar could have been stopped
Her younger sister was crying as she took the lectern. "My entire family has gone through hell and back these last few months," she said.
Their dad asked if he could speak. He cursed at Nassar and was admonished by Eaton County Judge Janice Cunningham for using profanity.
"I would ask you to as part of this sentencing to grant me five minutes in a locked room with this demon," Margraves asked the judge.
"You know I can't do that," she answered.
"Would you give me one minute?" he pressed.
Turned down again, he suddenly bolted toward the front of the courtroom where Nassar was sitting, wearing bright orange jail clothing and his customary hangdog expression.
Nassar's lawyer, Matt Newburg, leaped up to block Margraves and deputies wrestled the fuming father to the ground as he continued to shout.
"Relax," one of the deputies told him.
"What if this happened to you guys?" he shouted as he was led away.
Related: Police apologize for doubting 2004 Larry Nassar accuser
Prosecutor Angela Povilaitis turned toward the rest of the victims waiting to speak and made it clear she wouldn't tolerate another disruption.
"No one can behave like this," she said. "This is letting him have power over us."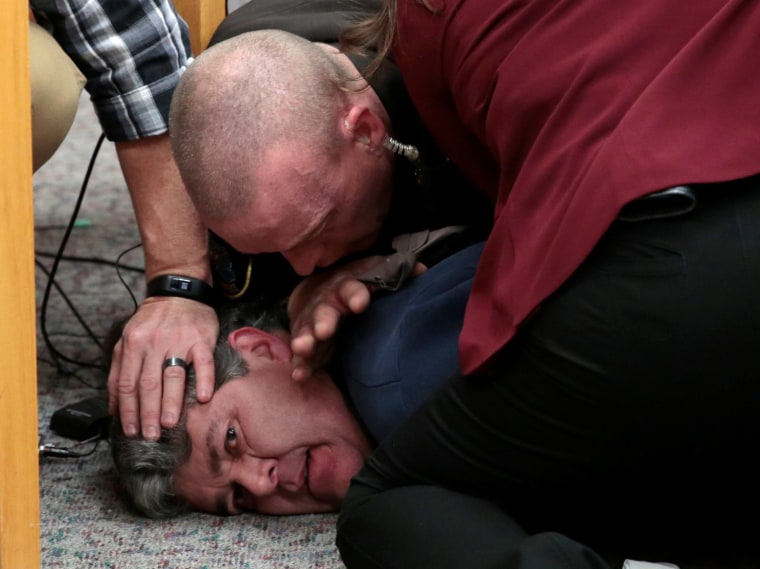 After a brief recess, the judge returned to the bench and said that while she had empathy for Margraves, she could not condone what he did.
"Obviously what just occurred in the courtroom was scary and caused a level of discomfort for all of you," Cunningham said.
"My heart started beating fast and my legs felt shaky because of that quick eruption of violence," she added.
"I recognize that Mr. Margraves had three daughters that he has had to watch go through the pain and the hurt," she said.
"If it is hard and difficult for me to hear what his daughters had to say, I can't imagine what it is like for him."
"Give me one minute with that bastard!"
But, she said, there is no excuse for violence.
"What Mr. Nassar did was horrible. It's unthinkable. But please let the criminal justice system do what it's supposed to do," Cunningham said.
During the lunch break, Margraves was brought back to the courtroom, where Cunningham warned that she could jail him or make him pay a fine — but had no intention of doing so.
Margraves told her that he had not seen his daughters' statements in advance and his anger grew as he listened to their words.
Then, he said, he looked over and saw Nassar sitting at the defense table "shaking his head 'no' like it didn't happen."
"I lost control," Margraves explained. "I apologize a hundred times."
"I'm definitely calmed down," he added. "I'm embarrassed. I'm not here to upstage my daughters. I'm here to help them heal."
Nassar, 54, who was the team doctor for USA Gymnastics and a sports medicine specialist at Michigan State University, was sentenced last week in Ingham County to 40 to 175 years for molesting seven girls. He faces a similar sentence in Eaton County for abusing three girls and has already been sentenced to 60 years for child pornography.
His plea agreements allow all accusers to give impact statements and nearly 200 will have done so by the end of the hearings. One of his attorneys, Shannon Smith, said on a radio show Thursday that she doesn't believe that all those who are testifying were abused. She also said she has received death threats.
After Friday's drama, Newburg praised the deputies who intervened.
"They have gone to great lengths to ensure our safety in and out of the courtroom," he said in an email to NBC News.