Four people were killed, including the gunman, and 14 others were injured after a series of shootings Thursday in rural Kansas, authorities said. Police remained in a standoff with the gunman's roommate Thursday night several hours after the gunman was killed.
Five of the victims were in critical condition, Harvey County Sheriff T. Walton said at a news briefing Thursday night after the shootings in the towns of Newton and Hesston, about 30 miles north of Wichita.
The FBI and the federal Bureau of Alcohol, Tobacco, Firearms and Explosives were on the scene, but terrorism wasn't suspected, Walton said.
"This is a fairly peaceful community, and to have something like this is terrible," Walton said.
The gunman was armed with a long gun and a pistol, Walton said. Kansas law doesn't require a permit to buy long guns or handguns, which don't have to be registered.
Walton described several crime scenes, which culminated at Excel Industries, a lawn care company where the gunman worked and where 15 people were shot. The gunman, who wasn't immediately identified, was killed by the first officer on the scene at Excel, Walton said.
The entire tableau lasted only 26 minutes, from the time the gunman shot a person and stole a truck until he was killed at Excel shortly after 5 p.m. (6 p.m. ET).
Walton said the gunman was "actively shooting at any targets that came into his sights" when the first officer responded. The officer — whose agency wasn't immediately disclosed — went in alone, killed the gunman and "saved a lot of lives," the sheriff said.
A couple of hours later, Newton police and a SWAT team converged on a home in a trailer park in Newton. Walton said Thursday night that the gunman's roommate was holed up inside and was refusing to engage with officers. But after officers secured a warrant to search the residence at around 10 p.m., officers found the residence unoccupied, affiliate KSN reported.
Neighboring residents were evacuated as police tried to get the man to come out.
"I was in the house, and then I heard these loudspeakers or whatever it was telling the people (in the home) to come out," Danny Strutz, a neighbor, told NBC station KSN of Wichita.
"This is a beautiful park to live in," Strutz said. "For this to happen is just unreal."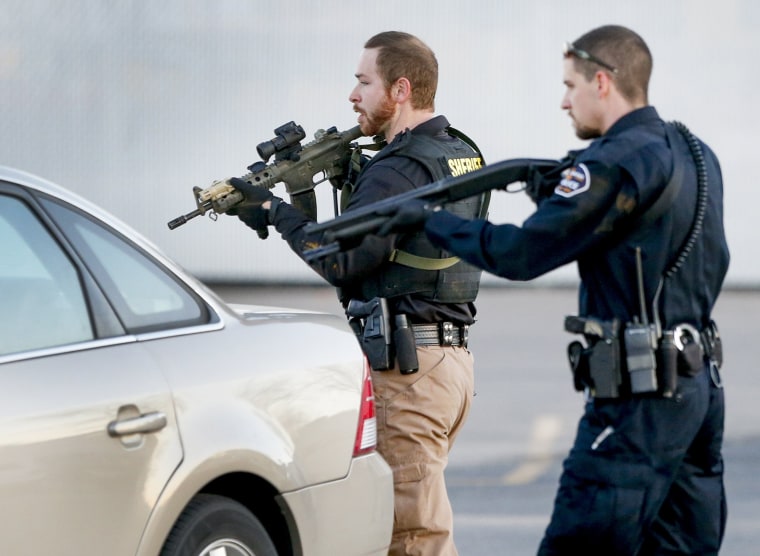 Dennis Britton Sr., who works the first shift at Excel, told NBC News that his son, also named Dennis Britton, was shot in the right buttocks. The bullet fractured his son's femur and exited his upper right thigh, Britton said. Britton's son, a welder on the second shift at Excel, was in intensive care Thursday night, he said.
"It's rough, I'm not going to lie to you," Britton said. "He was like all the rest of them there. He's a family man. He's got three kids and one on the way."
Meanwhile, Paul Mullet, Excel's president and chief executive, confirmed that the gunman worked at the company.
Mullet said he didn't know when the plant would reopen, saying his first priority was to tend to the families of those who had been shot.
"We're going to do all we can to take care of them and get them through this tragedy," he said.
Kansas officials began taking note of the shooting early Thursday evening on Twitter: