A gunman opened fire at a Pittsburgh synagogue where Sabbath services were taking place Saturday morning, killing at least 11 people and wounding several police officers before he was taken into custody, officials said.
The attack at Tree of Life synagogue began sometime before 9:54 a.m., when police were called about an active shooter inside the house of worship in the city's Squirrel Hill neighborhood, which is considered to be a historic Jewish enclave and center for Jewish life in Pittsburgh.
At least 11 adults were killed in the shooting, and six people were injured, including four police officers, officials said. Dr. Don Yealy, chairman of emergency medicine at University of Pittsburgh Medical Center, said a 70-year-old man and a 55-year-old officer were in critical condition.
"It's a very horrific crime scene. It's one of the worst that I've seen," Pittsburgh Public Safety Director Wendell Hissrich said. "It's very bad."
The suspected gunman, Robert Bowers, 46, of nearby Baldwin, was armed with an assault rifle and three handguns, authorities said.
After entering the synagogue, Bowers allegedly opened fire and as he exited the building, a Pittsburgh police officer engaged him, according to Bob Jones, FBI special agent in charge of the Pittsburgh field office. Bowers then allegedly shot the officer and retreated back into the synagogue to hide from approaching SWAT officers, Jones said.
Two officers who were the first responders to the scene were struck, and two SWAT officers were struck inside the building, Pittsburgh Police Chief Scott Schubert said. Yealy said one of the injured officers suffered grazing wounds. Hissrich said Bowers was shot multiple times.
Jones said the crime scene was the most horrific he'd witnessed in his career with the FBI.
Bowers was charged Saturday night with 29 federal counts, including 11 counts of use of a firearm to commit murder, U.S. Attorney for the Western District of Pennsylvania Scott W. Brady announced. He is also charged with 11 counts of obstruction of the exercise of religious beliefs resulting in death and other counts.
Social media accounts that appear to belong to Bowers contained posts with anti-Semitic messages and hate speech. Bowers reportedly said "All Jews must die" before opening fire in the synagogue.
Hissrich said the FBI would be leading the investigation. The Pittsburgh Department of Public Safety tweeted that the shooting would be prosecuted as a hate crime.
Congregants told MSNBC that a circumcision celebration, known as a bris, was taking place in the synagogue this morning.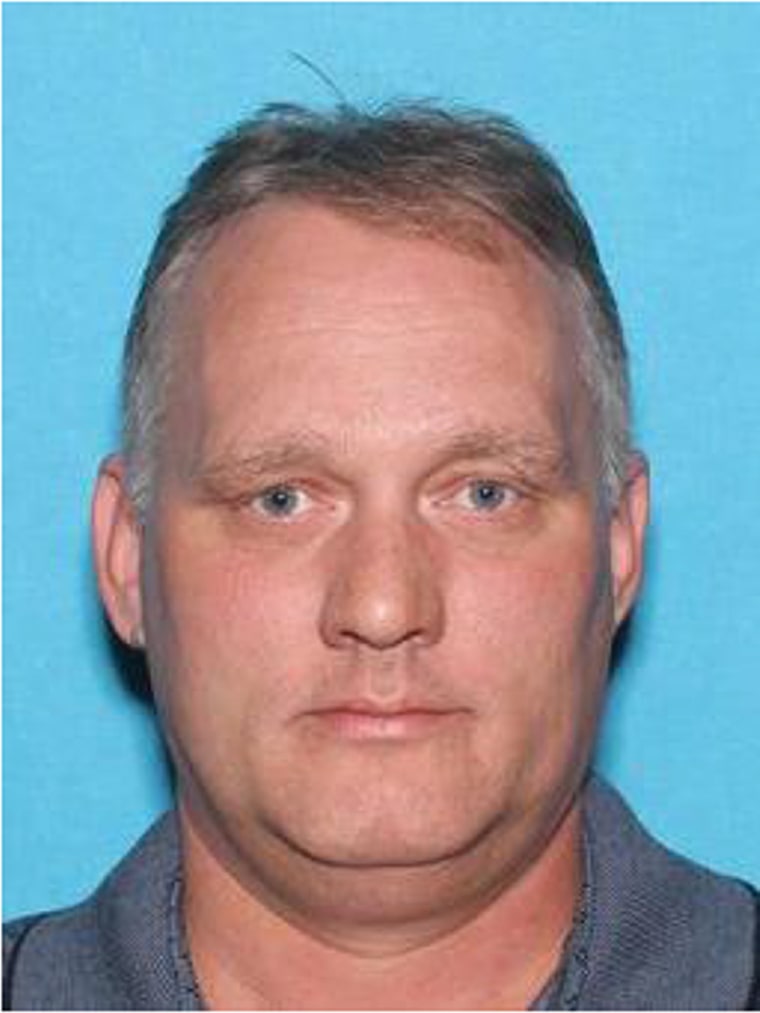 Jeff Finkelstein, CEO of the Jewish Federation of Greater Pittsburgh since 2004, told NBC News affiliate WPXI that he rushed to the area when he heard about the shooting.
"I just feel horrible for all those people inside," Finkelstein said. "You know, everyone thinks about Israel in situations like this. It's just shocking to come back to Squirrel Hill and see something like this."
Rabbi Chuck Diamond, a former spiritual leader of Tree of Life, told reporters that he never spoke to his congregation about what to do during a shooting, but it's something he thought about.
"There's a lot of anti-Semitism out there and a lot of hate out there," Diamond said. "Sobering that it's touched our community."
Michael Eisenberg, the immediate past president of Tree of Life synagogue who lives about a block from the building, told the Associated Press that he was getting ready for services when he received a phone call from a member who works with Pittsburgh's Emergency Services, saying he had been notified through scanner and other communications that there was an active shooter at their synagogue.
"I ran out of the house without changing and I saw the street blocked with police cars. It was a surreal scene. And someone yelled, 'Get out of here.' I realized it was a police officer along the side of the house. ... I am sure I know all of the people, all of the fatalities. I am just waiting to see," Eisenberg said.
He said officials at the synagogue had not gotten any threats that he knew of prior to the shooting. The synagogue maintenance employees had recently checked all of the emergency exits and doors to make sure they were cleared and working.
"I spoke to a maintenance person who was in the building and heard the shots. He was able to escape through one of the side exit doors we had made sure was functioning," Eisenberg told the AP.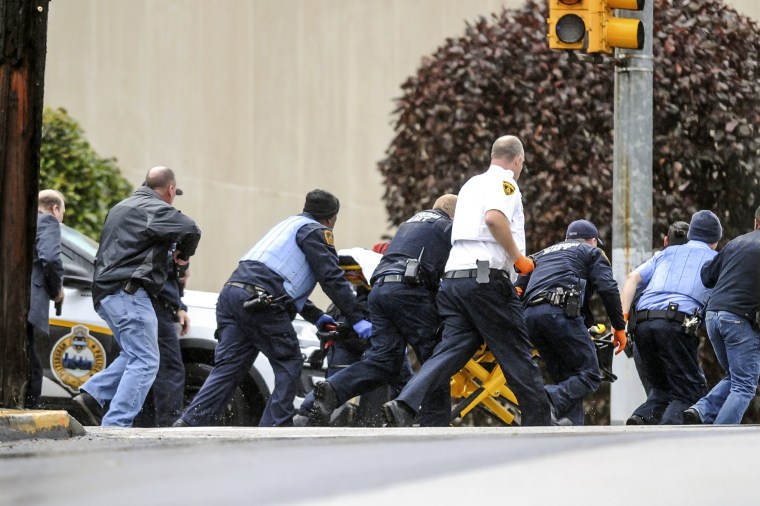 President Donald Trump said at the National Future Farmers of America Convention and Expo in Indiana on Saturday that "this was an anti-Semitic act."
"You wouldn't think this would be possible in this day and age but we just don't seem to learn from the past," he said. "Our minds cannot comprehend the cruel hate and the twisted malice that could cause a person to unleash such terrible violence during a baby naming ceremony."
Earlier in the day he tweeted, "Events in Pittsburgh are far more devastating than originally thought. Spoke with Mayor and Governor to inform them that the Federal Government has been, and will be, with them all the way."
Pennsylvania Gov. Tom Wolf praised police and first responders, saying: "I am in awe of the bravery displayed by law enforcement, those folks who helped to keep people safe, to aid victims and to prevent further tragedy."
"We simply cannot accept this violence as a normal part of American life," Wolf said. "These senseless acts of violence are not who we are as Pennsylvanians. They're not who we are as Americans."
Trump ordered the flag at the White House and at federal and military facilities lowered to half-staff. Flags were also ordered lowered to half-staff at the Pennsylvania capitol complex and other state facilities in honor of the victims. Across the country, cities said they would be stepping up police presence at houses of worship, including in New York City, Baltimore and Los Angeles.
In Atlanta, police were also dispatched to synagogues. Peter Berg, senior rabbi at The Temple, told NBC affiliate WXIA that he was "devastated" to learn of the "horrifically tragic shooting" in Pittsburgh.
"This is an incident of explicit anti-Semitism," he said.
Shabbat morning services began at 9:45 a.m. at Tree of Life, which is close to Carnegie Mellon University, according to its website. The Conservative congregation was founded more than 150 years ago and is led by Rabbi Jeffrey Myers, who came to the synagogue in August 2017.
Squirrel Hill is considered a historic Jewish enclave and center for Jewish life in Pittsburgh. It is home to more than a quarter of Jewish households in the Pittsburgh-area, according to a Brandeis University study of the Greater Pittsburgh Jewish community.
More than 80 percent of Squirrel Hill residents said they had some concern or were very concerned about the rise of anti-Semitism. Many also reported incidents of anti-Semitic experiences in the past year, from insults and stereotypes to physical threats or attacks, according to the study.
Michael Gottlieb, who has been a member of the Tree of Life and who was bar mitzvahed and had his two children bar mitzvahed there and who was married by the rabbi, told WPXI that he can't understand the level of hate that motivated the attack.
"Whatever got us to this point where people do these kinds of things — we have to find a way to come together as a community, and as a world, so these things don't happen again," Gottlieb said.
"It usually happens somewhere else. This time it hit here. It's hard," he said.
"I don't know what you can say. This is absolutely senseless. This was driven out of hate," Gottlieb said. "There's a lot of hate in this world right now. We have to get rid of the hate somehow."