At least a dozen climbers with Greenpeace were dangling from a Portland, Oregon, bridge on Wednesday morning — and threatened to do so for days — in protest of Shell's scheduled launch of a ship for Arctic oil exploration.
"The climbers have enough supplies to last several days, and are prepared to stay in Shell's way as long as possible," the environmental organization said in a blog post.
The stunt on the St. Johns Bridge comes after protesters gathered in a Portland park Tuesday evening, and planned to drop kayaks in the water in a bid to stop the Royal Dutch Shell from leaving port. The ship was scheduled Wednesday to depart for Alaskan waters.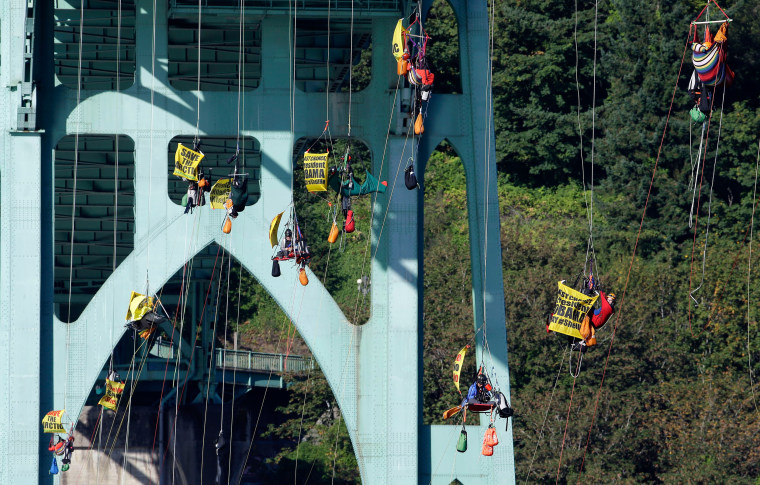 Following the lead of protesters in Seattle who tried to block ships headed for Shell's planned oil exploration in the Chukchi Sea, the Portland "kayaktivists" also planned to conduct a vigil overnight Tuesday on the Willamette River, which runs through downtown Portland.
"Our goal is to basically demonstrate as much community resistance to Shell's plans to drill for oil and secure new oil reserves in the Arctic," said Meredith Cocks, organizer with environmental activist group Portland Rising Tide.
Lieutenant Steve Alexander of the Multnomah County Sheriff's Office said that a small group of protesters gathered at Cathedral Park in Portland on Tuesday afternoon.
Alexander said that as of Tuesday evening, the protests were peaceful and the sheriff's department and the U.S. Coast Guard would monitor the river to ensure boaters have proper equipment and are safe.
Related: Shell Gets Final OK for Arctic Oil Drilling But Must Await Spill Gear
The activists planned to take to the river early Wednesday morning to block passage by the Fennica, an icebreaker ship, on its way out of the area, though those plans were subject to change depending on the ship's schedule, Cocks said.
The group opposes Arctic drilling, which environmentalists say will put pristine wilderness at risk and accelerate global warming through continued reliance on burning fossil fuels.
Hundreds of activists in kayaks and small boats conducted a similar protest on a Seattle bay in May, demonstrating against plans by Shell to resume Arctic oil exploration while two of its drilling rigs were in the city's port.
In May, the U.S. Bureau of Ocean Energy Management gave conditional approval to Shell's resumption of fossil fuel exploration in the Arctic, which was suspended after a mishap-filled 2012 season.
"Shell acknowledges the right of any individual or organization to express their point of view; however we won't condone illegal or unsafe tactics that put people's safety at risk," company spokesman Ray Fisher said.