Actor Ashton Kutcher — who co-founded international the anti-human-trafficking organization Thorn — gave senators several ideas Wednesday to end the trade in humans, including adaptable technology and steps to protect vulnerable refugees.
Seeking more funding for his organization at a Senate Foreign Relations Committee hearing, Kutcher pressed the importance of using good technology to battle technology that facilitates human trafficking.
"Technology can be used to enable slavery, but technology can also be used to disable slavery," he said.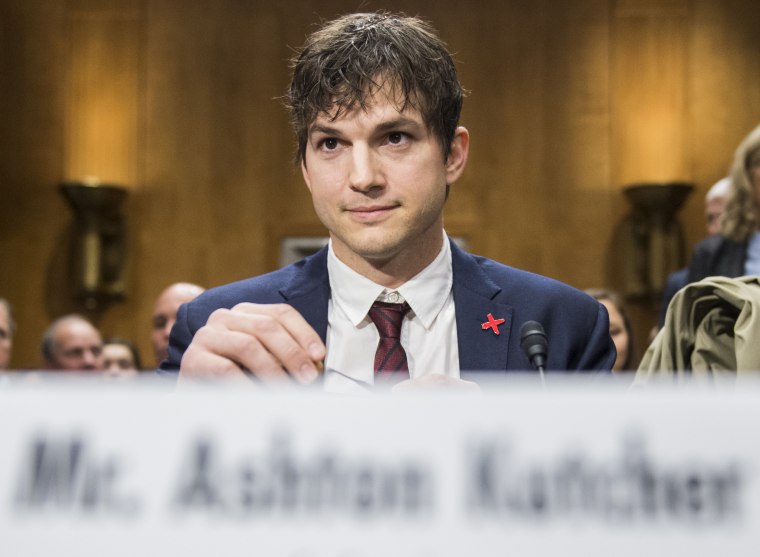 Several law enforcement agencies have used a beta version of Thorn's software to prioritize their case loads and cut down investigation time, Kutcher said. Many agencies are severely understaffed and under-resourced when it comes to human trafficking, and technology can make their jobs easier, he said.
One of the organization's programs, Spotlight, shortens investigations from three years to three weeks, Kutcher said.
"The technology we're building is efficient, nimble [and] enduring, and it only gets smarter with time," he said.
The committee was especially interested in hearing how Thorn's technology could unmask traffickers who use the web to protect their anonymity.
Related: Watch Ashton Kutcher Blow a Kiss to John McCain at Senate Hearing
"It's taking the internet, which is largely anonymous, and making it far less anonymous," he told Sen Marco Rubio, R-Florida. Spotlight reaches out to victims and calculates priorities and accuracy in getting them out, he said.
Kutcher also pressed the importance of fostering public and private partnerships, saying many companies "want to do the right thing" and have already offered not only funds but also pro bono services to combat traffickers who are "continuously changing their modus operandi."
Private companies bring different resources to the table, so it is vital to take advantage of every resource, he said.
Kutcher also recommended addressing the "pipelines" to trafficking — taking a deeper look at the foster care system, which he said was a "breeding ground" for abuse, as well as increasing mental health services.
Committee member Ben Cardin, D-Maryland, called human trafficking a "scourge on humanity," which he said is why he was particularly concerned about President Donald Trump's executive order to limit immigration.
"Could they have come in under that ban?" Cardin asked about victims of trafficking from Syria and Burma. "When we say we are going to protect these victims, we must look for every possible way to accomplish this goal."
It was a sentiment echoed by Kutcher and Human Rights First, an advocacy group that testified alongside him.
"When people are left out and not supported and not given love they need to grow, it becomes an incubator for trafficking," Kutcher said, adding that refugees are the most vulnerable to traffickers.
Related: Human Trafficking Increased in 2016, Organization Reports
Elisa Massimino, president of Human Rights First, told the committee that the only people who benefit from displacement are malicious traffickers, she said — traffickers are "drawn like sharks to those in distress."
Kutcher ended by asking the committee for continued partnership and support.
"The right to pursue happiness for so many is stripped away. It's raped, it's abused and it's taken by force or coercion and sold for the momentary happiness of another," he said. "I'm here to defend the right to pursue happiness."